Five years on, and the original iPhone is still hanging in there – but not without a little help.
That help comes in the shape of the whited00r project.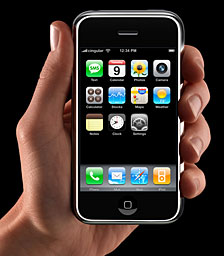 Starting two years ago, this project has grown phenomenally into the single reason that the original iPhone is still a viable smartphone today. whited00r is custom firmware designed to bring extra speed and features to the original iPhone, the iPhone 3G, and the first and second generation iPod touch – and it certainly delivers on what it promises.
whited00r 6
The much anticipated whited00r 6 has just been released, bringing with it some of the biggest changes and development yet.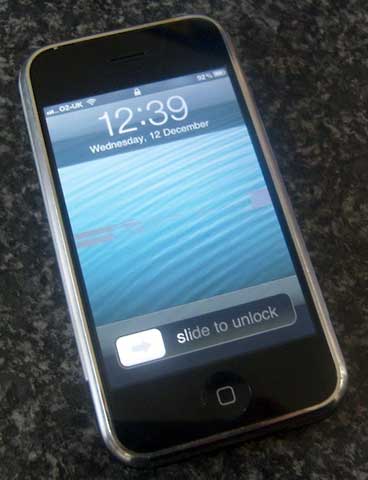 whited00r 6 brings the look and feel of iOS 6 to a device only supported through iPhone OS 3. Don't be fooled: It will not allow you to install iOS 6 apps, but it will give your older iDevice a newer look, newer features, and increased speed.
Previous versions of whited00r brought folders, multitasking, home screen wallpapers, and drop shadows, as well as cloud syncing via Dropbox. These were introduced in iOS 4, which was not installable on first generation iDevices.
whited00r 6 brings a voice control Siri replacement and Reminders, as well as improvements to Safari, video recording, a redesigned App Store featuring the official Apple App Store, and AppTimeMachine (which offers OS 3 compatible apps), and a new interface looking as close to the official iOS 6 as you can get.
I have just installed it on my original iPhone, so let me talk you through it. Installation is done in the usual way. Download the IPSW file from whited00r.com. Unzip it and open iTunes. Then hold down the Alt/Option key on your Mac's keyboard (or the Shift key if you're using Windows) and click Restore. Then select the downloaded firmware. iTunes should take over. If you have any problems you might need to put your device in DFU or PWN DFU mode first.
It will take about 10 minutes to complete installing whited00r, and the process is fully automated. Once done, it will reboot. Activate and then set it up as a new device. My first boot appeared to be missing a few new features, but simply running the "setup" option in Terminal allowed me to turn on what I needed.
Hands On
The guys at whited00r have worked hard to skin OS 3 to look and act like iOS 6, but it isn't just looks – the speed optimisation means this custom firmware is streamlined to get the most out of this older hardware, and compared to Apple's standard OS 3, the increase in speed is fantastic.
I have Apple's iOS 6 on my iPhone 3GS and have been comparing the two. Here are some photos I took of my original iPhone running whited00r 6 on the left and my iPhone 3GS running iOS 6 on the right.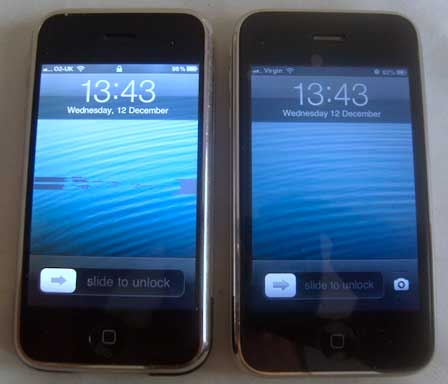 The lock screen is almost identical. The camera button next to the slider is missing, and the padlock at the top seems to have disappeared in iOS 6.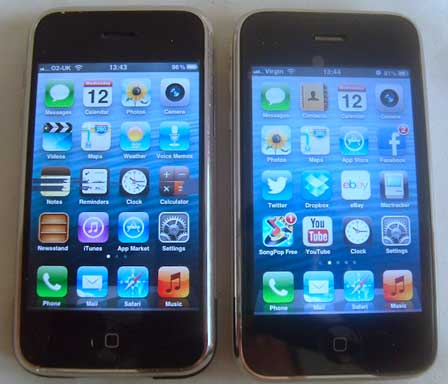 With the home screen, everything is identical including the wallpaper, icon shadows, icons, and even the dock. The only small difference is the dots above the dock in iOS 6 has a search magnifying glass to represent the search screen, which is not present in whited00r 6 – even though the search screen is there.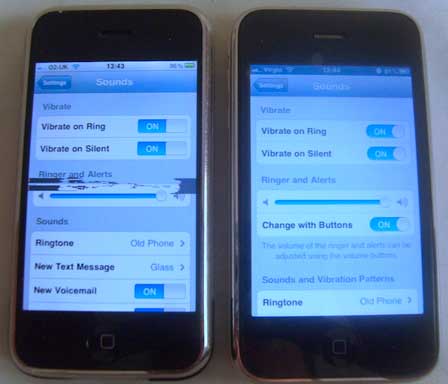 The setting screen is very close to the official iOS 6, with the slider switches being a different shape. They went all rounded in iOS 6.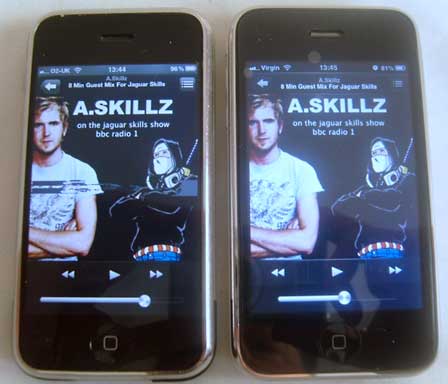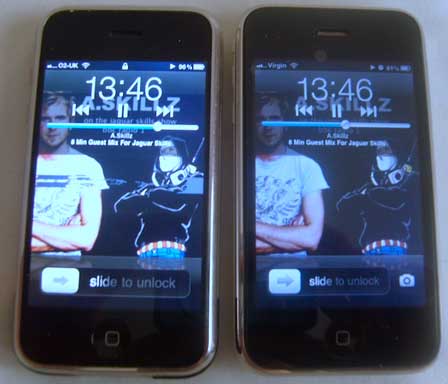 The music player has been revamped, and it looks identical apart from button colours at the top. Even when locked, both screens look the same.
However, the beta version of iOS 6.1 looks as if it has changed the music player from iOS 6.0.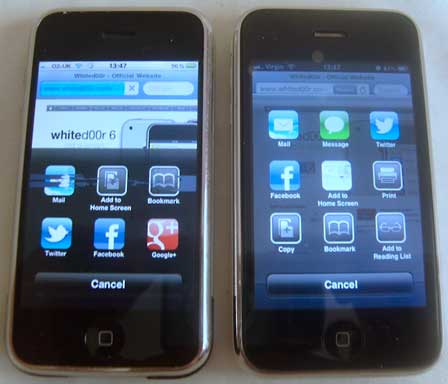 A welcome addition is the new look share screen, which interestingly includes Google+ on whited00r 6. This is the share screen in Safari. The menu changes when in Photos, giving you the option to Assign to Contact and Use as Wallpaper.
I seem to have lost the option for MMS, and therefore no Message option in the share screen. I will try to add MMS back in and see if the share screen changes to include To Send a Picture to Messages.
The official iOS 6 share screen also has Print, Copy, and Photo Stream.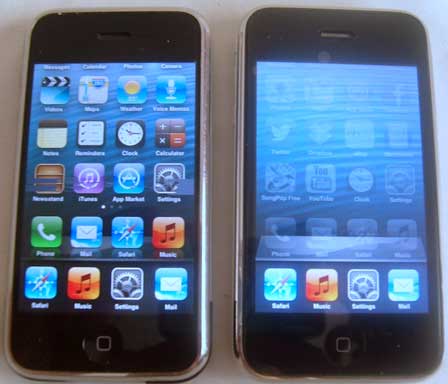 The original iPhone and iPhone 3G lacked multitasking. Despite the 3G getting iOS 4, it wasn't until the 3GS that multitasking was brought in, a decision taken by Apple due to the hardware limitations of these devices. My iPhone 3GS multitasks very well, and it is amazing how quickly you get used to it. You might think bringing it to the original iPhone would be slow, but that is not the case, and it works very well.
A simple thing, but being able to write an email and then switch to Safari to look up something and then go back to that email without having to start again is a major advantage.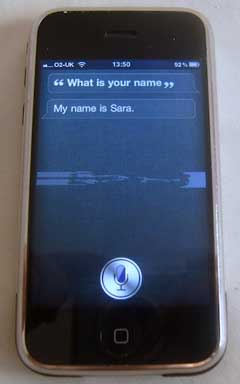 Siri was a much hyped technology on the iPhone 4S. Apple's voice control system is very good, and it annoyed a lot of people that the iPhone 4 and 3GS didn't get it.
whited00r 6 introduces a Siri replacement called Sara to older devices. I played with it a few months ago on a jailbroken iPhone 3G but was not impressed, as the speed was so slow it made it virtually unusable, so I was a bit dubious about it being used on an original iPhone.
However, the extra few months of development and the increased speed of the whited00r firmware means Sara runs pretty quickly and is a fun addition to play with.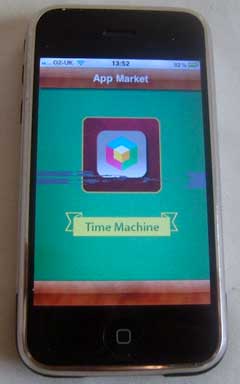 One of the most welcomed new feature is an enhanced custom app store. Previous versions of whited00r had a handful of apps in its own App Store. The release of whited00r 6 comes with AppTimeMachine, which has access to a large amount of apps that still run in OS 3.
Using the official App Store, you can only download the latest version of an app. If that app requires a higher iOS version than you have, you can't install any version.
AppTimeMachine resolves this. It has OS 3 compatible versions. For instance, the latest Facebook app requires iOS 5, therefore you can't install it on a your original iPhone. AppTimeMachine has an installable Facebook app that still runs in OS 3.
Other Improvements
Along with the new changes and look for whited00r 6, it continues it mission to bring increased speed.
Battery life on the original iPhone was always pretty good for a smartphone, and despite all the new pressures from the newer features, the battery life is still good.
The iPhone only packs a 412 MHz processor with 128 MB of operating memory. This is very low by today's smartphone specs, and today even budget Android handsets run at 800 MHz. Giving the low specs of the iPhone, whited00r does a fantastic job at bringing it up to speed.
How much longer the team can keep the original iPhone afloat is one question being asked around the whited00r world, but with iOS 6 looking like the last official version to be released for the iPhone 3GS, maybe the whited00r team will start including the 3GS in future versions.
Check out the official whited00r 6 YouTube video showing off some of its new features.
A big thanks to Andrew and Matt for their work.
Despite having an iPhone 3GS, I still love my original iPhone, and with the major advance in whited00r 6, I will not be parting with it any time soon.
---
Follow Simon Royal on Twitter or send him an Email.
Like what you have read? Send Simon a donation via Tip Jar.
---
keywords: #whited00r #whited00r6 #iphone #iphone3G #techspectrum #simonroyal
short link: http://goo.gl/Rp0yYL

searchword: whited00r6