It seems like increasingly, at least for most people, digital cameras don't matter. Sure, just as there were (film) camera professionals and serious hobbyists, there are people buying and using high-end digital cameras.
But to a large extent, more people are happy to be using the camera on their phone rather than buying and carrying around a mass-market digital camera – even though almost any mass-market digital camera takes better photos than almost any smartphone camera.
There are a couple of reasons for that. Perhaps the biggest is convenience – we always have our phone (and thus our phone's camera) in a pocket or purse, ready to snap a photo if something comes up, at a moment when the digital camera is sitting at home on a shelf.
And when a photo is on your phone, you can do something with it – right that instant. In a store and wondering if your spouse likes that colour sweater? Send a photo. Or snap a photo and upload it to Facebook right then and there – no need to wait until you get home, connect your camera to your computer (or plug in the memory card), transfer the photo to the computer, log into Facebook (et al), and post the photo to your wall.
Last January, I wrote about a pair of cameras, one from Nikon and the other from Samsung, that ran Android. Each could function almost like a smartphone – minus the phone – complete with touch screen, WiFi, and apps, while offering the real optical zoom and higher quality of a "real" digital camera.
With them, you could take camera-quality photos yet do anything with them that you might do with a photo on your camera. But neither of these models has been a best-seller, and camera manufacturers don't seem in much of a rush to duplicate these features on other models.
Why not?
Loading a full operating system onto a camera results in a device that's slow to start up. While many may find the touchscreen Android user interface friendlier than your typical camera's menu-heavy interface, it adds a lot of features that we may not need. Do you need to play Angry Birds on your camera?
If the camera is WiFi only, you still won't be able to take a photo in a park then store and share it right at the moment. And finally, since it won't replace your smartphone (other than letting you play Angry Birds), you still need to be toting around an extra device. So it's still likely to be sitting at home on the shelf while you use your smartphone's camera to capture that spur of the moment photo.
Multiple digital camera models offer built-in WiFi, but that never seemed like a compelling enough feature to make me want to choose a camera; awkward to set up using a camera menu, and if the goal is to simplify transfering photos to a computer, well how hard is it to take out the camera's memory card and plug it into the slot found in many computers?
Besides, I have a couple of digital cameras that I'm reasonably happy with – a pocket-friendly Nikon Coolpix S6200 (with a 10x optical zoom) and an Olympus SZ-14 – somewhat larger but with a massive 24x optical zoom.
But what if I could add WiFi to my existing cameras? Would that be worthwhile?
Eye-Fi offers a range of what, at first glance, appear to be overpriced standard SD-format memory cards. $30 for a 4 GB card – I can buy a normal 8 GB card for $10! But Eye-Fi's products are not simple memory cards.
Instead, their various products all have WiFi circuitry built right into the card. (Personally I think it's a minor miracle that a radio receiver/transmitter can be built into a small memory card).
They offer two product lines: Mobi and Pro X2. (Compare them here). I purchased a 4 GB X2 card. (Short comparison: The Mobi cards are a bit cheaper and are designed to be used with a mobile device; the Pro X2 cards can be used with a Windows or Mac desktop or laptop as well as with a mobile device.)
The card comes with an orange USB SD memory card reader, handy since my 11″ MacBook Air lacks the built-in card reader built into many laptops (including its larger 13″ MacBook Air sibling). And necessary – since the Pro X2 cards (though not Eye-Fi's Mobi models) have to be plugged into a computer for activation and setup.
Setup involves creates an account with Eye-Fi and deciding whether you want to automatically store photos on Eye-Fi's online cloud storage. As well, you need to decide what device the Eye-Fi card is going to connect to – and how it's going to connect.
While you can change your mind later, these are important decisions.
If you pair the Eye-Fi card with your computer, you'll be asked to select a local wireless network – by selecting the WiFi network that your computer connects to, the Eye-Fi card – right within your camera – will send its stored photos directly to your computer when they're both in range of that network. If desired (and set on the Settings' Notification tab) you will be sent an email letting you know that photos have been transfered.
In addition, when the Eye-Fi card is connected to the wireless network, you can opt to have your photos automatically uploaded to your choice of variety of photo sharing and social networks: Flickr, Facebook, and the like. I typed in log-in information for my PicasaWeb (now renamed Google + Photos) account, and photos now go there, in albums organized by date.
That's fine – you can choose a folder to use and automatically have subfolders created by photo-creation or photo-transfer date. But it's less useful if you, your camera, and your laptop are out and about.Stop into a café with WiFi or check into a hotel? Sorry, the Eye-Fi card won't know about those networks and won't transfer your photos.
So that option can be handy if you and your computer are in one spot, but otherwise, it's useless.
Luckily, there is another way. And it makes it possible to pair an Eye-Fi equipped camera with a portable device like a smartphone or tablet.
With the Eye-Fi card plugged into the computer, take a peek at the card settings Network tab and go to Direct Mode. Click to enable it. Now, if no known networks are available, the card will create its own network – you could choose this network on your computer, enabling the photo transfers process.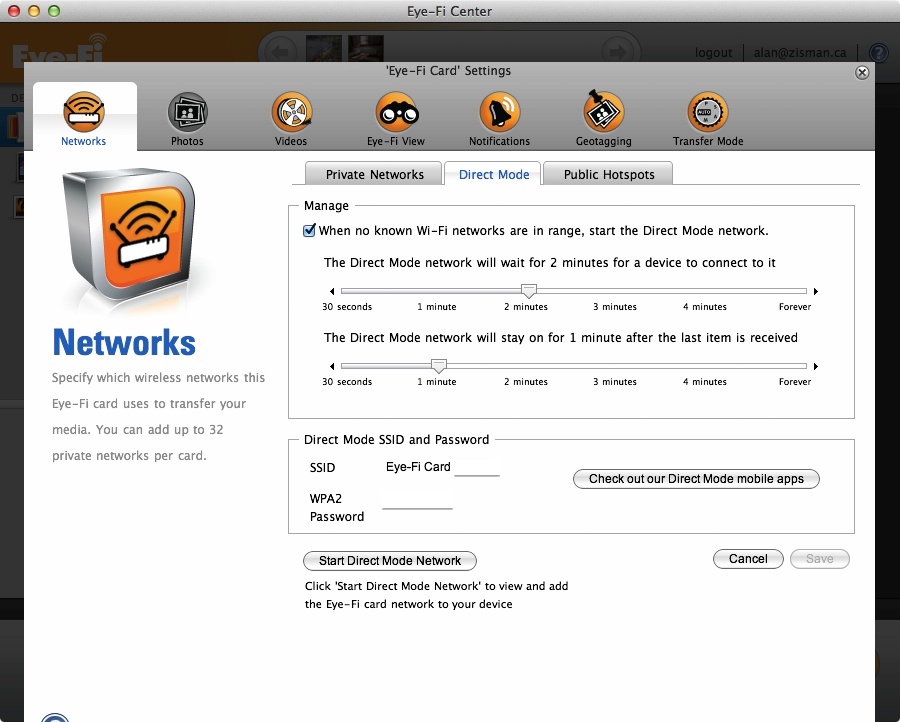 If you've installed Eye-Fi's iOS or Android app on your mobile device and paired your device with the Eye-Fi card, Direct Mode lets you  transfer photos from the camera to that device. (In order for that to happen, WiFi needs to be enabled on your mobile device and the app needs to be running).
And at that point, it becomes a much more powerful tool – you can use it when you're out and about, transferring photos to your mobile device and – assuming you're connected to a mobile or WiFi network – email or upload photos to the social network(s) of your choice.
That's handy. A nice way to be able to use the camera you already own with the smartphone you already own, and being able to combine the superior photo quality of your digital camera with the sharing capabilities of your smartphone.
Of course you still have to be carrying two devices to do that.
Short link: http://goo.gl/5BNIO9
searchword: eyefi
© 2013 by Alan Zisman