The infamous BlackBerry Messenger (a.k.a. BBM) has made it to iPhone, another messaging service to iOS. How well does it work, and why might you want to use it?
BlackBerry Messenger is a long established messaging service, which until now has been exclusive to BlackBerry handsets. It offered superior messaging – delivered, read, and even writing reports – and was a way of sending free pictures to your BlackBerry friends. It achieved all this over a data connection.
With the release of iOS 5, Apple introduced iMessage, a similar messaging service just for iOS devices (running iOS 5 upwards). It enabled the same delivered, read, and writing reports, as well as a way of sending free pictures and video – and it also used a data connection.
I wrote iMessage: The Ultimate Messaging Service? comparing the iMessage service to the BlackBerry BBM service.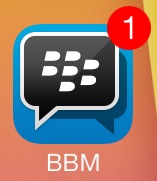 Now BlackBerry users can stop looking so smug with their excellent BBM, as it is now available for iPhone and Android users – and it is free too. I have been checking it out on my iPhone 4 and am seriously impressed.
Installation & Setup
Go to the App Store, search for BBM, and download it. Setting up is easy, if you already have a BlackBerry ID, sign in with it, and it will give you a BBM PIN (Personal Identification Number). This is a unique code that you give out to others. If you don't have a BlackBerry ID, sign up, and you will be given a BBM PIN.
BlackBerry Messenger still works in its quirky way of using a PIN rather than a phone number. Just like on a BlackBerry, BBM is a separate app rather than combining it with SMS, which iMessage does.
Once up and running, just give your PIN to people, and they can then send you an invitation. You can then choose to accept them or not.
Is It Any Good?
I've used BBM on a few BlackBerry handsets, including the Pearl 8120, Storm 9500, Torch 9800, and Bold 9300. The iOS port works exactly the same. Anyone who who used it before will be right at home.
I was using my iPhone 4 running iOS 7, and the BBM app opened within two seconds and was ready to use. The app is very fast with zero lag.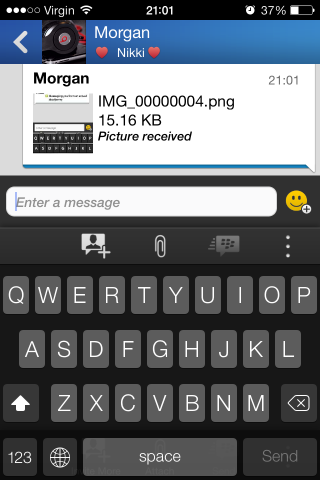 Writing messages is as easy as writing anything on an iPhone, and the speed of sending and receiving was amazing. I was connected over WiFi, but I was chatting with a friend in Canada (I am in the UK). There was zero lag, and pictures were flying back and forth between us almost instantly.
It features push notifications too, like other messengers, which is a nice touch.
Do We Need Another Message Service
You might ask Do we need another message service on iOS? You have regular texting and iMessage, which is great but is only for iDevice to iDevice. You have FaceBook Messenger, which was the closest thing to multiplatform, multi device as you get.
BBM is a great addition and, while not essential, bridges the gap for multiple mobile platform messaging and is great fun to try.
Conclusion
Give it a try. It's free, and you can annoy your hardcore BlackBerry friends by BBMing them from your iPhone or Android handset.
---
Follow Simon Royal on Twitter or send him an Email.
Like what you have read? Send Simon a donation via Tip Jar.
---
keywords: #blackberry #blackberrymessenger #bbm #techspectrum #simonroyal
short link: http://goo.gl/8BjSSf
searchwords: blackberrymessenger, bbmforiphone