A few weeks back, I experimented with turning off mobile data and relying on WiFi only on my iPhone. Today I repeated it; this time I was a little more prepared.
Armed with my iPhone and with mobile data turned off, I set off once again to the big city to see if I could make use of only free WiFi connections.
The first time around, it didn't go very well. While WiFi connections are everywhere, most are locked. I also found that while there are some free cloud services, the bigger ones need signing up prior to making your journey. This time I went a little more prepared.
Registration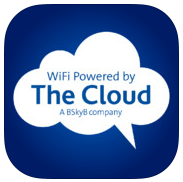 I registered with one of the biggest providers of free WiFi, The Cloud. It is free, but it does require an app to be installed on your iDevice. The app requires iOS 4.3, meaning it will run on an iPhone 3GS upwards, iPod touch 3rd generation upwards, and any iPad. However, you don't need to run the app once installed.
There is also an Android app requiring Android 2.3 upwards. It also installs a profile to allow auto connecting to The Cloud hotspots.
I was already registered with O2 Wifi. This requires nothing to be installed on your device.
Travelling
The same issues were still there with travelling. As I left my small town with only one free WiFi connection – offered by Barclays Bank – I quickly checked my emails and sent a few tweets. Then I was plunged in to cyber silence.
Arrival
An hour later, I arrived. I found no open networks and was becoming a little panicky. I don't enjoy being without an online connection.
A brief walk to a shopping mall, The Castle Mall, and I was immediately connected to The Cloud. As my iPhone sighed a relief at finding a wireless network, it rewarded me with Facebook and Twitter push notifications and pulling in my emails.

I spent over an hour in this shopping mall, wandering in and out of shops spread over three floors and in the food court. All this time I had a constant connection.
After leaving the mall, I lost connection. As I headed towards a second shopping mall, Chapelfield, the other side of the city centre I picked up a couple of independent WiFi connections on the way briefly – just enough time to pull in some more emails.
The second mall was adorned with O2 Wifi connections. I spent an hour in there, but the connection wasn't constant; it wasn't throughout the entire mall.
Conclusion
While the results were a lot better this time, it still depends on your location, how many free cloud services you sign up to, and how many open networks there are.
If I spent most of time or even worked in the first mall I visited, then I would have a near perfect WiFi connection – apart from the travelling to and from it.
I do a lot of travelling where there is no WiFi available, and I live in a small town where free WiFi is scarce so for me my mobile data package is important.
Once again I think it comes down to how much you rely on your internet.
Check out Can You and Your Smartphone Survive Using Only WiFi for Data? Part 1
---
Follow Simon Royal on Twitter or send him an Email.
Like what you have read? Send Simon a donation via Tip Jar.
---
keywords: #wifi #mobile #smartphone #wifionly #hotspot #free #techspectrum #simonroyal
short link: http://goo.gl/GcpOBE
searchword: wifionly