I have OS X 10.9 Mavericks installed on my Late 2008 Aluminum MacBook, one of the older Macs to support OS X 10.8 Mountain Lion and Mavericks. Until now I've held off upgrading past OS X 10.6 Snow Leopard because of software I'd have to leave behind, but with Mavericks available for free and a spare partition on my MacBook's hard drive, it was time to move beyond the "classic" Mac OS X (anything pre-Lion).
Installation wasn't an issue, although there were some frustrations. If you're still using Snow Leopard, you have no progress indicator in the Mac App Store, and the one that shows up in the Dock with the Mavericks icon isn't terribly accurate. It probably took an hour to download on my second attempt. (The first one failed to complete.)
Installation worked, but Apple's countdown timer is seriously flawed. It must have been on "less than a minute" for at least 3 minutes, and after reboot it wanted another 7 minutes to finish configuration, complete with 2-3 minutes at "less than a minute" remaining. (I call these Apple minutes, and they are of variable length, rarely under 60 seconds and extending in length as you approach completion of your install.)
I got Mavericks up and running, and it looks very nice. It seems quite responsive, but I knew I'd have to remove a boatload of old apps that won't run under OS X 10.7 Lion or newer. Fortunately, most of them are marked with a slashed circle so you know they won't run – Microsoft Office 2004 being an exception. By the time I'd moved them all to a separate folder, I had over 2 GB of files.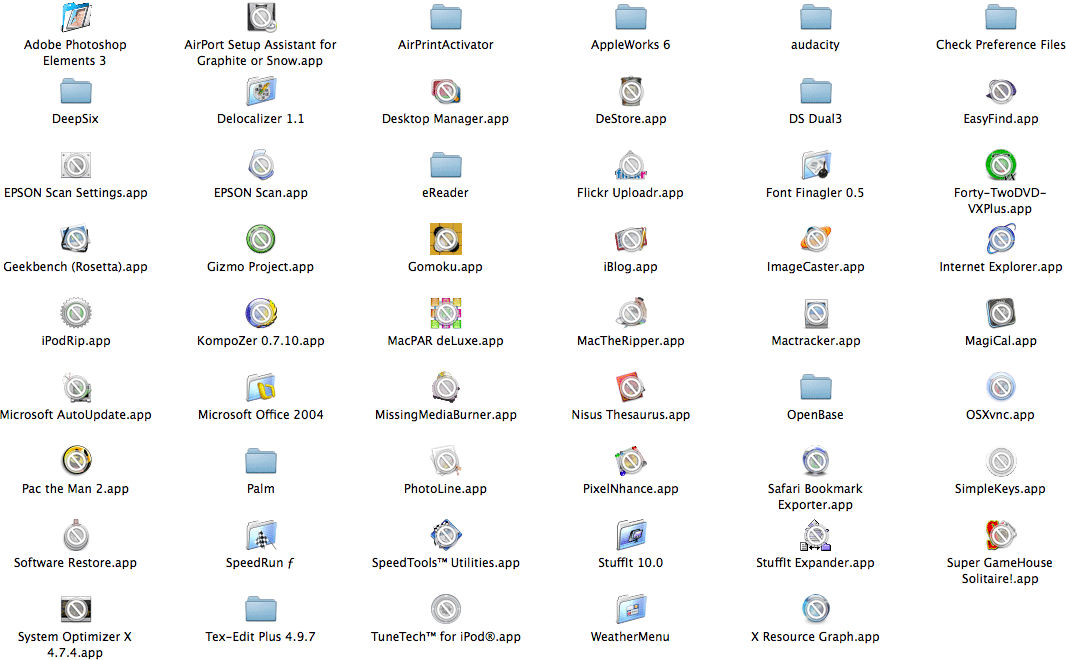 Some of these I no longer need. I replaced Photoshop Elements 3 with version 6 some time ago in anticipation of someday migrating to Mountain Lion, but I never removed the old app. Some are apps I used once for a specific project and no longer need or just tried once and decided I didn't need. Some came with my 2007 Mac mini when I bought it used, and many of those I've never even used. A number of them are old benchmark programs that are quite outdated anyhow. And some are probably just in need of an upgrade to a newer version.
But a few of them have been essential. I love AppleWorks, which I've been using since version 1.0 arrived, running it on System 7 on my upgraded Mac Plus. The last version of AppleWorks runs very nicely with OS X 10.6 Snow Leopard, and I have a lot of documents – especially spreadsheets – in .cwk format. Because of that, I'll keep a Snow Leopard partition on my MacBook and keep using it on my Mac mini as well.
The most valuable thing I leave behind is Office 2004. Fortunately, I never paid for it. I won it in a Mac trivia contest. And I'd never pay for it, as I loathe what Microsoft Word and Excel have become and have no need for PowerPoint. I have Office installed for those files people send to me created in Word or Excel so I can be sure they'll open correctly. I also have LibreOffice, which is compatible with Mavericks and Office files, so no great loss.
For my wife, that wouldn't be true at all. She lives in Yahoo! Mail and Microsoft Office 2004, so I won't be upgrading her to Mavericks. I'm not going to pay for a new copy of Office.
Looking Ahead
In the coming weeks, I'm going to see which of these apps I no longer need at all, in which case I can remove them from my Snow Leopard partition and my Mac mini as well. And for the rest, I'll try to find free or nearly free replacements – and share my findings with you.

At the top of that list was MagiCal, which shows you the time, date, and day of week in the menu bar and lets you quickly pop open a calendar. I downloaded the latest Intel-only version, but Mavericks wouldn't let me open it at first, being from an unregistered developer. All I had to do was open the Security & Privacy system preference, unlock it, an allow software from any source to run under Mavericks. Success!
Problems
I did not do a clean install. I installed Mavericks over a cloned copy of the Mountain Lion partition, and that may be part of the reason I'm having problems others are not. Here's the short list:
Messages and FaceTime will not connect. iChat and FaceTime work perfectly with OS X 10.6.
I cannot visit Twitter or LastPass using either Safari or Chrome, but no problem at all with Firefox – or Safari and Chrome in Snow Leopard. Browsers report a problem with certificates.
LastPass cannot connect to its server, an issue I never had with OS X 10.4, 10.5, or 10.6.
UPDATE: Problem solved! See Fixing Security Certificate Problems in OS X.
That's it so far. I really want to like Mavericks, because from everything I've read about it, Apple has introduced some real breakthrough technologies. I'll let you know more as I continue to use it.
What is your experience with Mavericks?
Short link: http://goo.gl/Gho6k1
searchword: mavericksreview