There are still some apps on the App Store that only require OS 3 without resorting to custom firmware and custom app stores, like the one provided in whited00r, but will work in both standard Apple firmware and whited00r – but how do you find them? Up until now, it used to be pure luck: Browse the App Store with fingers crossed the app you find still works on OS 3.
Thanks to Michael Ackerman, a kind reader of my original article Let's Build an App List for contacting me with a new, very easy way of finding OS 3 apps.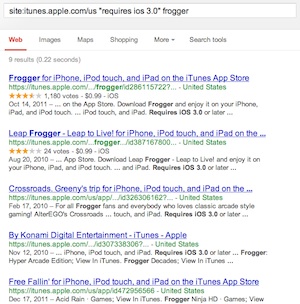 Simple enter site:itunes.apple.com/us "requires ios 3.0" frogger in to a Google and it will display all OS 3 apps with 'Frogger' in the title on the iTunes site.
To vary the results change the word frogger to what you would like to search for. You can also change the iOS version number to requires ios 4.2 or requires ios 5.0 to search for those versions of iOS.
If you just want to look through all OS 3 apps, try putting in site:itunes.apple.com/us "requires ios 3.0" and it will give you pages after pages of OS 3 apps.
Then you can simply select the link, then click View In iTunes. Once iTunes is loaded, you can install and sync with your OS 3 device.
Just another tip for keeping your older iOS device as useful as possible.
---
Follow Simon Royal on Twitter or send him an Email.
Like what you have read? Send Simon a donation via Tip Jar.
---
keywords: #ios #iphone #find #apps #techspectrum #simonroyal
short link: http://goo.gl/grh9WY

searchword: findiOSappseasily