Linux distributions (a.k.a. distros) are a great free alternative to Windows for both PCs and older Intel Macs. With hundreds of distros available, it can be hard to decide, but Elementary OS stands out.
Mac OS X is where I love to be. I'm such a fan of the Apple operating system that I would rather use an older version of OS X on older hardware than be faced with using Windows on a daily basis.
However, there is Linux, a great alternative that a lot of people do not consider. I have had a keen interest in Linux for a long time playing with the big guns like Ubuntu and Fedora as well as lighter alternatives for older hardware including Xubuntu, Lubuntu, Linux Mint, Peppermint, and the mega lightweight CrunchBang!, DamnSmallLinux, and the very popular Puppy Linux.
The problem with lightweight alternatives is they tend to be lacking in the feature or looks departments, saving as many system resources for function rather than cosmetics. However, step in Elementary OS.


Elementary OS has a Ubuntu base but with a lighter footprint and less system requirements than the standard Ubuntu. In 2011, they released Jupiter, which was based on Ubuntu 10.04 with a graphical makeover and a few tweaks. By contrast, their newest version, Luna, is rebuilt from the ground up, and the results are astounding. While on a Ubuntu 12.04LTS base, it looks and performs nothing like standard Ubuntu.
I was recommended to try it by a fellow Mac user, Linux enthusiast and blogger Carl Draper. You can check out his review of Elementary OS at his Tech Thoughts blog. Initially, I was looking for a slim distro to use on my son's Acer Aspire One. It is the SSD model, and the SSD is very poor quality, incapable of running Windows XP properly. I didn't want a horrible looking distro. I wanted the best of both worlds: Lightweight with fantastic looks and power.
The device originally shipped with Linux Linpus – an ugly childlike distro similar to the Xandros installed on EeePC netbooks.
Installation
As with any modern Linux distro, installation is very simple. Download an ISO, make a bootable USB stick, boot to the live distro, which is a working operating system running from the USB stick, and then run the installer. A few clicks and a few personalisation choices, and you have a machine running Linux.
First Impressions
Linux feels a lot more familiar to Mac users than to Windows users. The way it operates seems more Mac-like than Windows.  The nice touch of a dock (called the plank) – is a nice way to ease in Mac users.
Once running from your hard drive and not the live USB stick, you will see how fast Elementary OS is. Even on paltry hardware like the Acer Aspire – an Intel Atom N270 1.6 GHz, 1.5 GB RAM, and 8 GB very slow SSD – it ran very well, booting in about 20 seconds.
This machine only has a 10" screen, and a lot of distros I have used are optimised for computers with larger screens and just feel so cramped. The first thing that grabbed me was how well it looks on such a small screen. The fonts and menus are small enough not to take up too much screen space, but big enough to be useable. A lot of thought has gone in to the design and feel of Elementary OS, and it shows.
Apps
After a few hours of using it on the Acer, I was very impressed. The default browser is Midori, a WebKit-based browser, which turned up no problems except a glitch getting Flash installed, which took a bit of tweaking. However, once installed it worked fine. I used the instructions from LinuxG.net to get Flash working in Midori.
I had a quick play with the Geary Mail email client and Empathy IM software. Both are as slick and fast as expected.
The dock also holds Music, the default music player; Shotwell, the picture management tool; and a few other items, but you can drop your own apps on to it, just like Mac OS X.
Further apps are accessible from the top left of the screen. Clicking the Applications menu drops down a list of installed apps that is searchable.
The top right hand holds the usual sound, network, WiFi, users, and power menus.
Hardware
Linux has come along way in recent years. When I first dabbled with it on different machines, there was always something that didn't work or needed backend tweaking.
However, Ubuntu and the distros based on it now have better hardware detection than Windows. Elementary OS on this Acer detected all hardware, including the WiFi card, the sound setup, and even the slightly odd screen resolution.
Virtualisation on My MacBook
I decided to try out Elementary OS on my Early 2009 MacBook using the VirtualBox virtualisation software. This is a great way of installing and trying out operating systems, both Windows and Linux, without wiping a hard drive or messing up a currently installed operating system and setup.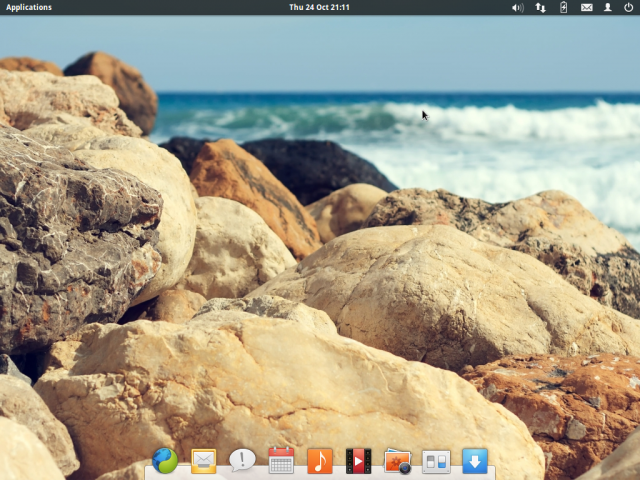 Virtualising runs the virtualised OS at near enough full speed, and it can be run alongside your current OS. Whilst writing this article in Mac OS X, I have a window beside me with Elementary OS running in it.
If you want to try out Elementary OS (or any other OS) before installing it physically on a hard drive, download VirtualBox, which is free and is available for Mac OS X, Windows, and Linux so you can give it a whirl.
You can also run it live on PC hardware using a live USB stick. This is also a great way of testing it out and ensuring it detects all your hardware correctly. So long as it's on a USB 2.0 port, it will run very fast too.
Conclusion
I love Mac OS X. But if it wasn't an option for me, then Linux would be my next choice. However, with all the distros out there it is hard to find one good enough to use without going through a few of them first.
I like Ubuntu, but for a decent performance you need a hefty machine. I had been using Linux Mint LXDE version, but I think I have found my new favourite distro in Elementary OS.
Over the next few months I shall be using it more and more, getting to grips with it.
---
Follow Simon Royal on Twitter or send him an Email.
Like what you have read? Send Simon a donation via Tip Jar.
---
keywords: #elementary #elementaryos #alternativeos #linux #techspectrum #simonroyal
short link: http://goo.gl/ngVmql
searchword: elementary0s