OS X 10.9 Mavericks has just been released by Apple. Here are my initial impressions.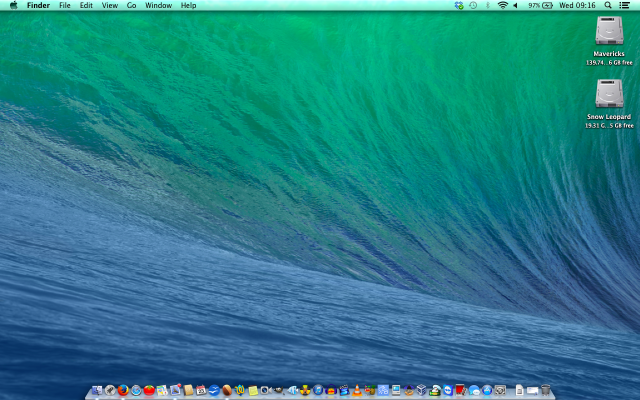 Firstly, can I say wow. If ever a single word summed up an OS, wow sums up Mavericks.
No Hardware Increase
The best news is that if your Mac can run OS X 10.8 Mountain Lion, it can run Mavericks. Apple hasn't increased the system requirements. The last time this happened was in 2002 when Mac OS X 10.2 Jaguar was released running on the same hardware as Mac OS X 10.1 Puma.
No Price Increase
The second best piece of news is that Apple are offering it for free. Mac OS X 10.5 Leopard was the last high priced version of OS X back in 2007. Since then, the price has dropped, but I doubt anyone expected Apple to offer the latest version totally free.
Installation
Installation is generally simple. You download it from the App Store, and it upgrades over your existing Snow Leopard, Lion, or Mountain Lion installation.
It is possible to do a clean install, which I chose to do. I have had my MacBook since Leopard and upgraded to every version after that, so felt it needed a fresh install to clean out rogue and unneeded files and apps.
The process for creating a bootable working USB flash drive is not as straightforward as with Mountain Lion. I followed instructions from OS XDaily.
Installation was as straightforward as ever. Set it off and let it do its thing until prompted to input your details.
How Does It Run?
I am running it on a 2 GHz Core 2 Duo Early 2009 MacBook with 4 GB RAM and nVidia GeForce 9400M graphics chipset with 256 MB video memory. This is one of the earliest Macs to support Mountain Lion, so I wasn't holding out much hope my Mac would see the next version, but by not increasing hardware requirements, mine thankfully can run it.
It really is fantastically smooth. OS X 10.9 Mavericks attempts to bring back the speed of OS X 10.6 Snow Leopard with the features of 10.8 Mountain Lion. First impressions of Mavericks: They have achieved it. It is a brilliantly fast OS without sacrificing features.
Compatibilty
As you can see from the above screenshot after installing Mavericks, I reinstalled the applications I used in Mountain Lion.
The list is quite large: Firefox 24.0, Tomato Torrent 1.5.1, OpenOffice 4.0.1, Bean 3.2.5 (which I wrote this in), TextWrangler 4.5.3, GIMP 2.8.4, SeaShore 0.5.1, Burn 2.5.1, Audacity 2.0.4, iMovie HD 6.0.3, VLC 2.1.0, HandBrake 0.9.9 (x86_64), iTools 1108, MacTracker 7.1.5, TinyUmbrella 7.02, VirtualBox 4.2.18, ChickenOfTheVNC 2.0b4, and TeamViewer 8.0.20942.
All of these opened without any problems, and apart from a couple of them asking for a Java update, everything seems fine.
New Features
There are a lot of new features, which I haven't had a chance to look in to fully so here is a summary.
Apple have taken the same flat and simple look of iOS 7 and built it into Mavericks. The Calendar features a white background with a simplistic look.
Notification Centre has been enhanced to include more information.
Finder tabs have been added, just like browser tabs. Now you can keep your desktop tidy.
iBooks and Maps are new apps in Mavericks taking your mobile reading library and navigation system from iOS to the desktop.
Safari has been updated, offering even more speed.
iCloud Keychain offers online password management across approved devices.
Improved Multiple Display support, with the ability to have a dock on each screen and either span an app across all displays or using each one on a separate screen.
One of the key new features is its smart power management technology. It has the ability to take processing power and RAM from backgrounded apps and push that to active apps giving more power to what you need.
Conclusion
I am very impressed with Mavericks in the short time I have been using it. Yet another amazing OS from Apple – and even better for being free.
---
Follow Simon Royal on Twitter or send him an Email.
Like what you have read? Send Simon a donation via Tip Jar.
---
keywords: #osxmavericks #mavericksreview #techspectrum #simonroyal
short link: http://goo.gl/HLkvPL
searchword: mavericksreview