The Late 2013 iMac takes last year's slimmer than ever design and powers it with Intel's energy efficient Haswell Core i5 CPU (with i7 build-to-order options).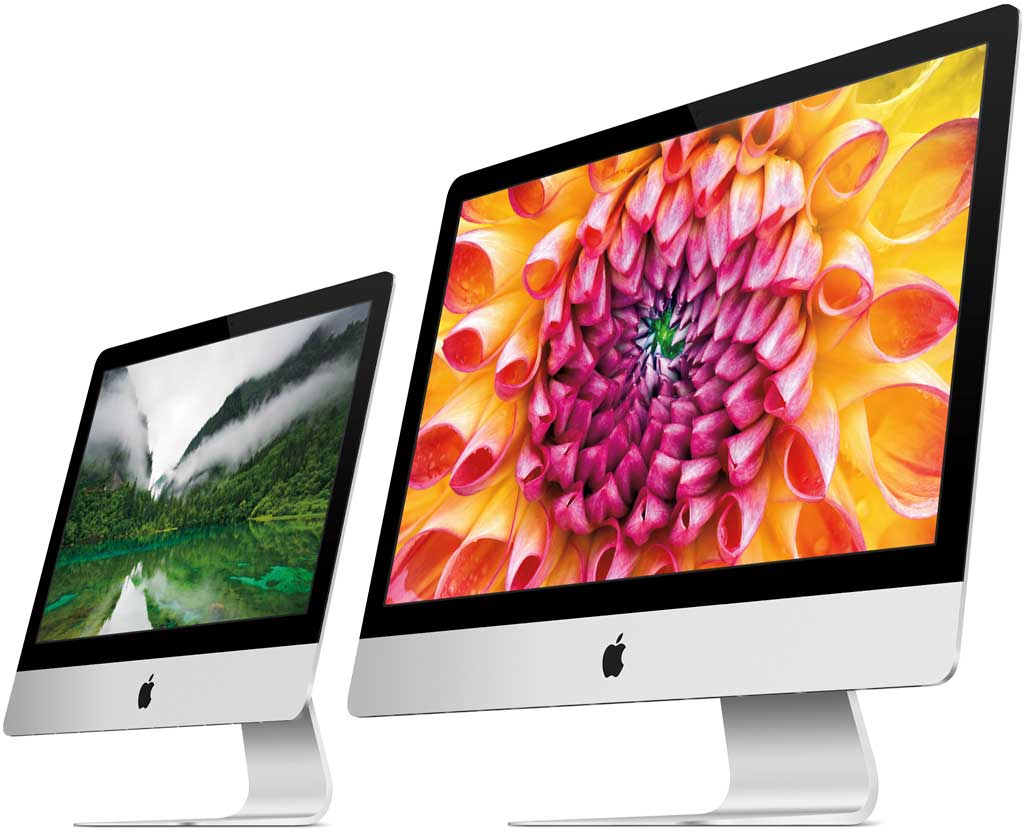 CPU speeds on the 21.5″ models are the same as in last year's iMacs, but the 27″ model gets a boost to 3.2 and 3.4 GHz. That puts the new low-end 27″ iMac at the same speed as the faster 2012 iMac it replaces.
The big difference this year is using Haswell CPUs instead of the older Ivy Bridge, which should reduce power consumption and heat buildup.
Apple included improved graphics with all but the entry-level 21.5″ model, which settles for integrated Intel Iris Pro 5200 graphics while the rest of the line has nVidia GeForce 700M-series graphics processors.
One advantage the Iris Pro graphics has over Intel HD 5000 graphics is that 128 MB of eDRAM memory is integrated into the CPU, which can be used by both the CPU and the GPU. By integrating this high-speed memory, processes are not slowed nearly as much as when accessing system memory, although we should note that the GPU does use system memory to drive the entry-level 21.5″ iMac's display. Ars Technica reports that the Iris Pro 5200 GPU offers slightly better performance than the GeForce GT 640M GPU found in last year's entry-level iMac.
The 21.5″ iMac ships with a 1 TB 5400 rpm hard drive, and the 27″ model bumps that to a faster 7200 rpm drive. And for those wanting an SSD or Fusion Drive, the good news is that these are now connected via a PCI Express interface, which outperforms the SATA Revision 3 used for hard drives.
The Late 2013 iMac follows the Late 2013 MacBook Air as the second Mac to ship with 802.11ac WiFi. Another step forward is the use of two microphones, as in the Late 2013 MacBook Air, to improve noise reduction.
Longtime Mac users may be disappointed that, like the Late 2012 version, the Late 2013 iMacs also have no built-in FireWire port. That said, you can get a Thunderbolt-to-FireWire adapter if you so desire.
As with last year's iMacs, you can't upgrade memory. If you order your iMac with the base 8 GB of RAM, that's all you'll ever have. You can order both the 21.5″ and 27″ models from Apple with 16 GB installed, and there's even a 32 GB option for the 27″ iMac.
Introducing Fusion Drive
If you want way more performance, look to the $300 256 GB SSD (768 GB option for 27″ model) or the new $250 1 TB Fusion Drive, which combines a 1 TB hard drive (3 TB option for 27″ iMac) with 128 GB SSD. Fusion Drive treats the hard drive and SSD as a single 1.125 (or 3.125) TB volume, storing the operating system and all included software on the SSD and initially putting everything else on the hard drive. It also reserves 4 GB of space on the SSD for use as a hard drive cache.
The brilliance of Fusion Drive is that the operating system keeps track of your work patterns and will move files, data, and applications to the SSD or back to the hard drive based on that information. Best of all, this is totally transparent to the end user. To revive a phrase Apple has used for a long, long time, it just works.
Maybe because this is brand new, unproven technology for Apple, there is no Fusion Drive option for the Server version.
Other Details
CPU speeds start at 2.7 GHz, and all Late 2012 iMacs have quad-core processors. That's a quad-core i5 on the standard configurations, and both sizes offer a faster i7 option for those demanding ultimate performance.
All models now include USB 3 (4 ports), and the 21.5″ 2012 iMac now has two Thunderbolt ports, just like it's larger sibling. The SD Card slot, which supports SDXC, has unfortunately moved to the back (vs. the side in previous models). The 2012 models no longer have FireWire.
The smaller iMac has the same 1920 x 1080 pixel resolution as HD TV, and the 27″ beastie provides an impressive 2560 x 1440 pixels.
The base 21.5″ model has Nvidia GeForce GT 640M graphics with 512 MB of dedicated memory, and the faster 21.5″ model has GT 650M graphics. The base 27″ model includes GeForce GTX 660M graphics with 512 MB of video memory, and the top-end 27″ iMac has GTX 660M graphics with 1 GB of video memory (expandable to 2 GB).
The Late 2013 iMacs also have gigabit ethernet, Bluetooth 4.0, and ship with Apple's wireless keyboard, Magic Mouse, and Magic Trackpad.
Details
introduced 2013.09.24 at US$1,299 (21.5″ 2.7 GHz i5, GeForce GT 640M), US$1,499 (21.5″ 2.9 GHz, GeForce GT 650M), US$1,799 (27″ 2.9 GHz, GeForce GTX 660M), and US$1,999 (27″ 3.2 GHz, GeForce GTX 675M). 21.5″ iMac ships in November, 27″ in December.
Part no.:
Mac OS
requires OS X 10.8.5 Mountain Lion or later
Mac OS X 10.8 Mountain Lion compatibility

AirPlay Mirroring is supported.
AirDrop is supported.
Power Nap is not supported.
Core System
CPU, 21.5″: 2.7 GHz (3.2 GHz Turbo Boost) or 2.9 GHz (3.6 GHz max) quad-core Intel Core i5, 3.1 GHz (3.9 GHz max) i7 build-to-order option for 2.9 GHz model ($200 additional)
CPU, 27″: 3.2 GHz (3.6 GHz Turbo Boost) or 3.4 GHz (3.8 GHz max) quad-core Intel Core i5, 3.5 GHz (3.9 GHz max) i7 build-to-order option for 3.4 GHz model ($200 additional)
L2 cache:

4 MB shared cache on 2.7 GHz i5 CPU
6 MB shared cache on all other CPUs

Bus: 1600 MHz
RAM: 8 GB, 21.5″ expandable to 16 GB, 27″ to 32 GB at time of purchase
Performance:

Speedmark 6.5:
Geekbench 2:
Video
GPU, 21.5″ 2.5 GHz: Intel Iris Pro 5200 graphics
GPU, 21.5″ 2.7 GHz: Nvidia GeForce GT 750M with 1 GB dedicated VRAM
GPU, 27″ 2.7 GHz: Nvidia GeForce GT 755M with 1 GB dedicated VRAM
GPU, 27″ 3.1 GHz: Nvidia GeForce GTX 775M with 2 GB dedicated VRAM (GTX 780M with 4 GB build-to-order option)
Display:

21.5″ 1920 x 1080 LED backlit flat panel display
27″ 2560 x 1440 LED backlit flat panel display

Video out: Mini DisplayPort, DVI and VGA with optional adapters
Drives
drive bus: 3 Gbps SATA Rev. 2 (6 Gbps with EFI update)
SSD: 256 GB build-to-order option, can be installed in addition to hard drive
Hard drive: 1 TB 5400 rpm SATA drive (21.5″), 1 TB 7200 rpm (27″), 3 TB option
SuperDrive: external only
Expansion
Thunderbolt: 2 ports
USB: 4 USB 3 ports
FireWire 400: none
FireWire 800: none
Ethernet: 10/100/gigabit
WiFi: 802.11ac AirPort Extreme built in, three antennas support up to 1.3 Gbps bandwidth
Bluetooth 4.0: included
IR receiver: none
SD Card: 1 slot, supports SDXC
Microphone: internal
Modem: No longer offered by Apple
Physical
H x W x D (21.5″): 17.7 x 20.8 x 6.9 in/45 x 52.8 x 17.5 cm
H x W x D (27″): 20.3 x 25.6 x 8.0 in/51.6 x 65.0 x 20.3 cm
weight (21.5″): 12.5 lb/5.68 kg
weight (27″): 21 lb/9.54 kg
Power supply: 241W (21.5″), 365W (27″)
CPU Upgrades
Resources
Online Resources
Keywords: #imac #late2013imac
Short link: http://goo.gl/zHXS2S
searchwords: imaclate2013, imac2013, late2013imac, 2013imac