Until the launch of iOS 5, Apple relied on regular messaging services on its iPhones, such as SMS/text messaging, MMS/picture messaging, and email. However iOS 5 brought with it iMessage, and a new messaging revolution started.
Specialised messaging services are nothing new, Research In Motion (RIM) has been using its Blackberry Messaging Service for a number of years for sending instant messaging between Blackberry devices.
However, Apple takes the idea of a proprietary messaging service, simplifies it, cleans it up, and brands it in the usual Apple way. So let's look at the difference between iMessage and BlackBerry Messenger, and then we will see how seamless Apples implementation is.
Differences
1. Contacts
Blackberry Messenger relies on using a PIN that is hardwired to each BlackNerry handset. This means that changing your handset means changing your PIN, so you would have to let every BlackBerry contact know your new PIN.
iMessage uses regular phone numbers, which are tied to your SIM card, and Apple email addresses, and if you change your iPhone, you don't have to notify each contact with a new PIN (however you would do so if you changed your phone number).
2. App
Blackberry Messenger uses a separate app for BBM and SMS/MMS.
iMessage has one unified Messages app. Because iMessage uses mobile numbers, both iMessage and SMS share the same inbox. iMessage messages are surrounded by a blue background; SMS are surrounded by a green background.
In my inbox right now I have 8 threads, 3 of which are with iMessage users, and the rest are regular SMS users – all sharing the Message app.
3. Automatic Detection
BBM requires you to know that the other user is a BlackBerry user, and you must know their PIN. Once you have this, you can BBM them – otherwise you would simply be SMSing them.
Because iMessage uses the same inbox and your mobile number, you simply start typing a message and the phone/network will determine if it is another iDevice user.
For example, I had a number of things up for sale locally with my mobile number on the advertisement. None of the people contacting me knew me or had my number previously. A couple of those people must have had an iPhone or iPad, as when they sent me a message it came through as an iMessage without them deliberately sending one. How do I know? Because they came through blue.
4. Data
BlackBerry phones have a notorious reputation for being totally different from any other device on the market. A BlackBerry without its proprietary BlackBerry Internet Services is a just a fancy phone with no internet/email connectivity.
RIM provides data through its own servers and – not your service provider – and you have to pay a price to get it, along with the 'Service Books' that allow this. Service Books are the BlackBerry equivalent to regular APN settings, and these are attached to your SIM.
Other phones – including the iPhone – uses a regular data connection from your service provider, which is either included in your plan or charged per use.
5. Multi Device Use

One of the biggest things I love about iMessage is that I can do it on my Mac too. Yes, iMessage works on OS X Mountain Lion using the Message app and on iPads.
I have mine set up so that both my MacBook and iPhone sync conversations, so I can start an iMessage conversation on my MacBook and then, if I go out, I can carry it on, on using my iPhone without the recipient knowing – and visa-versa.
The first screen shot below is from a conversation on my Mac using the Messages app. The one below it is the same conversation on my iPhone.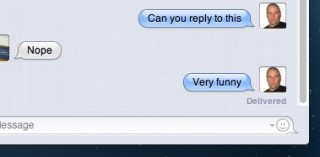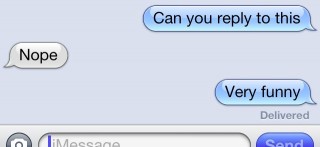 Similarities
1. Delivery Reports & Writing
The iPhone has never had SMS delivery reports – not unless you jailbreak it – but the introduction of iMessage brought iMessage delivery reports, so you can tell when your iMessage has been delivered to the other user.
You can also tell when the other person is writing – signified by three dots in the message window.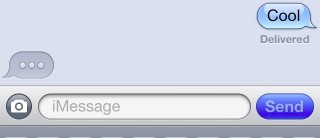 This is similar to BBM. BBM has delivery reports as well as read reports – so you can tell if the other person has not only received it but read it as well. You can also tell when the other person is writing, as it says 'Simon is writing a Message' at the top.
2. Multimedia Files
Prior to BBM or iMessage, the only way to send anything other than text – other than email – to another phone was to use MMS, or picture messaging as it is also called.
This is a costly and fairly unreliable method. It requires the other person have a capable handset and have their handset set up correctly. It also didn't allow for international sending without an even steeper price tag.
However, iMessage and BBM both allow you to send video and pictures without incurring a charge.
Which Is Best?
This is a hard question to answer? Of course it depends on what handset you have in the first place or what ecosystem you prefer.
This may come across as slightly biased, but I genuinely think the iMessage service is better than RIM's offering on the grounds that it uses the same app as SMS and uses telephone numbers.
---
Follow Simon Royal on Twitter or send him an Email.
Like what you have read? Send Simon a donation via Tip Jar.
---
keywords: #ios5 #imessage #ios #techspectrum #simonroyal
short link: http://goo.gl/ShO9X2

searchword: imessage