Good news for jailbreak fans, the pwn dfu tool iReb is now available for Mac OS X.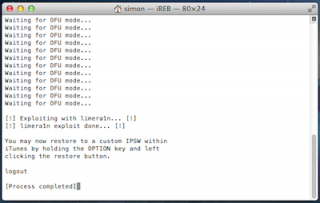 To install a custom or unsigned firmware on your iDevice you will need to put it in PWN DFU mode other wise you might get an iTunes error.
The best tool to do this is iReb, but has previously only been available for Windows. However developer iH8Sn0w has now made a version for Mac OS X. It will run on Mac OS X 10.4 upwards and covers OS 3 to iOS 6.
The Windows version has a pretty GUI and instructions on how to enter DFU mode, where as the Mac version is plain, runs in a terminal window, and doesn't offer instruction, but it works just as well. Download it here.
DFU Instructions
As you will see above, once your iDevice is connected iReb will wait for DFU mode before it starts to pwn. To enter DFU, connect your iDevice and turn it off.
Then hold the power button for 3 seconds, as soon as you see the Apple logo hold the home button (whilst still holding the power button).
Count 10 seconds and then let go off the power button. Keep holding the home button until iTunes and iReb kick in to life which is usually about 20 seconds. If it doesn't, then you might need to restart the whole process.
If all has gone well you are ready to install custom firmware such as whited00r or a tweaked ipsw made using sn0wbreeze, by holding ALT and clicking on the 'Restore iPhone' in iTunes and selecting your ipsw.
Have fun!
---
Follow Simon Royal on Twitter or send him an Email.
Like what you have read? Send Simon a donation via Tip Jar.
---
keywords: #ireb #restore #custom #iH8Sn0w #techspectrum #simonroyal
short link: http://goo.gl/8txocG

searchword: irebOSX