One the biggest gripes I have had with iOS devices is that you can only download the latest version of an app for the newest version of iOS. At last this seems to have changed.
Pick up an iPhone 3G running iOS 4 and try to install the Facebook app, and you would be prompted with 'this requires iOS 5' and therefore left out in the cold. There was a version that ran on iOS 4 – there is even a version older than that – but you couldn't install them. (I have written about this many times, as in No Old Apps For You.)
Now You Can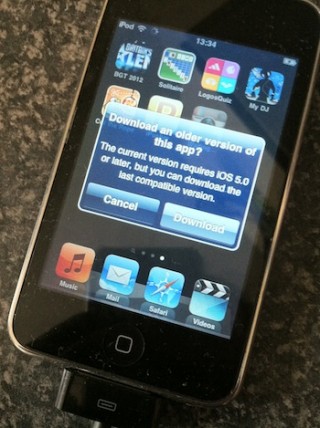 A surprise that is doing its rounds on the Net: It seems Apple have listened to my moaning – and that of others, of course – and relaxed its 'latest or nothing' attitude towards iOS apps.
I just grabbed my wife's second generation iPod touch. It is running iOS 4.2.1 – the maximum it can support. In the past she has complained about not being able to install newer apps.
I went to the App Store and searched for Instagram and clicked install. I was prompted with a different message:
Download an older version of this app? The current version requires iOS 5.0 or later, but you can download the last compatible version.
This is a brilliant breakthrough and will save so many devices from being ditched.
It has certainly made me think twice about upgrading my wife's iPod Touch and even my iPhone 4, which will most certainly not see iOS 8.
Not for OS 3
The only downside is it doesn't work for OS 3, so that cuts out the original iPhone and iPod touch, as these didn't get iOS 4.
To be fair the App Store on OS 3 has been broken for a while. To install apps, you either needed to do it in iTunes and then sync across or use custom firmware like whited00r with its custom app store featuring older versions of apps. This still looks like your best option.
However, it does support every other iDevice after that. At last Apple have listened.
---
Follow Simon Royal on Twitter or send him an Email.
Like what you have read? Send Simon a donation via Tip Jar.
---
keywords: #ios #lastcompatibleversion #techspectrum #simonroyal
short link: http://goo.gl/E5dF0b

searchword: lastcompatible