Although it received some relatively minor updates in 2012, the previous Mac Pro received its last real update in 2010, and by the time the 2013 Mac Pro shipped in December 2013, that model was well over three years old. The 2010/2012 Mac Pro was the last Mac to run OS X 10.6 Snow Leopard, as well as everything newer, but without Thunderbolt or USB 3, it's a relic from another era.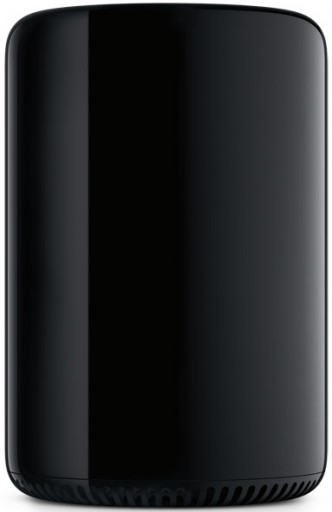 Apple has wholeheartedly embraced Think Different with the 2013 Mac Pro. It looks like an oversized (almost 10″ tall) soda can coated in shiny black, and there isn't even an Apple logo on the front or top, a first for desktop Macs.
Announced at the June 2013 Worldwide Developer Conference (WWDC) along with OS X 10.9 Mavericks and iOS 7 and updated MacBook Air models, Apple wowed us with a fresh new design and hot new technologies (especially Thunderbolt 2) while revealing very little in the way of specifications. No word on CPU speed, memory configurations, SSD capacities, etc. at WWDC.
For the detail minded, standard CPU options include a 3.7 GHz 4-core, 3.5 GHz 6-core, 3.0 GHz 8-core, and 2.7 GHz 12-core Intel Xeon E5.
Unified Thermal Core
Let's start by saying that Apple completely rethought computer design. Instead of building the computer into a box with expansion slots and drive bays, it took the essentials, built them around a massive triangular heatsink that sits at the heart of the 2013 Mac Pro, and affixed CPU and GPU cards to that core, encasing everything in a stamped black aluminum enclosure with a single cooling fan.
Processing Power
The 2013 Mac Pro is available with up to 12 cores of Intel Xeon E5 processing power complete with 256-bit floating point instructions, and for those interested in customization, the CPU can be readily replaced. Apple tells us it will be up to twice as fast as the much larger Mac Pro that it replaces, but we're awaiting benchmarks of 8- and 12-core versions to validate that claim.
Bear in mind that Geekbench primarily tests the CPU and data bus, not graphics or drive speed. Early 64-bit Multi-Core Geekbench scores put the 3.7 GHz 4-core model at 14,600 and the 3.5 GHz 6-core at 20,561. The puts the 4-core ahead of the 2009 2.27 GHz 8-core Mac Pro and behind the 2.4 GHz 8-core 2010 model. The 6-core outperforms the 2.93 GHZ 8-c0re 2009 model but trails the 2.4 GHz 12-core 2012 Mac Pro. In early 2014, we finally got benchmarks for the 12-core model at a whopping 32,912 – over 20% ahead of the previous 12-core model.
The expansion bus is PCI Express gen 3, which has a 40 GB/s bandwidth.
System memory is accessed via a 4-channel DDR3 memory controller at 1866 MHz, delivering 60 GB/s of memory bandwidth. As a pro model, the Mac Pro uses ECC (error correcting) memory.
Graphics Performance
For the first time, Apple is shipping a computer stock with two video cards. The Mac Pro will come with a pair of AMD FirePro graphics cards, each with up to 6 GB of memory. This provides up to 7 teraflops of graphics processing power, about 2.5x as much as the top-end 2012 Mac Pro.
Between the 20 Mbps bandwidth of Thunderbolt 3 and the two GPUs, the Mac Pro can support three 4K (4096 x 2160 pixel) displays at once while simultaneously rendering video effects in the background!
No Hard Drive!
There are no mechanical drives in the new Mac Pro – no internal SuperDrive; no built-in hard drive – so it should be pretty quiet with its whisper soft fan and SSDs. And unlike any Mac since 1986, there isn't even an industry standard drive bus. That's right: No SCSI, no IDE, and not even SATA.
For ultimate performance, the Mac Pro uses wicked fast flash memory on a PCI Express 3.0 bus for up to 2.5x the performance of standard SSDs (1250 MB/s vs. 500 MB/s bandwidth) – and over 10x that of a 7200 RPM hard drive. Apple claims booting the Mac Pro, launching apps, and even opening massive files happens "in a flash".
Silence Is Golden
Air enters the Mac Pro through a bottom vent and is pulled past the CPU and GPU cards and through the heatsink core by a single cooling fan, which is also designed for nearly silent performance.
External Expansion
The original Macintosh was designed for external expansion only. Steve Jobs' goal was that all expansion would be done using a high speed serial bus, which was 230.4 kbps in those days – and is a whopping 20 MBps for each of the six Thunderbolt 2 ports on the 2013 Mac Pro. And just like that original Mac, all expansion ports are on the back.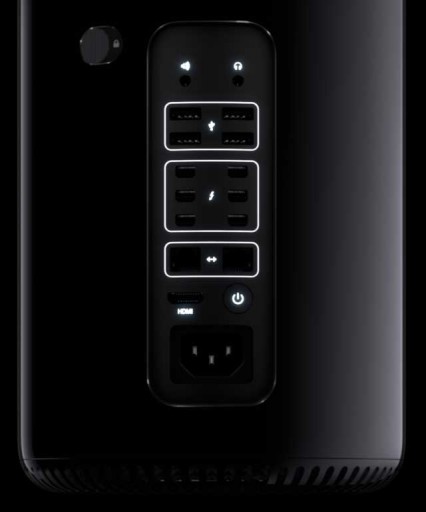 In addition to the new Thunderbolt 2 technology, there are four USB 3 ports, two gigabit ethernet ports, microphone and speaker jacks, and an HDMI 1.4 port. That should be enough to satisfy most users, with each T-bolt port supporting up to 6 devices and USB hubs readily available.
Cleverly, the Mac Pro senses when your hand is nearing the ports and lights them up.
As with other Thunderbolt models, monitors are connected to Thunderbolt, although there is also an HDMI port for hooking the Mac Pro to a high-def TV or digital projector.
Connectivity
Today's computers want to reach out the printers, other computers, and the Internet, and the Mac Pro supports that with gigabit ethernet, Bluetooth 4.0, and the new 802.11ac WiFi standard.
Missing
We've already heard complaints about the lack of an internal optical drive from those who burn CDs and burn or watch DVDs, but by not including it, Apple will make it easier for power users to embrace Blu-ray without having to officially support it. And external drives are cheap.
The other big complaint is the lack of a hard drive bay. Any hard drives have to be external, and those drives are more expensive than internal ones and require one or two cables, depending on whether they are bus-powered or not. (Most 3.5″ drives are not, but most 2.5″ drives are.)
The remaining question is whether users will be able to upgrade system memory and SSDs themselves, have to go back to Apple, or not have any options there at all.
For those who are using OS X 10.7 Lion or 10.8 Mountain Lion, the 2013 Mac Pro requires OS X 10.9 Mavericks, and that really shouldn't be an issue. We've heard only good things about Mavericks.
And for those wed to OS X 10.6 Snow Leopard, you still have time to pick up the current Mac Pro.
Details
announced 2013.06.10, shipped 2013.12.19
Gestalt ID: n/a
Part no.: unknown
Mac OS
Requires Mac OS X 10.9 Mavericks or later
Core System
CPUs: single CPU model uses 2.8 GHz Intel Nehalem Xeon 3530, 3.2 and 3.33 GHz options (at $400 and $1,200 additional, respectively); dual CPU model use 2.4 GHz Westmere Xeon 5620, 2.66 and 2.93 GHz 6-core options (at $1,400 and $2,600 additional, respectively)
Performance:

Geekbench 3 64-bit multicore: 3.7 GHZ 4-core, 14,577; 3.5 GHz 6-core, 20,578; 3.0 GHz 8-core, unknown; 2.7 GHz 12-core, 32,912

RAM: 3 GB, expandable to 16 GB using 1866 MHz DDR3 ECC SDRAM in 4 slots
L2 cache: 256 KB per core
L3 cache: 8 MB per CPU (Nehalem); 12 MB per CPU (Westmere), bigger caches available on some other Xeon E5 CPUs.
Video
GPU: 2 AMD FirePro, each with up to 6 GB RAM
ports: Thunderbolt 2, HDMI 1.4
Drives
drive bus: PCIe 3.0
drive: SSD only
optical drive: none
Expansion
Thunderbolt 2: 6 ports
USB 3: 4 ports
FireWire 400: none
FireWire 800: 4 ports (2 on front, 2 on rear)
Ethernet: 2 independent 10/100/gigabit ports
WiFi: 802.11ac AirPort Extreme
Bluetooth: 4.0
PCI Express 3.0: no available slots, used by SSDs
SATA: none
Microphone: standard 3.5mm minijack, compatible with line-level input, not compatible with Apple's PlainTalk microphone
Physical
size (HxWxD): 9.9″ x 6.6″ x 6.6″ (51.1 x 20.6 x 47.5 cm)
weight, single CPU: 39.9 lb. (18.1 kg)
weight, dual CPU: 41.2 lb. (18.7 kg)
PRAM battery: 3.6V half-AA
Accelerators & Upgrades
Online Resources
Keywords: #2013macpro #macpro2013
Short link: http://goo.gl/cEdMGe
searchword: macpro2013, 2013macpro