Apple certainly knew what it was doing when it made OS X 10.9 Mavericks a free update available to anyone running OS X 10.6 Snow Leopard, 10.7 Lion, or 10.8 Mountain Lion. Released on Tuesday, Low End Mac site stats show that it passed Mountain Lion on Wednesday.
I'll admit to being one of those upgraders, a holdout who stuck with Snow Leopard and skipped Lion and Mountain Lion. Why? Because I love AppleWorks, have a copy of Microsoft Office 2004, and I didn't want to leave these and other PowerPC-only apps behind.
So why did I download Mavericks? Because for the first time it looks like Apple has made such significant changes under the hood that it was worth checking out. And because, also for the first time, I could try it for free. I've been running Mavericks about half time on my Late 2008 Aluminum MacBook, and it seems nice.
Anyhow, we're here to look at Mavericks' adoption rate, so I'll share my experiences with 10.9 in another article. (See Early Impressions of Mavericks.)
The Numbers
For quite a while, OS X 10.8 was the most popular version of OS X, in use by 54.6% of people reading Low End Mac on an Intel Mac as of Monday, October 21, 2013. (Less than 7% of site visitors running Macs use PowerPC Macs nowadays.) OS X 10.6 was a solid second place at 22.2%, showing how many had a reason not to jump into 10.7 and newer. And 10.7 Lion had dropped to 14.4%, while OS X 10.4 Tiger and 10.5 Leopard had just 4.8% between them.
It all makes sense. Mountain Lion ran on almost everything that Lion did, so 10.8 has been reducing Lion's share since 10.8 was first released. And Snow Leopard ran on every Intel Mac running Tiger or Leopard, making it a worthwhile upgrade and slowly eating away their market share. Thus, we were at the point where well over 75% of visitors to LEM were using either 10.8 Mountain Lion or 10.6 Snow Leopard.
By making Mavericks free, Apple removed the biggest obstacle to its rapid and widespread adoption. Our site statistics for the past week show that it has reduced Mountain Lion from 54.6% to 16.8% (as of mid-Saturday), Lion from 14.4% to 7.6%, and Snow Leopard from 22.2% to 18.0%. At the same time, earlier versions of OS X on Intel dropped from 4.8% to 2.8%.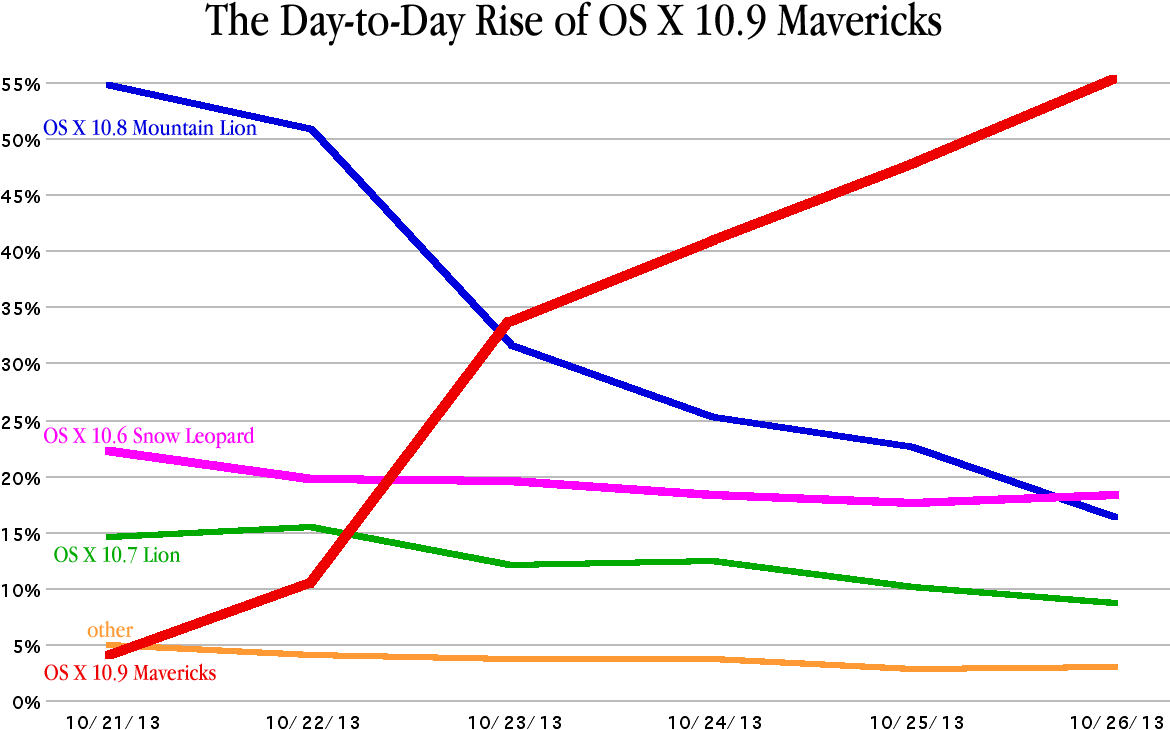 I'm not saying all of those changes will be permanent. With a new OS version available, people are going to be trying it out and using older versions less frequently, so we'll probably see a small uptick among users of OS X 10.4 through 10.6 going forward.
That said, Mountain Lion is destined to fade to insignificance, because Mavericks is free and runs on exactly the same range of Macs. Except for a few odd bugs to be squashed in OS X 10.9.1, there's almost no reason not to switch from 10.8 to 10.9. And even Lion users who could have upgraded to Mountain Lion but saw no compelling reason to do so are trying Mavericks, cutting the level of Lion use almost in half.
At this point, OS X 10.4 Tiger and 10.5 Leopard on Intel can be pretty much ignored by software developers. OS X 10.6 Snow Leopard is better and inexpensive, so there's almost no reason not to use it instead of 10.4 or 10.5. Mavericks has taken the catbird seat from Mountain Lion, leaving the small minority of early Intel Macs that can run Lion but not anything newer holding the third spot behind already dominant Mavericks and hanging tight Snow Leopard.
As far as Intel Macs are concerned, there are now only two significant operating system versions, another one that remains important to a limited range of hardware users, and the rest are fading into obscurity.
June 2016 update: This pattern persists. The latest release version, OS X 10.11 El Capitan, has 57% share among Intel Mac users visiting lowendmac.com in June. OS X 10.10 Yosemite has fallen from a peak of 58% (just before El Capitan was released) to 13.7%. Since the released of OX 10.10, third place has been held consistently by OS X 10.6 Snow Leopard, which currently averages 10.5% among Intel Mac site visitors.
OS X 10.9 Mavericks is below 7% for the first time since its release. OS X 10.7 Lion, the last version for Core Duo Macs (all introduced in 2006) is at 5.4%, while OS X 10.8 Mountain Lion is at half that level – 2.7%. As predicted in this article, OS X 10.8 is fading into obscurity. OS X 10.4 Tiger and 10.5 Leopard still fall between 1.0% and 2.0% each. (And 8.5% of site visitors are still using PowerPC Macs, which are excluded from the above numbers.)
Short link: http://goo.gl/NID5pM
searchword: mavericksgrowth