I must admit to having Mac Pro lust for the new Late 2013 Mac Pro that Apple has promised to deliver "later this year". From its radical styling and cutting edge features to its sheer power, this Mac in a black can is definitely lustworthy.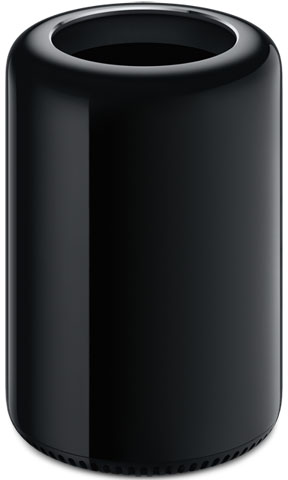 That said, I have to wonder if Apple has really thought this one through. The new Mac Pro has no built-in hard drive and no way to install one. It's completely dependent on SSD – part of what will make it so "wicked fast" when it finally arrives.
But until now, every Mac designed for the pro market, starting with the Mac II in 1987, has had room for one or more hard drives. Inside the computer. With the new model, you'll have to use external drives.
This isn't unprecedented. The earliest Macs had no built-in hard drives, and it wasn't until the 1986 Mac Plus that Macs even had a drive bus fast enough for hard drives. From that point forward, almost every Mac was designed to support external drives.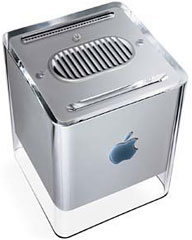 The last time Apple delivered a Mac with less expansion options than the typical business buyer wanted, it bombed. The Power Macintosh G4 Cube had a built-in optical drive and an internal hard drive, both missing from the 2013 Mac Pro, but no expansion slots at all.
In contrast to the new Mac Pro, which has all its ports on the back of the computer, the Cube had all of its ports on the bottom of the computer. With the computer encased in Lucite and almost appearing to be floating on air, this meant every cable was visible and you had to lift up or tip over the computer to connect or disconnect cables.
Steve Jobs loved the Cube, and it was a beautiful design, but Apple's customers were far more interested in bang for the buck and expansion options, so the Cube floundered for a year before it was discontinued.
Since then, every pro desktop Mac has had at least three expansion slots, much more than the Cube's two internal drive bays, and significant memory expansion options.
I am hoping for the best, that the sheer power of the Late 2013 Mac Pro will make it the computer to have for power users, because the Cube showed us that people aren't going to buy a computer just for its awesome styling.
Do you think the new Mac Pro will fly or be Apple's next flop?
Keywords: #macpro #2013macpro
Short link: http://goo.gl/40ZsEP
searchword: macpronextcube