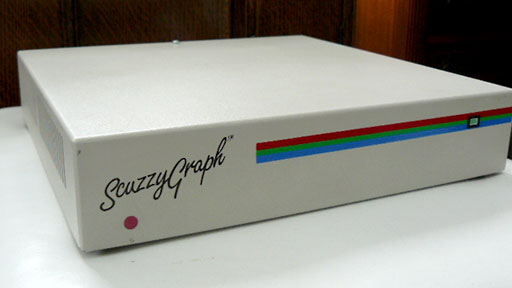 Online information about ScuzzyGraph is minimal. We do know that it allows old black-and-white Macs with SCSI ports to work with an external display. It supports a 3-bit, 8-color palette (some sources say 4-bit/16-color with some Macs), which is a far cry from the 8-bit/256-color output introduced with the Mac II's first color video card in 1987. Still, it was remarkable to have any color output at all from Macs with only 1-bit video built in.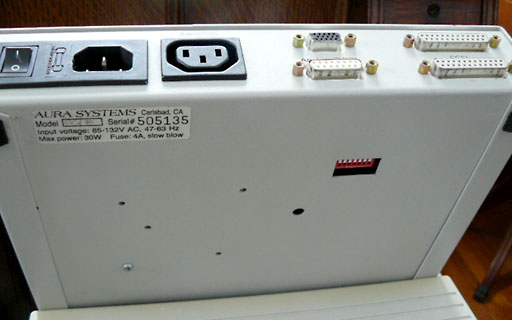 Apple's original QuickDraw always supported 8-color output; ScuzzyGraph just takes advantage of that. The later Color QuickDraw added support for much larger color ranges.
Here's a paragraph from TidBITS' article introducing ScuzzyGraph II in August 1990:
ScuzzyGraph is a box about the size of a hard drive, and can sit comfortably under a compact Mac. Inside the box, according to Aura, resides a special graphics processor which processes and accelerates QuickDraw commands. The spec sheet says that ScuzzyGraph gives you up to a 650% larger screen, eight "vivid" colors (they looked normal to us), 1280 by 1024 pixels (though this amount only applies to the most expensive version), instant installation, works with existing software (we should hope so!), and color printing (a good reason to buy Color MacCheese).
There were three models, priced at $895, $1,295, and $1,595.
Online Resources
SE/xpanded, TidBITS 1990.08.20. Shares info on new ScuzzyGraph II introduced at Macworld Expo.
Keywords: #scuzzygraph #scsivideo
Short link: http://goo.gl/PLLhX6