When I upgraded to an iPhone 4S this past summer, I had the option of trading in my iPhone 3GS for $100 credit or keeping it. I decided to keep it, as I was sure I could find many ways to use it. One of those is as a music player connected to a stereo at work (see Listening to iDevice Music on Your Stereo).
The stereo is about 25′ from where I work, and while it's nice to be able to choose a playlist, streaming radio app, or podcast and just have it run, it's a nuisance when you want to skip a song or adjust the volume, which normally means walking that 25′ and cutting into production time.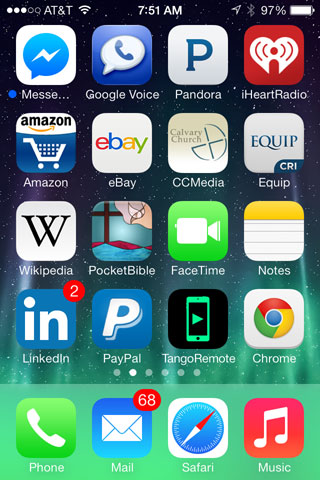 Update: It seems like they were waiting for me to finish and publish this review. A few hours after it was published, Blue Atlas Technology sent out an email announcing a unified Tango Remote version 7.0 replacing the two separate products – and eliminating my complaint about some users needing to buy two different versions of the app. Kudos! I plan to overhaul the review within the next day or so.
Tango Remote HD
I try to find free apps where possible, and I have been unable to find a free way to remotely control another iPhone. Tango Remote HD doesn't provide that, but for US$2.99 it does let me control my iTunes playback, which is the thing I was most interested in.Since mid-July, I've been using Tango Remote Control Media Player HD on both iPhones, using the 4S to control the 3GS across the room via WiFi or Bluetooth. This version of Tango Remote Control lets you choose songs and playlists from the remote iPhone's iTunes library. This version supports iOS 3 through iOS 6.
Tango Remote for iOS 6 and 7
Two months later – and now two months ago – Blue Atlas released Tango Remote Control for iOS6-7, As the name implies, this version is fully compatible with iOS 7. On the low end, it requires iOS 6.1 as a minimum.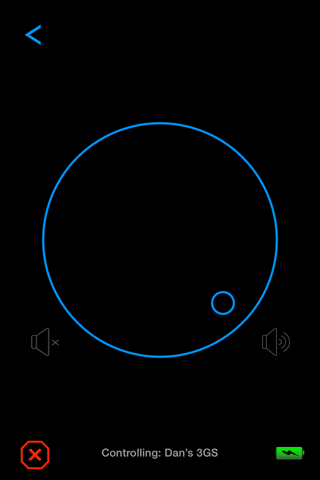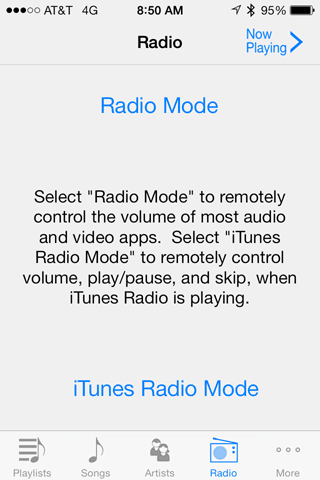 The new version is more capable than the previous version. Radio Mode lets you control the volume of apps such as Pandora Radio, iHeartRadio, and Spotify.. I've also found it works with Stitcher Radio. and the Bible Answer Man's Equip app. The developer says it should work with most iOS apps. The only drawback is that there's a bit of a lag between you "turning" the virtual volume know and the remote iDevice changing its volume.
Tango 6-7 also lets you remotely control the volume, pause, play, and skip tracks in iTunes Radio (iOS 7 only).
It's also able to control Tango Remote HD, so you can control those old iPhones, iPod touches, and iPads that don't run iOS 6.1 or newer, although that does mean buying two different apps.
You can adjust the remote playlist on the fly, create a new playlist on the media player, and have it play one playlist after another.
Shared Features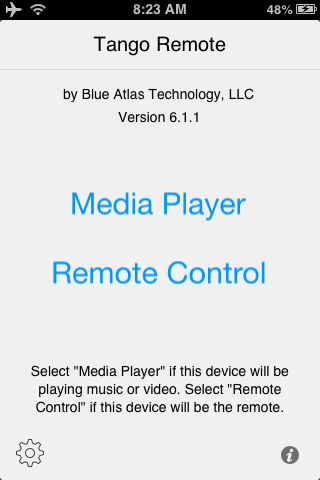 Tango Remote operates both as a remote control and as a remotely controlled media player. You can choose which at startup (left), or you can set it to startup either way by default (below right). I find that is the easiest way to work, since I have my iPhone 4S with me and the 3GS across the room and used as my media player.
The app connects via WiFi by default, as long as both devices are on the same subnet and neither is in Airplane Mode. If you want to control it via Bluetooth, you need to turn off WiFi on one of the iDevices. If you're only playing music in your iTunes library, that makes sense as a way to reduce battery drain.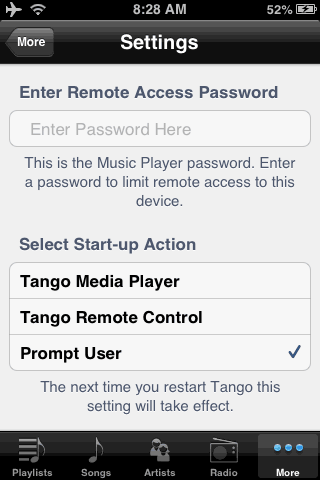 Speaking of batteries, Tango Remote lets you know the status of the remote device's battery. Nice touch, especially if it isn't connected to a charger.
For your protection, you can set up a password (right) so just anyone with Tango Remote can't control your remote device.
Blue Atlas says it also displays video using Apple TV or video out on your iDevice, neither of which I am able to test.
Inexpensive – or Not
The original version sold for $2.99. The iOS 6-7 version is a dollar more at $3.99. It's a shame that the same app can't support all iDevices and iOS versions, but Blue Atlas says it's just not possible with Apple's development tools. We should appreciate the effort involved in supporting iOS 3 and 4 in this day and age, giving new life to the original iPhone, iPhone 3, original iPad, and early iPod touches.
One frustration comes from Apple's rules for the App Store. There is no way to offer a reduced price upgrade from the original version to the improved one. Nor is there a way to bundle the two apps so you get a discount when you buy both. That's a shame, because while some Tango Remote users have been using the app for years, some of us bought it recently and later discovered we had missed the better version by weeks or months.
Blue Atlas has been good at dealing with that, sometimes providing a redemption code to registered users – although noting that Apple has only given them a limited number of these codes.
Short link: http://goo.gl/eRjVHO
searchword: tangoremote