The tech world has been abuzz with news of Google's forthcoming Chromecast device, something Google hopes will change the way you use your TV. What exactly is Chromecast?
What Is It?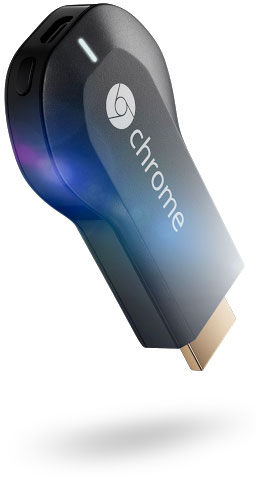 Chromecast is a small dongle with HDMI on one end and microUSB on the other. It is designed to plug directly into an HDMI port on your existing flat screen TV, drawing power over HDMI on the few sets that support the feature or with a micro-USB charger, so at most you'll have one cable going to Chromecast. If your TV or DVR already has USB, you won't even need a wall plug for the power adapter. just a USB-to-microUSB cable.
Chromecast connects to your wireless Internet connection using 802.11n WiFi in the 2.4 GHz band. Inside is an ARM processor with a graphics engine running a version of Google's Chrome browser.
That's about it for the device itself, but what really sets Chromecast apart from Apple TV and similar devices is that it's really, really cheap and it doesn't require its own remote. Instead you an control Chromecast from your Mac or Windows computer or your Android smartphone. An iOS client is expected soon.
What Does It Do?
At first, it sounded like Chromecast would just mirror whatever is on your iPhone, Droid, or computer, which would be cool in and of itself, but what it's primarily designed to do is put Internet content on your TV screen.
Are you a Netflix user? You can stream Netflix shows and movies to your TV through Chromecast. No need for a smart TV or a gaming console with a Netflix app.
Want to watch YouTube videos on TV? Chromecast has you covered there as well.
Do you use Google Play? No surprise that Google supports that on Chromecast as well.
In addition to streaming over your Internet connection, Chromecast can stream content from your computer or smartphone. Not sure if it will mirror your display, but that sure would be a nice feature.
You just need to download the client software for your Mac, Windows PC, Android smartphone, or iOS device, connect Chromecast to your TV, make sure it has power, and you're good to go.
Supported Devices
Mac OS X 10.7 and higher
Windows 7 and higher
Android 2.3 and higher
Chrome OS
iO6 and higher (forthcoming)
802.11 b/g/n router/access point required
Chromecast vs. Apple TV
Apple TV is far more flexible and has far more apps, being a full-fledged iOS device. You can stream from your Mac or PC or iDevice to Apple TV. You have lots more services such as Hulu Plus, HBO Go, and MLB.tv as well.
Chromecast is starting out with just four apps: Netflix, YouTube, Google Play Movies & TV, and Google Play Music. That said, if you have Hulu, HBO, etc. on your computer or smartphone, you can stream that content to Chromecast. And over time, we might see more Chromecast apps.
Both devices support 1080p video, but the $99 Apple TV is almost three times the cost of Chromecast.
Wrapping Up
Google is practically giving this away. For a little while, you got three months of free Netflix, a $24  value, when you ordered Chromecast, but that offer has already expired.
Just how much does Google want for this electronic wonder? About 65% less than Apple TV, and a lot less than most comparable devices (such as Roku). $35.
And that's why the tech world has been buzzing about Chromecast. It's not something completely new, but it is a big evolutionary step that integrates TV, internet, and your computer and/or smartphone.
I'm trying to understand why anyone thinks this is a bad idea.
Too bad it doesn't support OS X 10.6 Snow Leopard, since that's the second most popular version of OS X in use nowadays – and likely to remain so once 10.9 Mavericks ships and takes over most Macs running OS X 10.8 Mountain Lion.
Keywords: #chromecast
Short link: http://goo.gl/hdgQEq
searchword: chromecast