Once you begin adding apps to your iOS device – whether an iPhone, an iPad, or an iPod touch – you're faced with the question, Which apps belong on my home screen? In this Low End Mac Round Table discussion, our writers share what's on their home screens.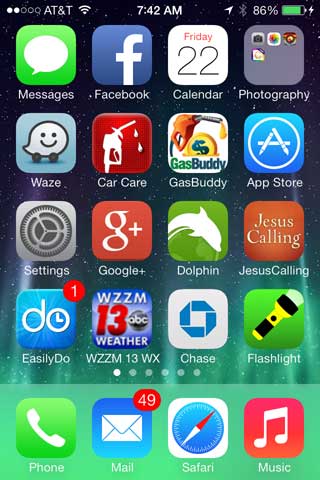 Dan Knight: I have two iPhones, a 4S that I use as a smartphone and a 3GS that I use primarily as a media player. The 4S home screen is to the right with Messages, Facebook, Calendar, and my Photography folder (which contains Camera, Photos, Pro HDR, and ColorRange, which is not currently in the App Store). The first two are probably my most often used apps, and it's nice to have Calendar clearly display the date.
Row two has Waze, a great social GPS app now owned by Google that can warn me around accidents and traffic slowdowns on the way to and from work – or anywhere else I need to go. Car Care lets me keep maintenance records on my 2006 Chevy Impala along with data from every time I add gas. On a recent trip, we got 28.9 MPG from on fill up, and around town that drops into the 20-21 MPG range. GasBuddy helps me locate the best gas price nearby, and with gas prices fluctuating the way they do here in western Michigan (up 25-30¢ just like that it way too common), that's very helpful.
Last in that row is the App Store, which I use almost every day to update at least one app.
I start row three with Settings, then Google+, the Dolphin browser, and the Jesus Calling daily devotional – also the most expensive app I've ever purchased. (After working through the print version, I thought it would be convenient to have it on my iPhone.)
Finally, there's row four, which starts with EasilyDo, a reminder manager that integrates with Facebook, email, your Calendar, and more. Helpful for keeping up on "important" Facebook posts and very useful for sending out birthday wishes you've scheduled a day or more in advance.
The WZZM TV13 weather app is one I check almost every morning before I decide how to dress for work. Chase Mobile lets me do online banking. And Flashlight (one of a multitude of free flashlight apps) is very helpful for getting around in the morning without turning on the bedroom light. I'm sure my wife appreciates that!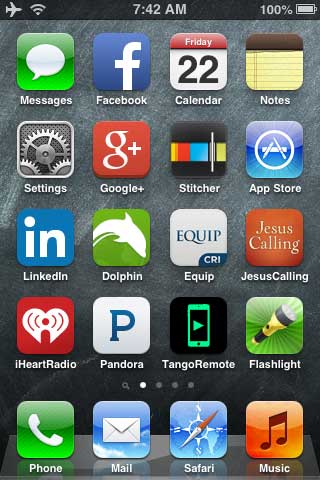 My iPhone 3GS home screen is a bit different, although it has a lot of the same apps. In the first row, Notes replaces the photography folder. With a non-functional camera on this iPhone, there's no point having the Camera app on the home page.
In row two, Google+ takes the second spot and Stitcher, a podcast manager, the third. We listen to a lot of streaming podcasts at work with the 3GS connected to a stereo.
I start the third row with LinkedIn (page 2 on my 4S), followed by Dolphin, Equip, and Jesus Calling, which I guess I don't really need to keep on this phone. Equip lets us listen to Bible Answer Man podcasts at work.
In row four are iHeartRadio and Pandora, streaming music apps I've recently reviewed, followed by TangoRemote, which I'm preparing to review.
Simon Royal: I also have two iPhones. My iPhone 4 is my pride and joy and my goto device. Always there, always on, always ready – and evolving out of the iPod era, it doubles as my main music player.
I am running iOS 7. I decided to embrace the change from the darker look of previous versions of iOS by picking the brightest and most fun wallpaper iOS 7 offers. At one point I had four or five screens of apps, but I finally caved in to using folders to organise apps, slimming it down to two screens. Just like the Dock on my Mac, I organise my screens very carefully with my home screen very neatly organised.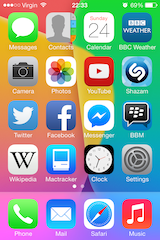 From left to right across the top row I have Messages, Contacts, Calendar, and BBC Weather, which is far better than the regular weather app.
The second row holds my media apps Camera, Photos, YouTube, and Shazam, an amazing app that listens to a piece of music and then tells you the artist and title.
The third row contains my social and messenger apps Twitter, Facebook, Messenger, and BBM. Notice no Google+ there; just something I haven't been able to get into.
The bottom row holds Wikipedia (great for looking things up), MacTracker (an excellent app containing in-depth information on every Apple product ever released – excellent for researching articles), Clock, and Settings.
My dock has the standard default line up: Phone, Mail, Safari, and Music.
My second page is just as organised, containing my television tools, games, navigation, and all the other apps and tools.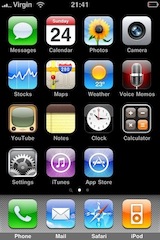 My original iPhone sits in my drawer as a backup just in case anything should happen to my iPhone 4, and it is mainly used for testing the custom firmware whited00r.
However, it is currently running stock iPhone OS 3.1.3, which looks very bland and dark in comparison to newer versions of iOS.
I haven't tweaked the icons on this home screen at all, straight after a fresh restore – noticing that my dock icon arrangement doesn't change even on my 4.
It is currently awaiting the arrival of whited00r 7.
What's on your home screen?
Short link: http://goo.gl/fH3ck0
searchword: ioshomescreen