Once again the MacBook Air (MBA) takes a step forward with more processing power and improved battery life. The 11″ model is rated at 9 hours in the field, and if you don't use your MBA regularly, it has 30 days of standby power.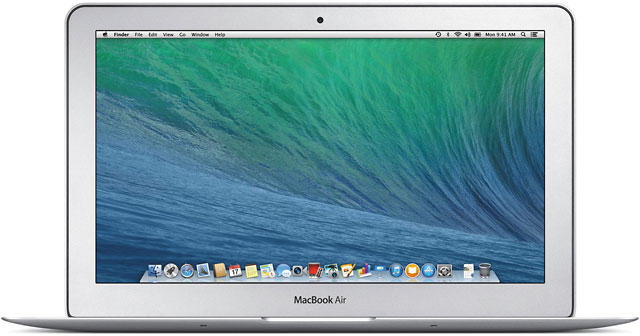 Built around 4th-generation low-power Intel Core i5 and i7 processors, the Early 2014 MBA has Intel HD Graphics 5000. And with Power Nap, this MacBook Air can receive email even when it's asleep.
Apple hasn't forgotten performance – the SSDs are up to 40% faster than SATA SSDs used in earlier Airs and about 9x as fast as a typical 5400 rpm notebook hard drive.
This model includes built-in USB 3.0 support. USB 3.0 is over 10x as fast as USB 2.0 and has half the bandwidth of Thunderbolt, which is also included. Apple uses the same port for USB 2.0 and 3 to simplify things, while the standard in the PC world is separate ports for each protocol.
There's also a 720p FaceTime HD webcam, and the MBA now includes two microphones for improved sound pickup. The native screen resolution remains 1366 x 768. And the keyboard is backlit so you can see the keys in even the darkest setting.
Apple offers a number of build-to-order options for the better model: Upgrade to a 1.7 GHz Core i7 CPU for $150, choose a 512 GB SSD for an extra $800. You can double system memory to 8 GB for $100 more on either model.
A few things are missing: The MBA has no built-in optical drive, but you can add an external USB SuperDrive for $79. There is no FireWire port, but that's far less necessary with USB 3 and Thunderbolt. And there's no built-in ethernet port; if you need ethernet, Apple sells a USB ethernet adapter for $29.
Closed Lid Mode: All Intel 'Books support "lid closed" (or clamshell) mode, which leaves the built-in display off and dedicates all video RAM to an external display. To used closed lid mode, your 'Book must be plugged into the AC adapter and connected to an external display and a USB or Bluetooth mouse and keyboard (you might also want to consider external speakers). Power up your 'Book until the desktop appears on the external display and then close the lid. Your 'Book will go to sleep, but you can wake it by moving the mouse or using the keyboard. The built-in display will remain off, and the external monitor will become your only display. Since all video RAM is now dedicated to the external monitor, you may have more colors available at higher resolutions. The MacBook Air is designed to run safely in closed lid mode, but if yours runs hot (perhaps due to overclocking or high ambient temperatures), you may want to open the lid when in closed lid mode: The screen will remain off and the computer will more readily vent heat from the CPU.
To resume use of the internal display, you need to disconnect the external display, put the computer to sleep, and then open the lid. This will wake up your 'Book and restore use of the built-in display.
Details
introduced 2014.04.29 at US$899 (128 GB SSD) and US$1,099 (256 GB SSD), 2.0 GHz i7 $150 build-to-order option
Identifier: MacBookAir6,1
Part no.: MD7111, MD712
Model no.: A1465
Mac OS
requires Mac OS X 10.9.2 Mavericks or later

AirDrop is supported.
Power Nap is supported.

CPU: 1.4 GHz Intel Core i5 (Turbo Boost to 2.7 GHz), 1.7 GHz i7 option (3.3 GHz Turbo Boost)
Level 2 cache: 3 MB in i5, 4 MB in i7
Bus: 1066 MHz
RAM: 4 GB, 8 GB a $100 build-to-order option
Performance (1.4/1.7 GHz):

64-bit Geekbench:
Speedmark 7:
Video
Graphics: Intel HD Graphics 5000, supports extended desktop.
VRAM: uses up to 1.5 GB of system memory
Video out: Thunderbolt (to 2560 x 1600 resolution)
display: 11.6″ glossy 1366 x 768 135 ppi color active matrix

supports 1366 x 768, 1344 x 756, and 1280 x 720 pixels at 16:9 aspect ratio; 1152 x 720 and 1024 x 640 at 16:10 aspect ratio; 1024 x 768 and 800 x 600 at 4:3 aspect ratio
allows mirroring to external display and extended desktop mode
Drives
Hard drive: 128/256 GB solid state drive standard, 512 GB $300 option on 256 GB model
SSD: 5.0 GTps PCIe x2 interface
SuperDrive: optional external USB drive, requires high power USB port
Expansion
Thunderbolt: 1 port
USB: 2 USB 3 ports
FireWire: via Thunderbolt adapter
Ethernet: via Thunderbolt adapter
WiFi: 802.11ac AirPort Extreme built in
Modem: No longer offered by Apple
Bluetooth: BT 4.0 built in
ExpressCard/34 slots: none
SD Card slot: none
expansions bays: none
IR port: none
webcam: FaceTime 720p HD camera
Power
battery: 38 Watt-hour, 9 hours of wireless productivity
AC adapter: 45W MagSafe 2
Physical
size: 7.56 x 11.8 x 0.11-0.68″ (192 x 300 x 3.0-17 mm)
Weight: 2.38 pounds (1.08 kg)
Online Resources
Keywords: #11inchmacbookairearly2014
Short link:
searchword: 11inchmacbookairearly2014