Nine months after the Late 2013 MacBook Pro with Retina Display, Apple moved forward with more power and twice-as-fast Thunderbolt 2 technology in July 2014.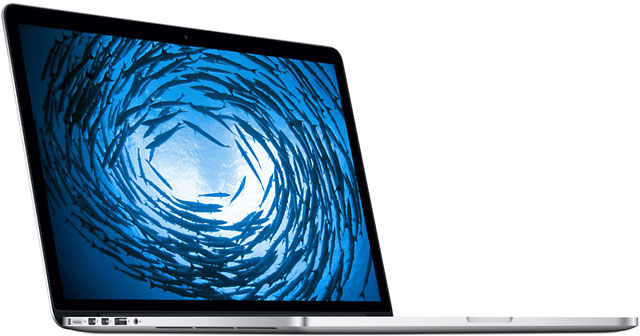 The MacBook Pro with Retina Display (a.k.a. Retina MacBook Pro) remains the thinnest MacBook Pro at 0.71″. That's MacBook Air thin, but unlike the Air, this model doesn't have a wedge design.
Also like the MacBook Air, the Retina MacBook Pro does not have a built-in optical drive and uses SSD instead of a traditional hard drive.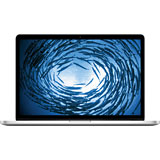 As with newer MacBook Air and MacBook Pro models, it has built-in USB 3. The improved USB specification is over 10x as fast as USB 2.0 and has half the bandwidth of Thunderbolt – and one-quarter that of Thunderbolt 2. There are a lot of USB 3 drives on the market, and they are far more affordable than Thunderbolt drives. Best of all, Apple uses the same port for USB 2.0 and 3, while the standard in the PC world is separate ports for each protocol.
There's also a built-in 720p FaceTime HD webcam that supports today's widescreen displays.
The base model runs a 2.2 GHz quad-core Core i7 processor (with Turbo Boost to 3.4 GHz) and has 16 GB of system memory, which is now standard across the board, and a 256 GB PCIe-based SSD with a $1,999 price tag, while the "better" version increases speed to 2.5 GHz (3.7 GHz with Turbo Boost) and includes a 512 GB SSD with a $2,499 retail.
Apple offers a number of build-to-order options: Choose a 512 GB or 1 TB SSD, and boost the faster model even further with a 2.8 GHz quad-core i7 (4.0 GHz Turbo Boost). There is no way to install more than 16 GB of memory.
This is the second MacBook to use Intel Iris Graphics, and it's coupled with Nvidia GeForce GT 750M graphics on the 2.4 GHz model. When both GPUs are present, the MacBook automatically switches between GPUs on the fly. The Intel GPU uses 384 MB of system memory, while the GeForce GPU has 2 GB of dedicated video memory.


Ports on the Retina MacBook Pro.
The Retina MacBook Pro splits the ports between the right and left sides, something earlier MacBook Pro models could not do because of the built-in optical drive.
The new model uses a MagSafe 2 power adapter (which has a smaller plug than the original MagSafe), is rated at 7 hours of battery power, and uses Bluetooth 4.0 along with 802.11ac WiFi for wireless connectivity.
The Mid 2014 MacBook Pros shipped with OS X 10.9.4 Mavericks and can run all later versions of OS X, which are free upgrades.
Closed Lid Mode: All Intel 'Books support "lid closed" (or clamshell) mode, which leaves the built-in display off and dedicates all video RAM to an external display. To used closed lid mode, your 'Book must be plugged into the AC adapter and connected to an external display and a USB or Bluetooth mouse and keyboard (you might also want to consider external speakers). Power up your 'Book until the desktop appears on the external display and then close the lid. Your 'Book will go to sleep, but you can wake it by moving the mouse or using the keyboard. The built-in display will remain off, and the external monitor will become your only display.
To resume use of the internal display, you need to disconnect the external display, put the computer to sleep, and then open the lid. This will wake up your 'Book and restore use of the built-in display.
Battery life is claimed to be 8 hours of wireless productivity.
Details
introduced 2014.07.29 at US$1,999 (2.2 GHz quad-core i7, 256 GB SSD) and US$2,499 (2.5 GHz, 512 GB SSD). 2.8 GHz build-to-order option.
Identifier: MacBookPro11,2 (2.2 GHz), MacBookPro11,3
Model no.: A1398
Part no.: MGXA2, MGXC2
Mac OS
Core System
CPU: 2.2/2.5/2.8 GHz quad-core Intel Core i7 Haswell
Level 2 cache: 6 MB shared cache
Bus: 1066 MHz
RAM: 16 GB, no upgrade options
Performance, Geekbench 4

2.2 GHz: 3715 single-core, 12227 multi-core
2.5 GHz: 3990 single-core, 12917 multi-core
2.8 GHz: 4274 single-core, 13357 multi-core
Video
GPU: Intel Iris Pro Graphics 5200, also Nvidia GeForce GT 750M with automatic graphics switching on 2.5 and 2.8 GHz models

VRAM, Intel HD: uses up to 1.5 GB of system memory
VRAM, Nvidia: 2 GB

Video out: HDMI or Thunderbolt digital video port, which is backward compatible with Mini DisplayPort (VGA, DVI, HDMI, and DisplayPort supported with optional adapters)
display: 15.4″ (38 cm) 16-bit 2880 x 1800 220 ppi color active matrix

supports 1920 x 1200, 1650 x 1050, 1280 x 800, and 1024 x 640 pixels at 16:10 aspect ratio
allows mirroring to external display or extended desktop mode
supports two external displays to 2560 x 1600 resolution
Drives
Hard drive: 256/512 GB solid state drive (SSD) standard on 6 Gbps SATA bus, 1 TB available
optical drive: external only
Expansion
Thunderbolt 2: 2 ports
USB: 2 USB 3.0 ports, only 1 high-powered device device allowed
FireWire 400: optional via Thunderbolt adapter
FireWire 800: optional via Thunderbolt adapter
Ethernet: optional via Thunderbolt adapter
WiFi: 802.11ac AirPort Extreme built in
Modem: No longer offered by Apple
Bluetooth: BT 4.0 built in
ExpressCard/34: none
SD Card Slot: 1 SDXC slot
expansions bays: none
IR receiver: none
webcam: FaceTime 720p HD camera
Power
battery: 95 Watt-hours, 8 hours of wireless productivity
AC adapter: 85W MagSafe 2
Physical
size: 9.73 x 14.13 x 0.71″ (247 x 359 x 18 mm)
Weight: 4.46 pounds (2.02 kg)
Online Resources
Keywords:
Short link: http://goo.gl/GHcJsd
searchword: retina15mid2014