In what appears to be a step backward, Apple has added a new, lower cost, entry-level 21″ iMac as the least expensive model added to the Late 2013 line.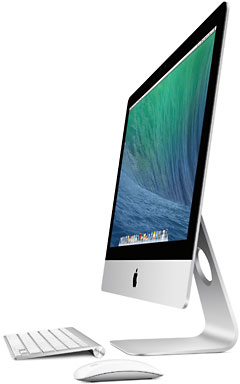 The new model uses an ultra-low-power 1.4 GHz dual-core Intel i5 CPU with Turbo Boost to 2.7 GHz – the rated clock speed of the previous entry-level 21″ iMac.
The big question is Why? Why would Apple use a low powered CPU in a desktop Mac, where that isn't really a factor? Why would Apple choose such a low clock speed CPU when the next model up runs at 2.7 GHz (with 3.2 GHz Turbo Boost) and has twice as many cores? Why do they think people will buy it instead of the US$200 more expensive model with twice as large a hard drive, expandable memory, and better graphics?
The mystery isn't the hardware as much as its price it. The Mid 2014 iMac offers a very decent level of performance, 8 GB of RAM (its only configuration) is very reasonable with OS X 10.9 Mavericks and 10.10 Yosemite. Intel HD 5000 graphics is more than adequate for anyone but avid gamers – and they'll want more power, so they are not the audience for this machine.
For those wanting an SSD ($250 additional) or Fusion Drive (also $250), these are available options that connect via a PCI Express interface, which outperforms the SATA Revision 3 used for the hard drive.
Like the Late 2013 iMac, it includes 802.11ac WiFi and uses two microphones, as in the Late 2013 MacBook Air, to improve noise reduction.
If you want way more performance, look to the $250 256 GB SSD or the $250 1 TB Fusion Drive, which combines a 1 TB hard drive with a 128 GB SSD. Fusion Drive treats the hard drive and SSD as a single 1.125 TB volume, storing the operating system and all included software on the SSD and initially putting everything else on the hard drive. It also reserves 4 GB of space on the SSD for use as a hard drive cache.
The brilliance of Fusion Drive is that the operating system keeps track of your work patterns and will move files, data, and applications to the SSD or back to the hard drive based on that information. Best of all, this is totally transparent to the end user. To revive a phrase Apple has used for a long, long time, it just works.
That said, this is pretty new technology, and failure of either the hard drive or SSD would be catastrophic.
All iMacs now include USB 3 (4 ports) and two Thunderbolt ports. The SD Card slot, which supports SDXC, is on the back (vs. the side in previous models), and starting with 2012 models, iMacs no longer have FireWire.
The 21″ iMac has the same 1920 x 1080 pixel resolution as HD TV. It also has gigabit ethernet, Bluetooth 4.0, and ships with Apple's wireless keyboard, Magic Mouse, and Magic Trackpad.
Details
introduced 2014.06.17 at US$1,099
Part no.:
Mac OS
Requires Mac OS X 10.9.3 or later
Mac OS X 10.9 compatibility

AirPlay Mirroring is supported.
AirDrop is supported.
Power Nap is not supported.
Core System
CPU: 1.4 GHz (2.7 GHz Turbo Boost) dual-core Intel Core i5
L2 cache: 3 MB shared cache
Bus: 1600 MHz
RAM: 8 GB, not expandable
Performance:

Speedmark 9: 116 (143 with Fusion Drive)
Geekbench 3, 32-bit single-core: 2561
Geekbench 3, 32-bit multicore: 4797
Geekbench 3, 64-bit single core: 2744
Geekbench 3, 64-bit multicore: 5365
Video
GPU: Intel HD 5000 graphics
Display: 21.5″ 1920 x 1080 LED backlit flat panel display
Video out: Mini DisplayPort, DVI and VGA with optional adapters
Drives
drive bus: 3 Gbps SATA Rev. 2
SSD: 256 GB build-to-order option, can be installed in addition to hard drive
Hard drive: 500 GB 5400 rpm SATA drive, optional 1 TB 5400 rpm SATA drive
SuperDrive: external
Expansion
Thunderbolt: 2 ports
USB: 4 USB 3 ports
FireWire 400: none
FireWire 800: none
Ethernet: 10/100/gigabit
WiFi: 802.11ac AirPort Extreme built in, three antennas support up to 1.3 Gbps bandwidth
Bluetooth 4.0: included
IR receiver: none
SD Card: 1 slot, supports SDXC
Microphone: internal
Modem: No longer offered by Apple
Physical
H x W x D: 17.7 x 20.8 x 6.9 in/45 x 52.8 x 17.5 cm
Weight: 12.5 lb/5.68 kg
Power supply: 241W
CPU Upgrades
Resources
Online Resources
Thunderstrike Malware: Could It Still Be a Threat to Your Mac?, Low End Mac Tech Journal 2018.02.01. Malware secretly infects EFI. Which versions of macOS are safest?
Know Your Mac's Upgrade Options, Phil Herlihy, The Usefulness Equation, 2008.08.26. Any Mac can be upgraded, but it's a question of what can be upgraded – RAM, hard drive, video, CPU – and how far it can be upgraded.
Is the Mid 2014 iMac Really a Road Apple?, Dan Knight, Mac Musings, 2014.09.03. All things considered, it's a decent value.
1.4 GHz iMac: What Is Apple Thinking?, Dan Knight, Mac Musings, 2014.06.24. Could the $1,099 iMac actually be a decent value?
Is the Mid 2014 21.5″ iMac a Road Apple?, Chris Carson, 2014.06.23. Looking at the specs, this thing seems way overpriced.
Why the 20″ iMac is perfect for home or school, John Hatchett, Recycled Computing, 2009.09.29. The aluminum iMac has plenty of power and screen space, yet it's small enough and light enough to tote from place to place.
The perfect Mac: MacBook Pro or iMac?, Dan Knight, Mac Musings, 2009.08.11. The 15″ MacBook Pro with antiglare could be the perfect Mac, but the iMac also has much to commend it.
Computer disaster ends happily, Alan Zisman, Zis Mac, 2009.08.05. The iMac was getting slower and slower, and Disk Utility kept trying to fix the same problems. With a new hard drive, the iMac is running as well as ever.
SSD in Mac Pro, Mac cloner opens store, Ubuntu vs. OS X, new Nvidia drivers, and more, Mac News Review, 2009.07.17. Also Classilla brings Firefox to OS 9, slow networking in OS X, iMac vs. Mac Pro, URL shortening software, Quicken update finally coming in 2011, and more.
Optimized Software Builds Bring Out the Best in Your Mac, Dan Knight, Low End Mac's Online Tech Journal, 2009.06.30. Applications compiled for your Mac's CPU can load more quickly and run faster than ones compiled for universal use.
Intel's promise fulfilled: More processing power per processor cycle, Dan Knight, Mac Musings, 2009.06.30. Apple promised improved CPU efficiencies when it announced the move to Intel in 2005. Three years of MacBooks show the progress.
Snow Leopard Up-to-Date, 13 Mac browsers, run Windows 7 on your Intel Mac for free, and more, Mac News Review, 2009.06.19. Also Mac sales steady in May, Apple vs. low-bandwidth users, Opera Unite turns browser into a personal server, and more.
Macs tracking swine flu, 6 quick Mac OS fixes, iMac EFI Firmware Update 1.4, and more, Mac News Review, 2009.05.08. Also Right Zoom maximizes windows, GeForce GTX 285 coming to Mac, APC backup batteries incompatible with Intel Macs running OS X 10.5.4 and later, vertical mice, and more
Fix for sluggish Leopard dialup, iMac a 3D gaming contender, Easter Mail stationery, and more, Mac News Review, 2009.04.09. Also new HP hardware design superior to Mac Pro, 2 GB of free online backup with IDriveforMac, fast and easy ZoHo Writer online word processing, and more.
US Mac sales down 16% in February, Opera Turbo available for testing, new iMac benchmarks, and more, Mac News Review, 2009.03.20. Also farewell to FireWire, Mac mini 'deliberately neglected' to protect iMac sales, Mini DisplayPort to VGA firmware update released, and more.
New Mac mini and iMac benchmarked, FireWire 400-to-800 solutions, dual-band AirPort Extreme, and more, Mac News Review, 2009.03.06. Also new iMac and Mac mini dissected, OS X share still above 10%, fastest SATA boot drives for the Mac Pro, iMac keyboard loses numeric keypad, and more.
Ubuntu Linux and Boot camp make it easy to create a triple boot Mac, Alan Zisman, Mac2Windows, 2008.12.24. Boot Camp makes it easy to install Windows on Intel Macs, and Ubuntu now makes it easy to install Linux to a virtual Windows drive.
Why DisplayPort is the video connector for the future, Frank Fox, Stop the Noiz, 2008.12.23. DisplayPort supports multiple displays, combines audio and video on one cable, and costs nothing to use.
The 'Better Safe Than Sorry' Guide to Installing Mac OS X Updates, Charles W Moore, Miscellaneous Ramblings, 2008.12.16. Most users encounter no problems using Software Update, but some preflight work and using the Combo updater means far less chance of trouble.
Why You Should Partition Your Mac's Hard Drive, Dan Knight, Mac Musings, 2008.12.11. "At the very least, it makes sense to have a second partition with a bootable version of the Mac OS, so if you have problems with your work partition, you can boot from the 'emergency' partition to run Disk Utility and other diagnostics."
15 reasons Macs are better, quad-core iMac in January?, USB 3.0 spec finalized, and more, Mac News Review, 2008.11.21. Also 25 years of Macs, 'Snow Leopard' in Q1?, SimpleTech's faster and greener hard drive, Hyperspaces, StarOffice for OS X, and more.
Virtualization shootout: VMWare Fusion 2 vs. Parallels Desktop 4, Kev Kitchens, Kitchens Sync, 2008.11.20. Both programs do the same thing, but one runs Windows XP smoothly alongside Mac apps, while the other bogs down everything but Windows.
Anticipating Macworld: Nehalem, Snow Leopard, and updated desktops, Dan Knight, Mac Musings, 2008.11.18. Intel's Core i7 CPU has to make it way into the next Mac Pro, Nvidia GeForce graphics will drive the iMac and Mac mini, and 'Snow Leopard' will unleash the animal within.
Debunking the Apple Tax, Frank Fox, Stop the Noiz, 2008.10.31. "…no one else is offering the quality of computer construction that Apple offers in the same price range."
One OS to rule them all, Frank Fox, Stop the Noiz, 2008.10.29. With Fusion or Parallels letting you run Windows at full speed, Mac OS X gives you the best of both worlds.
Nvidia may power new Mac mini and iMac, FireWire firestorm, OS X on PCs, and more, Mac News Review, 2008.10.27. Also turning your Mac into a WiFi access point, iKey keyboard with Bluetooth and trackpad, MacSpeech Dictate updated, and more.
Economic crunch may slow Mac sales, a recycled Cube, ToCA Race Driver 3 for Mac, and more, Mac News Review, 2008.10.10. Also don't buy RAM from Apple, customize your Mac's appearance, MacTribe expanding into print, My Apple Space social networking, and more.
How to clone Mac OS X to a new hard drive, Simon Royal, Tech Spectrum, 2008.10.07. Whether you want to put a bigger, faster drive in your Mac or clone OS X for use in another Mac, here's the simple process.
CodeWeavers brings Google's Chrome browser to Intel Macs, Alan Zisman, Zis Mac, 2008.10.02. Google's new Chrome browser uses separate processes for each tab and brings other changes to Windows users. Now Mac fans can try it as well.
Apple Trumps Microsoft in Making the 64-bit Transition Transparent to Users, Frank Fox, Stop the Noiz, 2008.09.18. To use more than 4 GB of RAM under Windows, you need a 64-bit PC and the 64-bit version of Windows. On the Mac, OS X 10.4 and later already support it.
SATA, SATA II, SATA 600, and Product Confusion Fatigue, Frank Fox, Stop the Noiz, 2008.09.08. In addition to the original SATA specification and the current 3 Gb/s specification, SATA revision 3.0 is just around the corner.
Does running OS X system maintenance routines really do any good?, Charles W Moore, Miscellaneous Ramblings, 2008.08.26. Mac OS X is designed to run certain maintenance routines daily, weekly, and monthly – but can't if your Mac is off or asleep.
Mac prices in context, Macs best for Microsoft Office, Macs surge in education, and more, Mac News Review, 2008.08.15. Also Macs becoming standard in the enterprise, Linux on old Macs, Gmail feels your pain, BurnAgain FS software for rewritable discs, and more.
Simple Mac security in the age of malware, Kev Kitchens, Kitchens Sync, 2008.08.13. Unlike Windows PCs, at this point Macs can't become infected simply from being on the Internet, but you still need to be careful about your downloads.
iMac beats Dell XPS One on price and features, Kev Kitchens, Kitchens Sync, 2008.08.06. The Dell costs $100 more with a slower CPU, a worse graphics processor, and no alternative to Vista Home Edition.
Free VirtualBox for Mac now a virtual contender, Alan Zisman, Mac2Windows, 2008.07.21. A year ago, the Mac version of VirtualBox lacked some essential features. Over the past year, it's grown into a very useful tool.
Win the depreciation game by buying on the low end, Charles W Moore, 'Book Value, 2008.06.24. The worst depreciation afflicts high-end models. By buying a less powerful version, choosing certified refurbished, or picking up a used computer, you'll come out ahead.
No widescreen display for me, accessing MacWrite files, Fedora Linux for G3 Macs, and more, Dan Knight, Low End Mac Mailbag, 2008.06.19. Why monitors need more height, not more width; using MacWrite files, unleashing old Macs with Linux, and using badram to work around bad RAM in LInux.
16:9 computer displays: Let's not go there, Dan Knight, Mac Musings, 2008.06.17. "…there's no reason our computer displays should match the proportions of our television displays."
5 business essentials for 'The Switch', Jason Packer, Macs in the Enterprise, 2008.06.06. If you're planning a migration from Windows to Macs, these five steps will help you succeed in making the switch.
5 reasons Macs are right for business, 10.5.3 improves GeForce 8800 performance, and more, Mac News Review, 2008.06.06. Also 3.06 GHz iMac 'packs a wallop', convertible keyboard for Macs, free open source virtualization software, hard drive rescue software, and more.
Virtual PC works with Leopard, Intel vs. PowerPC performance, beyond the Mac mini, and more, Dan Knight, Low End Mac Mailbag, 2008.05.20. Also upgrading Intel iMacs, Compact Flash in a PowerBook 2400, and thoughts on low-end Macs.
SheepShaver brings Classic Mac OS to Intel Macs and Leopard, Alan Zisman, Mac2Windows, 2008.05.20. Mac OS X 10.5 doesn't support Classic Mode. Neither does Leopard. But SheepShaver lets you emulate a PowerPC Mac and run the Classic Mac OS.
Open source virtualization for Macs, iMac shutdowns, Psystar reviews, and more, Mac News Review, 2008.05.16. Also aluminum iMac USB power concerns, Penryn iMac twice as powerful as fastest G5 iMac, Radeon vs. GeForce in top-end iMac, Odysseus email client in beta, and more.
Windows on Macs: Three paths for integration, Jason Packer, Macs in the Enterprise, 2008.05.14. Mac users have three routes for running Windows apps: Run Windows using Boot Camp or virtualization, or use a compatibility layer such as WINE.
Value of old Power Macs, old computers in school, Panther or Tiger on Pismo, and more, Dan Knight, Low End Mac Mailbag, 2008.05.12. Also new 20″ Penry iMac vs. 24″ Santa Rosa and great results with a low-cost external SuperDrive.
Apple tops in tech support, Penryn iMacs and Psystar Open Computer reviewed, and more, Mac News Review, 2008.05.09. Also the iMac philosophy, OpenOffice 3.0 going Mac, MozyHome backup comes to Macs, weather in the Dock, and more.
Prosumer Mac suggestions, bring back the 12″ 'Book, Pismo displays, and more, Dan Knight, Low End Mac Mailbag, 2008.05.06. Readers offer more thoughts on a midrange Mac, the need for a new 12″ 'Book, using F-keys as F-keys in OS X, and lid closed video mode for Pismo.
Mac growth 4x PC rate, USB power famine, Montevina chips not in new iMacs, and more, Mac News Review, 2008.05.02. Also reducing energy waste from peripherals, fixing the Mac's shortcomings, Open Computer shipping and reviewed, why Apple bought PA Semi, 5x the range for Time Capsule, Mac gaming mouse, and more.
50% Mac sales growth is only the beginning, Dan Knight, Mac Musings, 2008.05.02. Apple has a great line of computers and an awesome operating system, but a prosumer model could make last quarter's growth seem normal.
What's the Best Version of OS X for My Mac?, Ian R Campbell, The Sensible Mac, 2008.02.28. Which version of Mac OS X is best for your hardware depends on several factors.
Using the aluminum iMac: Color me impressed, Frank Fox, Stop the Noiz, 2008.04.22. A MacBook is a wonderful thing, but an iMac with a 20″ display can really spoil you.
18 bits can't display millions of colors, today's magic is different from yesterday's, and more, Charles W Moore, Miscellaneous Ramblings, 2008.04.16. Also more feedback on Mac browsers, slow dialup Internet, and a SCSI-to-USB 2.0 solution.
Add a second display, overlooked Leopard features, Nehalem chips hits 3.2 GHz, and more, Mac News Review, 2008.04.11. Also Apple and Canada, firware updates, Kensington keyboard with 3 USB ports, Magic Mail Folder, Newton Connection software, and more.
18-bit video inadequate, restoring AppleWorks speed, Macintosh display info, and more, Dan Knight, Low End Mac Mailbag, 2008.04.09. Also problems importing AppleWorks drawings and a damaged, unfixable mail database in Outlook Express 5.
Millions vs. thousands of colors: What's the difference?, Dan Knight, Mac Musings, 2008.04.07. Once again Apple is being sued over a Mac that can display 'only' 262,144 colors per pixel, not the millions it claims. Does it realy matter?
Too few USB ports in too many Macs, developer Leopard ran on Yikes, Mac IIfx RAM heaven, and more, Dan Knight, Low End Mac Mailbag, 2008.01.16. Also Macworld Expo disappoints, Pismo a great field computer, using flash memory in vintage Macs, and Word vs. Pages for academic writing.
Restore stability to a troubled Mac with a clean system install, Keith Winston, Linux to Mac, 2008.01.15. If your Mac is misbehaving, the best fix just might be a fresh reinstallation of Mac OS X – don't forget to backup first.
The best alternatives to Apple's USB keyboards, Charles W Moore, Miscellaneous Ramblings, 2007.12.10. There are a lot of USB keyboards out there, even for the Mac, but these two have great keyboard action, are solidly built, and have features Apple's keyboard don't include.
Cross-platform computing: Better than it's ever been, Andrew J Fishkin, Best Tools for the Job, 2007.11.13. Macs can read PC media, both Macs and Windows PCs play nice with each other on networks, and emulation makes it easy for Intel Macs to run Windows apps.
Beyond Google, 10 years on the G3, the Cube is not a Road Apple, and more, Dan Knight, Low End Mac Mailbag, 2007.11.13. Also the 64-bit advantage of Core 2, OS 9 on a USB flash drive, sound problems since switching to Leopard, and 7200 rpm in an eMac.
Proof Macs cost less, Leopard spanks Vista, Mac pride pins, Arabic OS X 10.4.10, and more, Mac News Review, 2007.11.09. Also the pitfalls of Macintel recovery, waiting for the 10.5.1 update, QuickTime 7.3 released, new Leopard books, and more.
External $100 Sony DVD burner likes Macs, Brian Gray, Fruitful Editing, 2007.10.10. The box and manual say nothing about Mac compatibility, but this 18x USB 2.0 DVD burner is plug-and-play (at least with Tiger).
FastMac 8x SuperDrive and BurnAgain DVD: Fast and easy multisession disc burning, Charles W Moore, Miscellaneous Ramblings, 2007.10.08. FastMac's 8x SuperDrive upgrade is remarkably fast compared with older PowerBook burners, and BurnAgain DVD makes it easy to append files to a previously burned CD or DVD.
3.2 Gbps FireWire, 4.8 Gbps USB coming, Macs cost less to use, a Core Image-based image editor, and more, Mac News Review, 2007.09.28. Also wireless USB to hit 1 Gbps, Mac sales are surging, aluminum iMacs have great image quality, 802.11n WiFi for most modern Macs, and more.
Importing video into iMovie, jumping the gun on G3s and Leopard, interference robustness, and more, Dan Knight, Low End Mac Mailbag, 2007.09.18. Also, Intel Macs support 802.11a WiFi alongside b, g, and n, and USB card options for beige G3 Power Macs.
Does a college freshman need to run Windows on a MacBook?, Al Poulin, My Turn, 2007.07.24. While you can run Windows on today's Intel-based Macs, is there any reason most college students would want to or need to?
Software to darken iMac display, columnist returns iPhone, Logitech introduces air mouse, and more, Mac News Review, 2007.07.20. Also a USB turntable for turning your record albums into MP3s, a retractable flash drive, iPhone: The Missing Manual, Parallels Desktop 3 a major update, and more.
VMware Fusion beta 3 adds new features, takes a giant step toward release, Alan Zisman, Mac2Windows, 2007.04.11. Looking for a virtualization solution for your Intel Mac? The latest beta of VMWare Fusion makes several improvements and includes some unique features.
1 core, 2 cores, 4 cores, 8: How Much Difference Does It Make?, Dan Knight, Mac Musings, 2007.04.10. Geekbench scores make it possible to compare the newest 3 GHz 8-core Mac Pro with the 1.5 GHz Core Solo Mac mini – and all the models in between.
CrossOver: Run Windows Apps on Intel Macs Without Windows, Alan Zisman, Mac2Windows, 2007.02.28. If you need to run Windows apps on your Intel Mac once in a while, CrossOver may be the least expensive way to do so since it eliminates the need to buy a copy of Windows.
Parallels Revisited: Release Version Far More Polished than Beta, Alan Zisman, Mac2Windows, 2006.11.21. Parallels lets you run Windows or Linux without rebooting your Intel-based Mac, and it's made great strides since the beta came out earlier this year.
To AppleCare or not to AppleCare?, Charles W Moore, Miscellaneous Ramblings, 2006.11.20. Consumer Reports, which generally recommends against extended warranties, says AppleCare makes sense. But does it?
Region Free DVD Viewing Options for Intel and PowerPC Macs, Andrew J Fishkin, The Mobile Mac, 2006.09.12. Several hardware and software options that will let your view 'wrong region' DVDs on your PowerPC or Intel Mac.
Apple Specs for iMac (Mid 2014)
Keywords: #imac
Short link: http://goo.gl/Ou3A58
searchwords: imacmid2014, imac2014, mid2014imac, 2014imac