You really have to wonder what Apple was thinking by releasing an iMac with a 5120 x 2880 pixel Retina Display. After all, the regular 27″ iMac already has a 2560 x 1440 pixel display, which goes well beyond HD TV quality.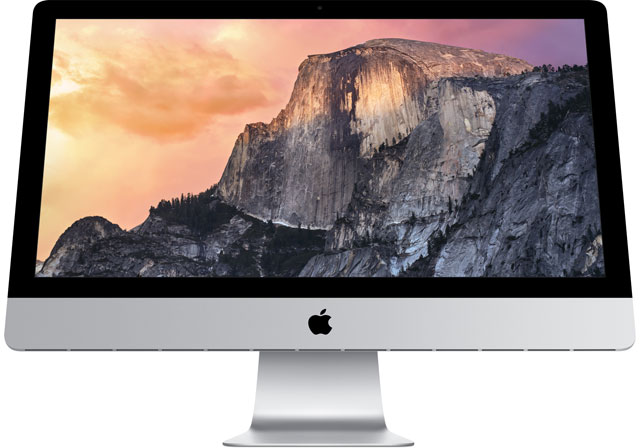 That said, 4K resolution (4096 x 2160 pixels) is the extra high definition of the future, and to properly edit 4K video, you need a display that has room for all the controls a video editor needs. Hence the 5K Retina iMac with twice the vertical and horizontal resolution of the "regular" 27″ iMac.
We should probably be most impressed that Apple was able to offer such a cutting edge display in a US$2,499 machine. That's only $500 more than the 3.4 GHz 27″ non-Retina iMac.
Update: With OS X 10.11 El Capitan, all Retina iMacs support a new 30-bit color mode with 10 bits per color channel. This is a big step forward from 24-bit color (8 bits each for red, green, and blue) in providing improved color gradation without banding. Initially, only some Apple apps support 30-bit color, but that will change over time.
Details
introduced 2014.10.16 at US$2,499, reduced to US$2,299 2015.05.19
Identifier: iMac15,1
Model no.: A1419
Part no.: MF886
Mac OS
Core System
CPU: 3.5 GHz (3.9 GHz Turbo Boost) quad-core Intel Core i5 or 4.0 GHz (4.4 GHz Turbo Boost) quad-core Intel Core i7
L2 cache: 3 MB shared cache
Bus: 1600 MHz
RAM: 8 GB (2 x 4 GB) of 1600 MHz DDR3 memory, 4 SO-DIMM slots, expandable to 16 GB or 32 GB
Performance:

Speedmark 9:
Geekbench 3, 32-bit single-core: 3465 (3.5 GHz i5), 3883 (4.0 GHz i7)
Geekbench 3, 32-bit multicore: 10971 (3.5 GHz i5), 14554 (4.0 GHz i7)
Geekbench 3, 64-bit single core: 3844 (3.5 GHz i5), 4354 (4.0 GHz i7)
Geekbench 3, 64-bit multicore: 12352 (3.5 GHz i5), 16582 (4.0 GHz i7)
Video
GPU: Radeon R9 M290X graphics with 2 GB memory (optional M295X with 4 GB), supports up to 3840 x 2160 on external display
Display: 27″ 5120 x 2880 LED backlit flat panel display supports 30-bit color with OS X 10.11 El Capitan and later
Video out: Mini DisplayPort, DVI and VGA with optional adapters
Drives
drive bus: 6 Gbps SATA Rev. 3
Storage: 1 TB Fusion Drive standard, 3 TB Fusion Drive optional. 256 GB, 512 GB, or 1 TB SSD optional.
SuperDrive: external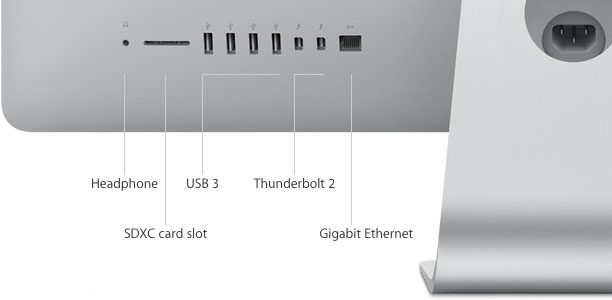 Expansion
Thunderbolt 2: 2 ports
USB: 4 USB 3 ports
FireWire 400: via Thunderbolt adapter
FireWire 800: via Thunderbolt adapter
Ethernet: 10/100/gigabit
WiFi: 802.11ac AirPort Extreme built in, three antennas support up to 1.3 Gbps bandwidth
Bluetooth 4.0: included
IR receiver: none
SD Card: 1 slot, supports SDXC
Microphone: internal
Modem: No longer offered by Apple
Physical
H x W x D: 20.3 x 25.6 x 8.0 in/516 x 650 x 203 mm
Weight: 21 lb/9.54 kg
Power supply: unknown capacity
CPU Upgrades
Online Resources
Keywords: #imacretina5k #retina5kimac
Short link: http://goo.gl/Ou3A58
searchwords: retina5kimaclate2014