Sending files back and forth via Bluetooth has been common for over 10 years, but it has always been missing from the iPhone despite supporting Bluetooth for audio headsets. AirBlue offers a superb solution.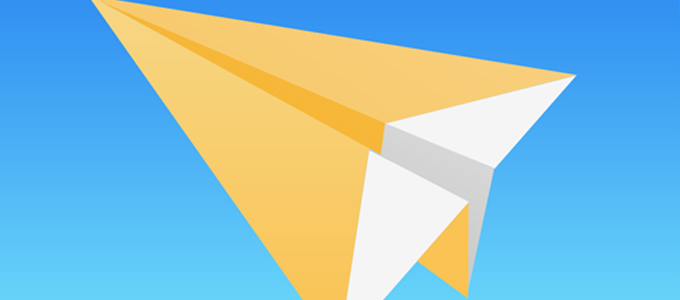 iOS may be a fantastic mobile operating system housed in a beautiful device, but it is far from perfect – even now in its seventh version. This is where the wonderful world of jailbreaking comes in. I have for a long time been against jailbreaking – keeping my iPhone as Apple intended – but recently I needed some tweaks and decided to break it open with Evasi0n.
First, I installed the share widget, which replaces the Tap to options for quickly posting to Twitter and Facebook from the Notification Centre, which has been removed in iOS 7.
Second, I wanted Bluetooth file exchange. My wife wanted some photos printed locally. The self-service machine could take photos from a CD, a USB device, or Bluetooth. They were stored on my iPhone. How was I going to get them to the photo machine? I ended up emailing them to my wife who then got the email on her Android phone, downloaded the photos to her gallery, and "shared" them via Bluetooth with the photo machine.
This infuriated me. My beautiful iPhone incapable of something my Philips Fisio 825 could do back in 2002.
AirBlue

I went in search of a solution, and it didn't take long. Recommended by a friend, I looked up AirBlue in Cydia. It isn't free, costing $4.99 / £3.30.
Jailbreak "tweaks" used to look bad, like a bolt-on, nut these days they fit right into iOS, appearing seamless. AirBlue is a prime example of this.
Install it in the usual Cydia manner. Simply search, click install, and let Cydia do its thing. Once installed it works just like any other Bluetooth file exchange program.
It runs on iOS 4.2 upwards, meaning it should work as far back as the iPhone 3G. The developer, iF0rce, also states that it works with the 64-bit iPhone 5s.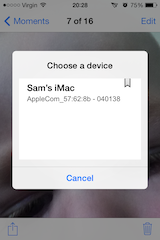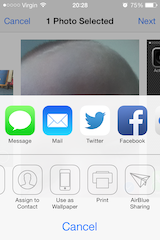 Sending
You now have an extra option in the share menu. Slide the bottom row across, and you will see the AirBlue Sharing option.
Pressing this opens a window that scans for available Bluetooth devices – ensure the recipient device has Bluetooth turned on and is in discovery mode.
Selecting a device will send your image to that device. You may need to pair first.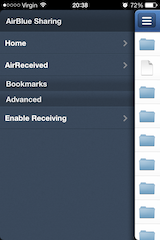 Receiving
AirBlue not only allows you to send files to other devices, but you can receive too.
Before you receive a file however, you need to enable receiving. To do so open the AirBlue Sharing app. Then select the menu icon from the top left and you will see an option called Enable Receiving.
Now your device is ready to receive. Simply send the required file from your other device.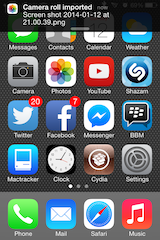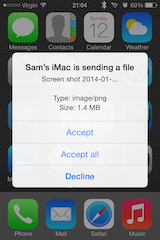 Let's Do This
I sent an image from my wife's iMac using the built-in Bluetooth tool in Mac OS X. AirBlue gives you a pop up like this, asking if you want to accept the file.
The file went across very quickly, travelling about 150kb/s. Once completed, you get a banner notification at the top.
As you can see, everything looks like it could be an Apple app, with matching menus and banners.
More Than Pictures
The iPhone has a pretty locked down OS and filing system. If you received a file via email on your iPhone, you can only open the attachment if that particular file is supported. Being jailbroken, this restriction is partially lifted.
With AirBlue you can send music via Bluetooth to your iPhone, and it imports into your music library. I will investigate further, but I am sure other file formats work too.
File transfer progress can be seen in the Notification Centre.
iOS to iOS WiFi
According to the Cydia description, you can also use this tool to send files to other iOS devices via WiFi, a feature I haven't tried out. I presume both devices would need to be jailbroken and running AirBlue.
Conclusion
This is a great addition and something Apple should have allowed. I understand why Apple locks out users from toying with the innards of iOS – it creates stability and a unified approach – but there is no reason why they couldn't allow Bluetooth send/receive of at least pictures.
For all the Android users reading this, sniggering at having to crack open a device to perform a simple task, I agree with you, it shouldn't have to happen. Apple really needs to rethink its decisions sometimes.
Jailbreaking has come a long way over the years, and stability is brilliant. I don't use Bluetooth very often, but it is handy to have.
There is an AirBlue app in the App Store, but it seems to be from a different developer and the reviews claim it doesn't work well.
---
Follow Simon Royal on Twitter or send him an Email.
Like what you have read? Send Simon a donation via Tip Jar.
---
keywords: #iphone #iOS #jailbreak #Bluetooth #fileexchange #airblue #if0rce #techspectrum #simonroyal
short link: http://goo.gl/qLjOv9
searchword: airblue