Unlocking an iPhone in the UK isn't always as easy you might think. Sometimes it's impossible. Here's why.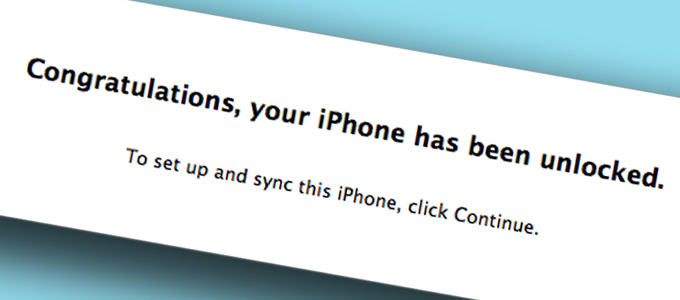 I often buy used iPhones, and I usually buy them unlocked to any network, but sometimes I buy them locked to specific networks and have them unlocked afterwards. However, recent events have made me rethink this, as it doesn't always seem possible to get them unlocked.
AT&T

In early 2012, I picked up an original iPhone. It was a US model locked to AT&T. I called them asking whether they would unlock it. Without any questions or hassle they said they would, and it wouldn't cost anything. They put the request though, and a few days later when I hooked it up to iTunes and restored it, it said 'congratulations your iPhone is unlocked'.
O2

I then picked up an iPhone 3G. This was locked to O2. I called them about unlocking, and as I wasn't a customer of theirs, I would need to purchase an O2 pay-as-you-go SIM, top up with £15, and then call them back. Then they would put the unlock request through and deduct the money from the SIM card.
Once again this worked fine, and within a few hours I hooked it up to iTunes and restored it. It said 'congratulations your iPhone is unlocked'.
EE/TMobile/Orange

After that I bought unlocked iPhones until recently, when I was considering upgrading again and looking at locked ones.
Orange and T-Mobile recently merged under the new umbrella of EE. I was looking at picking up a T-Mobile locked handset with the intention of getting one unlocked.
To my surprise, when I called EE, I was given a totally different story. I needed to be an EE customer for six months and the handset needed to be registered to me for six months. And here is the stinger: I needed to be the original owner.
So even if I was a customer, because I am not the original iPhone owner, I would never be able to get it unlocked.
Three

When I called Three, I got a similar story. I needed to be the original owner of the handset – but they didn't mention anything about being a customer for any set length of time.
Others


Vodafone is the only main network I haven't tried. I have also never tried Virgin or any of the other sub-networks.
Unofficial Methods
For older iPhones, there is always the option to jailbreak it and soft-unlock it. This gets around the SIM lock issue, but it can cause push notification problems – and if you restore in iTunes, it will remove the unlock.
There are websites and companies that claim to be able to unlock your iPhone for you, but how reliable or legitimate these are I don't know.
Conclusion
I thought I would share this with you. Be very careful buying a used and locked iPhone especially if you want to use it on a different network.
From what I have gathered, these bizarre restrictions only seem to be in the UK – but I doubt a lot of people are aware of them and could end up with the expensive mistake of buying a phone and not being able to unlock it.
Why they impose these restrictions, I don't know.
UPDATE: All phone sold by Three UK after 1st January 2014 are unlocked.
---
Follow Simon Royal on Twitter or send him an Email.
Like what you have read? Send Simon a donation via Tip Jar.
---
keywords: #iphone #unlocking #uk #three #o2 #ee # #techspectrum #simonroyal
short link: http://goo.gl/T44sQ0
searchword: iphoneunlocking