As Low End Android's new writer, I figure I should introduce myself. My name is Zach Elliott, and I've been a Low End Mac viewer since 2006 when I started collecting vintage Macs while in high school. After I graduated, I attended the University of Oklahoma and graduated in May 2013 with a Bachelors of Science in Meteorology. I've also been an Android user ever since I started college, when I got my first Android phone, an HTC Incredible. From there I graduated to a Galaxy Nexus, and now my current device, a Galaxy Note 3.
I guess you can say my Android devices have never been low-end, as they were pretty top of the line on release. However, i've had plenty of experience with a slew of Android devices, which is why I'm writing for Low End Android. Anyway, my inaugural post is using my degree and my passion and help people out with a very common question I get as a meteorologist, which is "What is the best Weather App for my phone?" Well I hope I can be of some help.
Best Free Weather Apps
Everyone loves free apps, and luckily, there are a ton of great, free weather apps that will provide almost every crucial feature to look for in a weather app. Out of the top 12 apps, three of them are my favorites, which i'll be reviewing.
1Weather:Widget Forecast Radar Free, OneLouder Apps, Free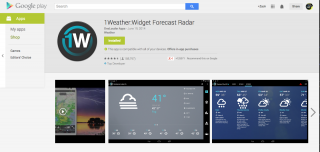 1Weather is definitely one of the prettiest weather apps out there, using unique design elements such as precipitations chances shown as little rain gauges that fill to the percentage of rain chance. You can add multiple locations and even watch educational videos about various weather phenomenon.
1Weather also features an ongoing-notification with customizable refresh times to save data and battery life. It also has weather alerts; however, they're not always instant and can be delayed in the notification center.
Overall, for anyone looking for a beautiful weather app, this is definitely the one to go with.
Weather & Clock Widget Android, Devexpert.NET, Free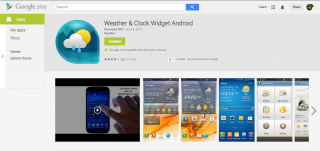 When I first got my Galaxy Note 3, I didn't really care for the stock Samsung weather widget. I wanted something more customizable that was also free. I discovered this simple Weather and Clock widget and fell in love. The nice thing about this widget is the wealth of information.
Here is my home screen with my widget setup: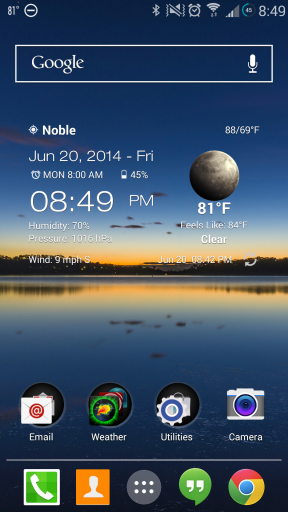 As you can see, it has a transparent background, with alarm, clock, weather, current sky conditions, and changes based on your location. You can set up various parts of the widget to link to other apps. For my setup, if I tap the time, it opens the alarm app on my phone. If I tap on the date, it opens the calendar.
This is more than just a widget though, it includes an ongoing notification with current conditions and forecast, and it also includes alerts for way more than just severe weather.
You can set up alerts based on sky conditions, such as clear, partly cloudy, chance of rain, etc. This can actually be fairly useful, except that, as with the other app, it doesn't update immediately, it only updates with the background interval you select, which again saves data and battery, but is not useful for life-threatening situations like tornado warnings.
Weather Underground, Weather Underground, Free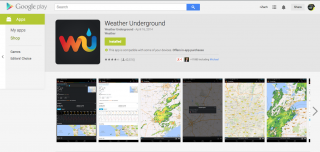 Weather Underground has been a popular weather website for years -and for good reason. Not only is it a no-hype website with current weather and forecasts as the main focus (no clickbait headlines on the front page, minimal ads, unlike that other weather channel), but it's community sourced. Anyone with a weather station can upload data to the site.
I personally have a weather station in my hometown that uploads to Weather Underground. They also make a great weather app for mobile, especially tablets. The app provides all the data you would need, including current temperature, heat index/wind chill, sky condition, winds, precip chances, etc. Also includes a daily forecast and hourly forecast, all presented in a very easy to read graph format. It also includes Wunderground's exclusive WunderMap, which is way more than just a radar map. You can add layers such as visible satellite, wildfires, wildfire risk, webcams, fronts, watches/warnings, radar, crowd sky conditions, and, of course, weather stations.
Having a wealth of weather stations at your fingertips does have a disadvantage though: Sometimes stations don't update quickly (they auto-disable stations if they stop reporting), so they may not to be as up-to-date as others. Also some may be miscalibrated or malfunctioning, as some stations are ~$300 and not research quality instruments.
However, when it comes to getting data close to home, WunderGround's app is the best you can get. Being able to use your neighbor's weather station right on your phone has definite advantages. It also includes the same ongoing notifications and alerts as the other apps. For those that love data and love being able to be choosey about where their data comes from, WunderGround is a top pick. Also check out their website here for great no-fuss weather.
Best Paid Apps
Radarscope, Base Velocity LLC, $9.99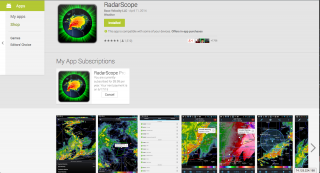 Have you ever seen your favorite TV weatherman or extreme storm chaser post a radar image on social media? There's a darn good chance it came from Radarscope. And no wonder, it's consistently in the top 10 paid apps – and always close to the #1 position (#2 as of writing this).
What makes Radarscope so good? It's a perfect example of an app that really does one thing, but does it extremely well. What it does well is single-site radar images. Most weather apps (free and even some paid) use a "mosaic" radar image, where all the radar sites across the country (160 total) are stitched together in one single image, which not only slows the image down, but loses resolution. Radarscope doesn't do that. Radarscope is raw data, and not only raw data, but free Level2 data. That's the highest resolution radar data available. Here is a comparison of the L2 SuperRes vs standard L3. Which looks better?
But Radarscope has more than Reflectivity; it features all radar variables such as base velocity (used for spotting rotation and wind speeds), Vertically Integrated Liquid (useful for spotting big hail), and Dual-Pol products that are useful for determining precipitation type and looking for tornado debris signatures. It also includes lightning data (available via a third party subscription), Spotter Network integrating for showing spotters and updating your spotter location, and storm tracks to judge ETA on storms.
One of the down sides though is that Radarscope is really geared towards weather enthusiasts, and it can be overwhelming if you are new to interpreting radar data. However, the creators of Radarscope have a great website with plenty of explanations of all the products to get you up and running in no time.
iMap Weather Radio, Weather Decision Technologies, Inc., $4.99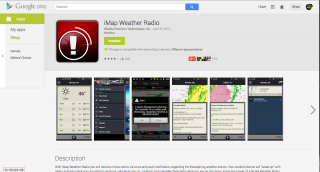 iMap Weather Radio is another great example of an app that excels at one particular feature. In the case of iMap Weather Radio, that one feature is alerting. The whole application is centered around alerting.
What makes iMap Weather Radio different though is the method of alerting. Other alerting apps "poll" in the background, checking for new warnings/watches. This not only uses data, it also drains battery.
iMap Weather Radio does not. When you edit a location, it saves it to a database that lives on a server in the cloud. When an alert is issued, the system goes through the database and uses the Google Push Notification system to push you an alert. It's that simple. You get the alert the second it's issued by the NWS.
It also has a "follow me" feature that will follow your location in the background. You can set this update interval, with the highest interval being 30 minutes to maximize battery life. If you disable the location update, the app uses no battery or data in the background at all. You can also disable certain alert types if you don't want to be bothered by more common alerts such as wind advisories. The app features up to five static locations in addition to the follow me location. It also includes current conditions and daily/hourly forecast, and a national radar mosaic with severe weather overlays.
What really makes iMap Weather Radio unique is the alert method. It uses a patented tile-based alerting system, different than any other app. What does this mean? It means location specific alerts, really specific alerts. When you save a location, it saves your location in a one square mile tile. While standard weather radios and apps use county-based alerting, iMap Weather Radio uses the polygon, storm-based warning system, meaning you only get the alert if you fall within the polygon. This greatly reduces false alarms and decreases complacency.
iMap Weather Radio is a real lifesaving app and definitely worth the $4.99.
OnGuard Weather Alerts, Toadl, LLC, $1.99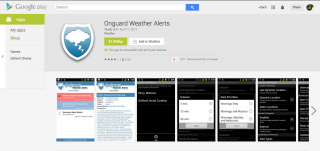 The final app is for those looking for a good weather alerting app but looking to save money. OnGuard Weather Alerts is only $1.99, features multiple locations and the ability to turn certain alerts on and off like iMap Weather Radio.
The downside though is this is a "polling" app that constantly polls for new warnings/watches. It does have the ability to update your location dynamically.
The alert is very loud and will definitely get your attention. This is a great app for a static Android device, such as a tablet on WiFi that's on all the time. Set it to 5 minutes, and it will work pretty well.
Overall for a cheap alerting app, it's a good option, however this app and iMap Weather Radio are no replacement for a standard NOAA Weather Radio. The NOAA Weather Radio will go off more than the apps due to the county-based alerts, however it is way louder and will work through power outages and communication outages.
It's recommended to have a three-prong approach to warnings, 1 should always be a NOAA Weather Radio, 2 and 3 are interchangable, but are any combination of local media and cell phone apps.
Wrap-Up
I hope this was a helpful article. I got a little wordy, but if there are any questions about weather apps for Android please let me know in the comments!
Keywords: #weatherapps #lowendandroid
Short link: http://goo.gl/T7hMqC
searchword: androidweatherapps