Have no mobile data? Here is the third and final instalment in my using only free WiFi on your smartphone.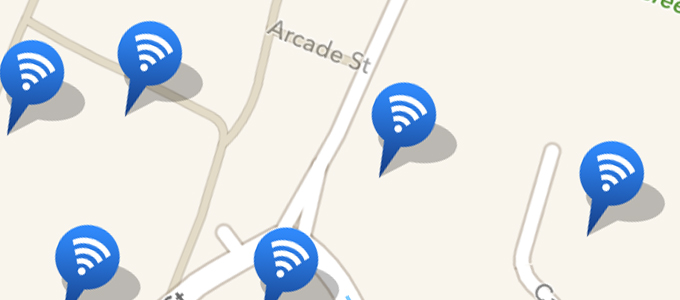 At the end of 2013, I wrote two articles (part 1 and part 2) asking whether you could live with mobile data and only use WiFi connections. Nearly a year round, I take a look back at how it has been.
I haven't given up on mobile data, but mobile signal and speeds can be quite poor to non-existent at times here in the UK, so a back up of WiFi is handy to have.
My first attempt wasn't too successful. My second attempt was a lot better. After 10 months of collecting WiFi networks on my iPhone, my list of known networks has exploded, and a growing pattern has emerged.
Clouds
There are a couple of cloud services that attempt to offer seamless multiple hotspots with a single signup, such as TheCloud and O2 WiFi. While TheCloud seemed to be only in a local shopping mall, O2 WiFi offered a wider shop-to-shop service.
Banks
Then there are banks, which seem to offer free WiFi to not only its customers but anyone, and the best thing is, they don't turn it off when the branches are closed. Barclays Bank and NatWest are two of the biggest, and signing up to one branch gives you access to the rest, as they all seem to use the same SSID.
Food & Drink Establishments
Restaurants and fast food chains entice you in with free internet too, with McDonalds, KFC, and Pizza Hut being the best. Coffee chains also offer free WiFi, but I don't frequent those.
A lot of public houses are offering free internet too, which makes it great for supping your favourite ale and checking up on your emails too.
Supermarkets
Tesco have recently changed their log in system for free WiFi originally requiring your bonus card number as verification, but not any longer. Asda (part of Wallmart) also offer WiFi, but you do need to sign up to it. Supermarkets in the UK are huge metal covered buildings and offer some of the worst signals, so WiFi is a huge bonus – it also means you can check Twitter when you are bored of grocery shopping.
Chains
There are a lot of other store chains that offer free WiFi to people in their stores. Boots is the largest chemist/pharmacy chain in the UK, and Game an electronics and gaming chain offer free WiFi.
Others
I am sure there are many other food places and shops that offer free internet, but the one aboves I have personally visited and my shopping habits follow the same pattern.
Sign In Annoyance
While all of these offer free WiFi, there is a small annoyance I have found with a lot of them. They auto connect if you have been there previously, but they do not automatically allow you to surf, etc.
You have to load Safari, and then you are faced with a welcome page. It usually only requires a click of a 'start surfing' or a 'go online' button before you are able to surf, access FaceBook, etc., but this can be quite annoying.
Conclusion
In the final part of my 'free WiFi' article, I still think it depends on your surfing needs as to whether you can survive without mobile data. However, once you start gathering free WiFi hotspots you will find yourself using WiFi more and more – even without realising.
It is possible to hop from WiFi zone to WiFi zone, but it takes time to gather them.
My final conclusion is that I couldn't live without mobile data, and I will continue to collect free WiFi access.
---
Follow Simon Royal on Twitter or send him an Email.
Like what you have read? Send Simon a donation via Tip Jar.
---
keywords: #wifi #mobile #smartphone #wifionly #hotspot #free #techspectrum #simonroyal
short link: http://goo.gl/T44sQ0
searchword: wifionly