The gory classic controversial splat fest racing game comes to a mobile phone near you.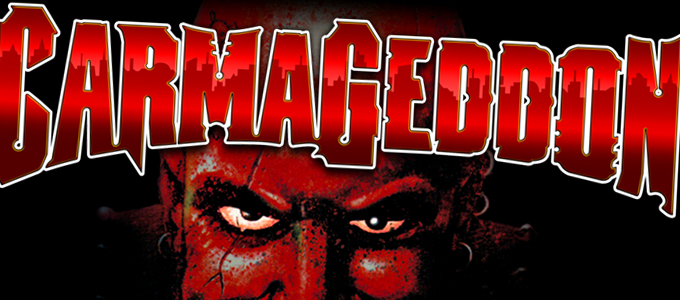 Back in 1997, a game was released by Stainless that would change gaming history forever, a game that would break all the rules set before it and set the media a fenzy.
While regular racing games of the 90s – such as the Need For Speed, Test Drive, Ridge Racer, and Daytona series – focused on racing others cars around a set track, Carmageddon opened a generation to free racing on an open world, but with an extra twist.
Carmageddon is a racing game set in a large open environment filled with pedestrians and power ups, racing four other vehicles around a series of checkpoints. Your time limit runs down, and you gain extra time by splattering pedestrians and smashing up the other drivers.
The more imaginative way you kill a pedestrian, the more time you gain – and massacre more than one at once to gain combo bonuses and even more time. Your aim in the game is to either win the race or smash the other drivers to pieces.
Back when it was launched in 1997, the game caused controversy for its gory depiction of killing people and blood splattering. It was initially released with zombies and green blood, rather than normal people, as it was deemed more acceptable. It was later released as we see it today in all its gory glory.
To add even more fun to the game, there are various bonuses dotted around the city. These can either give you extra time, damage your vehicle, make you super slippery, or give you weird effects such as large pedestrians, jelly suspension, or an electric gun zapping anything nearby.
The driving method is quite sensite and takes a while to get used to. However, once mastered, it is a superb. You will find yourself skidding round corners and spinning your car around to chase a rival or to maim a group of businessmen standing on the corner.
Stainless, the developers, did an amazing job at creating a game that ran super smooth on the rather low hardware of the day. A 3D environment and fast game play made it excellent. An add-on called the Splat Pack was later released, which added more levels and cars as well as 3Dfx patch giving it glorious looking accelerated graphics.
It it was released for Microsoft Windows and then various other platforms, such as Macintosh, Playstation, and Nintendo N64.
iOS
In 2013, Carmageddon was ported to mobile platforms. It was available for iOS 5.1 upwards, meaning it should play on iPhone 3GS and the original iPad, as well as Android 2.3.3 upwards.
I played this on an iPhone 4 a while back, and it was smooth, but I have recently started playing it again on an iPhone 5, and it is amazingly smooth and fast.
Controls
One of the best features of this port is the controls. I am not a fan of modern motion controlled games. I don't want to be waving my arms around or tilting my hands to drive a vehicle. Luckily, driving controls are on screen.
Once mastered, this is an amazingly fun game to play – just like the original. I remember wasting many hours playing the original, and I can tell you I have spent a fair few hours on this mobile version too.
Carma Free
Carma Free is a one level version of the game. For anyone wanting a quick blast or a retro look back, the free version is great.
Carmageddon
However, you can buy the full version for only £0.69 (99¢ in the US). At that price, you can't go wrong.
Conclusion
Carmageddon is classic game that was great back in 1997 and is still great now. It did spawn some sequels, but nothing that equals the original. Now you carry it around in your pocket and use it to release the stresses of the day.
The original game was written for the Classic Mac OS and won't run on modern Macs, so this mobile alternative is a welcome addition to my iPhone. I am loving it again.
---
Follow Simon Royal on Twitter or send him an Email.
Like what you have read? Send Simon a donation via Tip Jar.
---
keywords: #carmageddon #carmafree #stainless #sgi #techspectrum #simonroyal
short link: http://goo.gl/qvCpYB
searchword: carmageddon