When it was introduced in February 2006, the Core Duo Mac mini was the smallest desktop computer on the market – and the second-least expensive Macintosh Apple had ever built. As with other first-generation Intel Macs, the price was $100 higher than the model it replaced.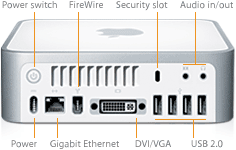 The secret to getting the Mac mini so small: Using notebook computer components. That's also a big part of the reason the Core Duo Mac mini is considered a Road Apple. Not that it's a bad little machine: It has a decent amount of power, tolerable graphics, a decent number of ports (twice as many USB 2.0 ports as the G4 Mac mini), and supports up to 2 GB of RAM.
The Late 2006 Mac mini has exactly the same design and features as the Early 2006 model, the only difference being faster Core Duo CPUs, so everything mentioned in this article applies to it as well.
Because of its size, there is simply no way to put a 3.5″ hard drive in the Mac mini, so Apple had to use smaller, lower capacity, more costly, and generally quieter 2.5″ notebook hard drives instead. At least with the Intel transition, Apple specified 5400 rpm drives, not the older, slower, cheaper 4200 rpm drives used in the G4 Mac mini. Still, laptop drives are generally designed for low power consumption, not high performance, so this is the first strike against the Mac mini.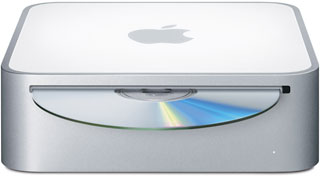 The second strike is the case itself, which is not designed for easy access. In fact, looking at it, you'd think there was no way to get inside to add RAM or replace the hard drive. The solution is to carefully insert putty knives between the white case bottom and its aluminum surround, loosening the tabs that lock it in place. Once inside you can replace the RAM or hard drive.
And that's where the next strike against the Mac mini comes in: There's only one bank of two memory sockets, so to upgrade RAM, you have to remove the 256 MB modules that came with the computer. That's wasteful.
That said, Other World Computing has discovered that you can use "mismatched" memory in the Mac mini and some other Intel-based Macs even though Apple specifies that upgrades should only be done with matched pairs. Their test results show that in general there is more benefit from having more RAM – even mismatched – than there is from having less RAM that is matched.
The fourth strike comes from Apple's decision to use integrated Intel GMA 950 graphics, which are not only slow for 3D gaming and just adequate for the OS X interface, but it also steals 80 MB of system memory – that's over 15% of the stock 512 MB.
Finally, the Core Duo CPU doesn't support 64-bit computing; that didn't come until the August 2007 version of the Mac mini with a Core 2 Duo CPU. You can upgrade the Core Duo mini with a Socket M Core 2 Duo CPU, and because that wasn't available when the Mac mini came to market, we won't count this as a full strike against it. With Mac OS X 10.5 Leopard, the Mac gained some 64-bit support in the operating system, leaving Core Duo Macs behind the performance curve.
Also not worth a strike, but worth noting, is that the Mac mini did not ship with a mouse or keyboard. Mice and keyboards are cheap, Apple makes some decent ones, and there are lots of good third-party options selling for well under US$100.
On the plus side, the Mac mini is small, quiet, energy efficient, and expandable on the outside. Other than upgrading from the barely adequate 512 MB of memory, the biggest performance boost comes from using an external 7200 rpm FireWire drive instead of the slower 5400 rpm notebook drive inside the mini.
In the end, it's a decent little computer for its intended market, but the decision to use a notebook hard drive and give it only one bank of RAM sockets significantly limits it potential.
Perhaps the best thing about the Core Duo Mac mini is that it can be upgraded with a faster Core 2 Duo CPU, although it will never have .
If you're looking for a "set it an forget it" server, the size and low power draw of the mini make it very attractive. Max out RAM, pick up a big, fast, expensive 7200 rpm 2.5″ hard drive, consider replacing the Core Duo with a faster Core 2 Duo CPU, and you're ready to set up your server.
Mac OS X 10.6 Snow Leopard
With the introduction of Mac OS X 10.6, things get even worse for the Mac mini Core Duo. With its Core Duo CPU, it does not support 64-bit operation, and upgrading to a Core 2 Duo CPU won't change that. Also, there is no OpenCL support for Intel GPUs.
Details
introduced 2006.02.28 at US$799 (1.66 GHz SuperDrive); replaced by faster Core Duo models 2006.09.06
supports Mac OS X 10.4.4 through 10.6 Snow Leopard
Mac OS X 10.6 Snow Leopard compatibility

Grand Central Dispatch is supported.
64-bit operation is not supported with Core Solo or Core Duo CPUs. Upgrading with a Core 2 Duo CPU will not change that.
OpenCL is not supported with the Intel GMA 950 GPU.

CPU: 1.66 GHz Core Duo, Socket M makes upgrades possible
bus: 667 MHz
RAM: 512 MB, expandable to 2 GB using two PC2-5300 DDR SDRAM. Best performance with matched memory modules. 64 MB of RAM set aside as video memory. Will not support 3 GB of RAM even with a Core 2 Duo upgrade.
Graphics: Intel GMA 950 with resolution to 1920 x 1080 (VGA) and 1920 x 1200 (DVI).
VRAM: 64 MB DDR2 SDRAM (shared with main memory, and according to Apple actually uses 80 MB of system RAM)
video out: DVI, VGA with included adapter, S-video with optional adapter
L2 cache: 2 MB on CPU
hard drive: 2.5″ 80 GB 5400 rpm SATA standard; 100, 120 GB available as build-to-order options
Combo Drive (later 1.66 GHz model): reads DVDs at up to 8x speed, writes CD-R discs at up to 24x, writes CD-RW discs at up to 16x, reads CDs at up to 24x
SuperDrive DL: writes DVD±R discs at up to 8x speed, DL at 2.4x; DVD±RW at 4x; reads DVDs at up to 8x; writes CD-R discs at up to 24x, writes CD-RW discs at up to 16x, reads CDs at up to 24x
USB 2.0: 4 ports
FireWire 400: 1 port
no internal modem; external USB modem available
ethernet: 10/100/gigabit
AirPort Extreme: standard
Bluetooth 2.0: standard
microphone: none
power: 85W external power supply
PRAM battery: 3V CR2032 lithium
H x W x D: 2.0 x 6.5 x 6.5 in/5.1 x 16.5 x 16.5 cm
weight: 2.9 lb./1.3 kg
Keywords: #coreduomacmini #macminicoreduo
Short link: http://goo.gl/dMPsVZ
searchwords: intelmacminiroadapple