eWorld was Apple's short-lived group of online services. Launched in June 1994, eWorld was an intuitive, easy-to-use, and heavily GUI-dependent new way to take advantage of the Internet. It included its own email service, bulletin board system (BBS), and more.

During its existence, eWorld was Macintosh-only, and it was officially shut down on March 31, 1996. Compared to AOL, eWorld failed massively, mainly because of a lack of marketing and advertising – and its high price.
AppleLink
AppleLink was introduced in July 1985. It was the first online service to use a GUI instead of a command-line text interface. It was originally intended as a dealer reference and support system, but it soon became the de facto email system for Apple and its dealers.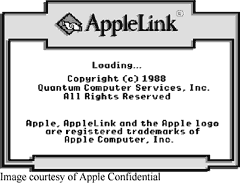 AppleLink was maintained and operated as a joint effort between General Electric Information Services Co. (GEIS) and Apple. It was later released to customers at a price of $10 to $100 per hour.
Apple ended up paying GE $30 million a year to operate AppleLink, and it was estimated that the service saved Apple over $100 million a year in reduced costs.
AppleLink was considered a huge success, and Apple decided they should start another service aimed to reduce customer support expenses. A small firm, Quantum Computer Services, ran QuantumLink. Apple worked with Quantum, and at the Boston AppleFest held on May 20, 1988, AppleLink Personal Edition was introduced.
Subscribers paid $6 per non-prime time hour and $15 per prime time hour and could access Apple-specific resources such as a reference library, software center, and company store.
On August 28, 1991, the first email message was sent from space on a Macintosh Portable by the crew of space shuttle STS-43 using specially configured AppleLink software.
After going through several reorganizations, Apple pulled its support for AppleLink Personal Edition.
In 1991, Quantum renamed itself America Online and opened its service to everyone, not just Apple computer users.
The GEIS-operated AppleLink service was in heavy use by approximately 14,000 Apple employees and contractors, as well as 20,000 dealers and developers around the world. AppleLink was still too expensive, so Peter Friedman was hired to reduce costs. This was achieved by 1992, and Apple made a small profit on $25 million in revenue from 50,000 external users.
AppleLink remained closed to the public. Apple decided to develop a new service which would replace the costly AppleLink.
eWorld
Apple teamed with AOL to create eWorld. In 1993, Apple Online Services and AOL worked on the new service: AOL adapted its technology to Apple's specifications and installed software in a new Apple data center in Napa, California.
Apple further modified the software, which set back the introduction date, as this took more time than expected (owing to Apple's consideration to sell itself to AT&T in the mid-90s).
eWorld was finally launched in June 1994 for Mac users; the NewtonMail service followed. Apple promised that a Windows version of eWorld would be released in 1995. The Windows version was 80% complete, but the project was canceled due to budget cuts.
The eWorld Web browser was a separate application from the main eWorld program; it let users browse Web pages on Internet. (Tim Berners-Lee invented the Web in 1989, and Mosaic, the predecessor to Netscape Navigator, was created in 1993, so the Web was not yet in widespread use.) The browser had features for FTP uploading, Web images, and settings to configure a default homepage address. The eWorld Web Browser only ran on the Mac OS, and it only worked with eWorld Internet Service.
No Marketing
CEO Michael Spindler decided that eWorld would not be marketed or advertised in any way. It shipped with all new Macintosh computers – buried several folders deep on a default installation. Most customers never looked at the software, let alone considered subscribing to the service.
In addition, eWorld was in the middle of a huge crowd of Internet services, such as CompuServe, America Online, Delphi, Prodigy, and GEnie (run by GE, Apple's partner in AppleLink). Since it was not included with every Mac sold until late 1995, eWorld appeared to be doomed.
In the meantime, AppleLink came installed on PowerBooks, while client software for some of eWorld's competitors was bundled with desktop Macs.
eWorld was slow to catch on. It was considered too expensive by most – it cost $8.95 for a monthly subscription, which only included two hours of evening or weekend use. Additional hours were priced at $4.95 on the evenings and weekends, or $7.90 per hour from 6 a.m. to 6 p.m. weekdays.
A year after introduction, eWorld had only 90,000 subscribers. By September 1995, the service had 115,000 members (compared to AOL's 3.5 million at that time).
Good-bye, eWorld
In June 1995, Apple posted a $68 million loss in Q4. Things would only get worse as time went by. In an effort to cut costs and bring the company back to profitability and success, Gil Amelio, formerly of National Semiconductor, was hired as CEO.
Under Amelio, eWorld was killed. eWorld had a small market share, was never marketed or advertised properly, and came under heavy competition shortly after its introduction. Amelio stated: "If it's necessary to shoot one of the lead buffaloes in order to send a message to the rest of the herd, you'd better be prepared to do it."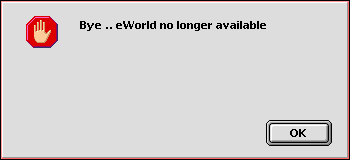 At midnight on March 31, 1996, eWorld was permanently shutdown; after that users were not able to log in to eWorld.
Existing eWorld subscribers were offered $15 off the Apple Internet Connection Kit and 20 free hours of connect time on AOL. AppleLink was terminated in 1997. The eWorld/AppleLink technical support archives moved to Apple's website. When the Online Services Group was disbanded, many of its members left Apple and eventually formed TalkCity.
Despite being shut down and discontinued, eWorld had a large following of devoted fans who enjoyed using the system during its existence. The eWorld browser is still useable today, as it was an independent application from the main eWorld client.
Third Time's the Charm?
Since discontinuing eWorld, Apple has ventured into online services again. First came iTools, a free service available to Mac users, which became very popular. iTools was subsequently turned into a subscription-based service called .mac (which became MobileMe in 2008), accounting for several hundred million dollars of Apple's annual profits.
Unlike eWorld and AppleLink, MobileMe is not as costly to run and is marketed to a very wide range of people, especially iPhone users.
References
Further Reading
Keywords: #eworld
Short link: http://goo.gl/8lpBeW
searchword: eworld