iOS 8 has one steep requirement for those who want to upgrade to it directly on their iPhone, iPad, or iPod touch. You need 5.6 GB of free space to load and run the installer – even though the core iOS 8 installation is under 1 GB. That can be a real problem with 8 GB iDevices.
Even after deleting everything I could from my 8 GB iPhone 4S running iOS 7, I had just 5.2 GB of free space, so over the weekend, I backed up that iPhone, reset it to clear out everything but its original operating system, and was then able to download and install iOS 8. It runs quite nicely, but because I don't actually use it as a phone, I can't give it a full test drive.
iOS 8 does run nicely, as Simon Royal has already observed. The iPhone 4S is a perfectly adequate platform, and it seems to run a bit more energy efficiently under the new operating system.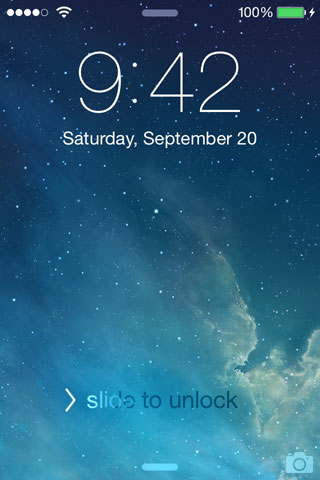 When you start using iOS 8, you're greeted by a celestial screen with stars and clouds. Nice touch, Apple! After all, iOS is heavenly. (groan)
Once you've entered iOS 8, you're greeted by a screen full of apps, most of which should be familiar. In all, there are 30 apps installed on the iPhone 4S by default – and none of them can be deleted.
Installed Apps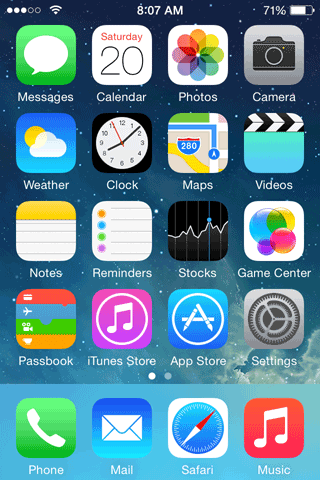 On the home screen you'll see Messages, Calendar, Photos, Camera, Weather, Clock, Maps, Videos, Notes, Reminders, Stocks, Game Center, Passbook, iTunes Store, App Store, and Settings. And, of course, the Phone, Mail, Safari, and Music apps are pinned in the bottom row – exactly where they have been since the first iPhone.
On a personal note, I hate the Photos icon, which is as far removed from photos as you can get. Sure, tech geeks may understand the color wheel, but why not make it look like a picture? Abstraction gone too far.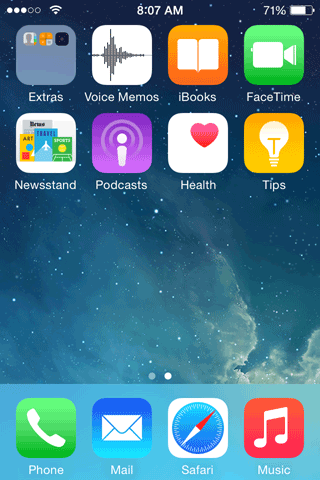 One the second page, we find the Extras folder, which contains Contacts, Calculator, and Compass. There's also Voice Memos, iBooks, FaceTime, Newsstand, Podcasts, Health, and Tips, the last two new with iOS 8.
Personal Choices – or Not
Time to get on my soapbox: What's up with Apple not letting us remove any of these apps? I have no use for Stocks, I have never used Clock other than to see that I would have no use for it, and I prefer the weather app from a local TV station over Apple's Weather app. To date I've had no use for Passbook, iBooks, or Newsstand. I end up putting them all in a folder and storing that folder on the last screen. But why can't I just delete them?
I prefer Google Maps to iOS Maps, and I use Google's Gmail for most of my email needs, although I do use iOS Mail for my Apple and Yahoo accounts. I also use Podcasts for a few podcasts that I can't access using Stitcher.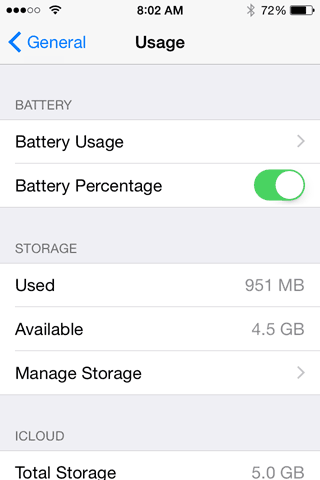 All that said, iOS 8 has a fairly frugal memory footprint. On the iPhone 4S, a fresh install weighs in at just 951 MB, leaving 4.5 GB available for apps, music, photos, and other files on my 8 GB iPhone. I should have no trouble putting everything back on it, although I may need to trim my music library.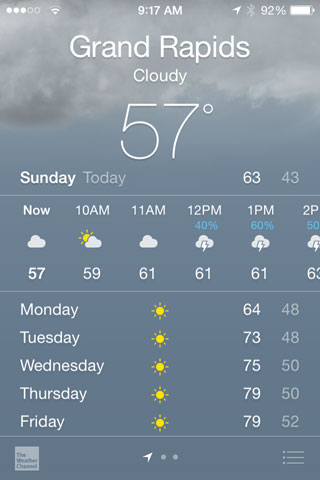 Although I tend not to use the iOS Weather app, it is gorgeous. And it loads much more quickly than the WZZM 13 WX app I prefer to use. Then again, Apple's app doesn't include weather maps, which are so nice for watching approaching storms.
In terms of performance, I haven't noticed a difference between iOS 7 and iOS 8, which is a good thing. Simon Royal has already noted that iOS 8 seems to be more energy efficient than iOS 7 on his iPhone 4S.
New Features
Apple includes a new app called Tips that provides tips for using new and updated iOS features. It's very nicely done. The app initially has 9 illustrated tips.
Tip #1: You can reply to a notification right away by pulling down on it to reveal a reply box.
Tip #2: You can record a message and then use Messages to send it.
Tip #3: Manage your email more efficiently. Swipe right to mark it. Swipe left for other options. Swipe further to delete.
Tip #4: No more need for Shazam. Siri knows your tunes too!
Tip #5: You can receive notification when your email has been received and opened.
Tip #6: Easier access to the Favorites in your Contacts.
Tip #7: By dragging a message bubble to the left, you can see when it was sent.
Tip #8: Family Sharing is a way for multiple family members to share purchased apps and have their own individual accounts.
Tip #9: The iPhone now has a self timer, giving you 3 or 10 seconds to get into position before it takes your photo. No more need to hold the camera when taking a selfie.
After two days of use, I am impressed with iOS 8, although I'm not making the transition quite yet. I plan on reverting this iPhone to iOS 7 so I can have the three latest versions of iOS for testing purposes. I already have iOS 6 on my iPhone 3GS and iOS 7 on my  16 GB iPhone. In the near future, I will migrate to iOS 8 on my 16 GB iPhone, the only one I use as a phone.
I may wait until OS X 10.10 Yosemite gets out of beta and I have replacements for the few apps that run under OS X 10.9 Mavericks but not Yosemite (Photoshop Elements 6 being one I use heavily), primarily because the integration Apple has built into iOS 8 and OS X 10.10 requires that you have both running. Then again, I'll need to see which of those features the iPhone 4S and my Late 2008 Aluminum MacBook support.
Based on my brief experiences with iOS 8 and what I've read online in recent days, I haven't seen a good reason to hold off, although it may be wisest to wait a week or so for a few bugs to be identified, a few solutions shared, and more of your apps updated for iOS 8.
Keywords: #ios8 #iphone4s
Short link: http://goo.gl/MOjFLk
searchword: ios8intro