When Apple introduced it MacBook Pro line, it discontinued the PowerBook series, and when the first MacBook models arrived in mid-May 2006, it discontinued the iBook line. These were the first two Mac brands to disappear in the Intel transition, followed by the Power Mac, which gave way to the Mac Pro later in 2006. Of the new Intel-only model lines, the MacBook was the first to be discontinued, but not until it had followed a long and winding road of new models, sometimes ones with lower CPU clock speed than earlier ones yet more powerful than expected. This Compleat Guide will walk you through the entire range of consumer MacBooks.
All consumer MacBooks have a 13.3″ 1280 x 800 pixel display, built-in iSight webcams, and Apple's proprietary MagSafe power connector, which has saved countless MacBooks from needing repairs when people trip over power cords. MacBooks introduced a new style of keyboard to the Mac world, so-called chiclet keys (named for the chewing gum) that are now standard on all Mac keyboards, portable and desktop.
Every MacBook can run OS X 10.6 Snow Leopard, which is the highest version the first MacBook edition supports.
Cracked Cases
The most common problem to afflict early polycarbonate MacBooks was cracking and chipping, especially around the palmrest, as shown in these sample images. After the number of online complaints got out of hand, Apple acknowledged the problem as a design flaw and began replacing the cracked plastics under an extended replacement program. There never was an official recall, and Apple appears to have continued to replace cracked cases as recently as 2011.
If your MacBook has this problem, it can't hurt to get in touch with the nearest Apple retail store and see if they are still fixing chipped and cracked cases.
Computing Power
Every MacBook has a dual-core Intel CPU ranging in speed from a low of 1.83 GHz to a maximum of 2.4 GHz. However, over the years Apple moved to better chipsets, a faster memory bus, and discrete graphics processors, which removed some burden from the CPU.
Geekbench 3 Scores
Scores shown are 32-bit single core, 32-bit multicore, 64-bit single core, and 64-bit multicore Geekbench 3 ratings with Core 2 Duo CPUs sorted by multicore results. As you can see, MacBooks with the same clock speed CPUs can vary in score, which is especially evident looking at 2.0 GHz models.
Note that Geekbench primarily measures CPU and memory bus performance. It does not indicate graphics performance or hard drive performance, which some other benchmarks do. Geekbench is a pretty accurate reflection of raw computing power, and the numbers below show that the most powerful 2.4 GHz Core 2 Duo model scores 50% higher than the 1.83 GHz Core 2 Duo model even though the clock speed is only 30% higher.
1.83 GHz, Late 2006: 896 / 1541
2.0 GHz, Late 2007: 993 / 1643
2.0 GHz, Late 2006: 999 / 1716 / 1131 / 1893
2.2 GHz, Late 2007: 1079 / 1767 / 1123 / 1800
2.1 GHz, Early 2008: 1076 / 1831
2.16 GHz, Mid 2007: 1083 / 1857 / 1043 / 1856
2.0 GHz, Early 2009: 1073 / 1853 / 1160 / 1980
2.0 GHz, Late 2008: 1114 / 1913 / 1196 / 2058
2.13 GHz, Early 2009: 1155 / 1999 / 1264 / 2203
2.4 GHz, Early 2008: 1209 / 2085 / 1350 / 2379
2.26 GHz, Late 2009: 1246 / 2157 / 1355 / 2372
2.4 GHz, Mid 2010: 1312 / 2187 / 1424 / 2388
2.4 GHz, Late 2008: 1300 / 2256 / 1407 / 2441
Core Duo, Mid 2006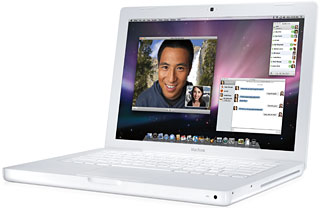 The iBooks, which the MacBook replaced in May 2006, had 12″ and 14″ 1024 x 768 pixel displays. The Mid 2006 Core Duo MacBook replaced that with a widescreen 1280 x 800 pixel 13.3″ display, which gave it a wider footprint than the 12″ iBook.
There were three models: An entry-level 1.83 GHz Core Duo and 2.0 GHz Core Duo in white with 512 MB of RAM and a 60 GB hard drive, and the top-end black MacBook at 2.0 GHz, which included an 80 GB hard drive. (Intel's GMA 950 integrated graphics ties up 80 MB of that memory, making RAM upgrades even more important.)

The first generation of MacBooks were built around Intel's 32-bit Core Duo CPU at 1.83 and 2.0 GHz, which was quite a power jump from the 1.33 GHz G4 in the top-end 14″ iBook. Where the iBook scores 742 on Geekbench 2 (not Geekbench 3, which only runs on Intel Core 2 and newer) under OS X 10.5 Leopard, the entry-level 1.83 GHz MacBook hits an amazing 2262 – over three times the raw computing power of the iBook. The 2.0 GHz MacBook boosts that to 2411. Not quite the "5x the performance" Apple hyped, but a big step forward.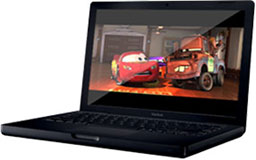 The Core Duo MacBook shipped with OS X 10.4.6 Tiger and supports up to OS X 10.6.8 Snow Leopard; it is not compatible with OS X 10.7 Lion or newer. The base MacBook shipped with just 512 MB, which is decent for Tiger, just adequate for Leopard, and insufficient for Snow Leopard. You really should have at least 1 GB for good Leopard performance and 2 GB for good Snow Leopard speed.
Perhaps the biggest disappointment came from gamers, because the integrated, vampire video Intel GMA 950 graphics engine couldn't hold a candle to the ATI Mobility Radeon 9550 4x AGP graphics with 32 MB of dedicated video memory (VRAM) in the last-generation iBooks. For everything else, GMA 950 is generally sufficient, but gamers have found it wanting.
One real strength of the MacBook line is that they are just about the easiest computers anyone has ever built in terms of replacing the hard drive. Remove the battery, remove a cover, slide out the 2.5″ SATA drive, slip in the new drive, close things up, and you're ready to go.
Used Core Duo MacBooks generally sell in the $200 to $300 range. Equipped with OS X 10.6 Snow Leopard and upgraded to 2 GB of RAM, this can be a very decent field computer. Just remember that it will never be able to run OS X 10.7 Lion or anything newer.
Core 2 Duo, Late 2006
In October 2006, Apple moved the MacBook to Intel's newer, improved Core 2 Duo CPU, which supports both 32-bit and 64-bit operation, meaning it meets that hardware requirement for OS X 10.7 Lion. The 1.83 GHz model again ships with 512 MB of RAM and a 60 GB hard drive, while the 2.0 GHz white Core 2 Duo model has 1 GB of RAM and an 80 GB hard drive. The black MacBook, at the top of the heap, included a 120 GB drive.
Although Apple claims a 2 GB maximum for system memory, you can install 3 GB, which gives the operating system and apps more elbow room for improved performance. With the extra power of the Core 2 Duo CPU, ability to support Lion, and capability of working with 3 GB of RAM, this is a much better choice than the Early 2006 Core Duo model, since the Late 2006 model is usually very close to it in price.
Mid 2007
In May 2007, Apple finally gave the MacBook a boost in the processor speed department, moving the entry-level model to 2.0 GHz and the better ones to 2.16 GHz – about  8% more power overall. For the first time, 1 GB of memory is standard across the board, so every Mid 2007 MacBook has sufficient RAM to run OS X 10.5 Leopard decently, although you will want to upgrade to 2-3 GB for 10.6 Snow Leopard.
Stock hard drives range from 80 GB to 160 GB, and the SATA drives are easily replaced if you want more speed and/or capacity – or even an SSD. Other than CPU speed, more RAM, and bigger hard drives, the Mid 2007 MacBook is virtually identical to the Late 2006 model.
Santa Rosa, Late 2007
The Late 2007 MacBook made some serious strides forward from earlier models. It was the first to use Intel's Santa Rosa chipset, moved from a 667 MHz memory bus to an 800 MHz one, and includes Intel X3100 integrated graphics. Memory and hard drive configurations match the Mid 2007 MacBook, but the top-end models now run at 2.2 GHz. Combined with a faster memory bus, the Late 2007 model pushes out a bit more performance.
While x3100 graphics are a step forward, they also eat up 144 MB of system memory, 64 MB more than the GMA 950 graphics of earlier MacBooks. With 1 GB of RAM standard, that's less of an issue than on 512 MB models, but it is something to keep in mind when you think about boosting RAM.
Unlike earlier MacBooks, the Santa Rosa and later models only support full bus power to a single USB device, and that only from the port closer to the front of the machine. Speaking of which, the Late 2007 MacBook is the first to support 6 GB of system memory, which really gives your apps and operating system a lot of elbow room. It is also the first MacBook to require OS X 10.5 Leopard.
Penryn, Early 2008
Just four month later, Apple updated the MacBook yet again. The Early 2008 model boosts CPU speed to 2.1 GHz on the entry-level machine and 2.4 GHz – the highest clock speed the MacBook would ever attain – for the other two models. The MacBooks also get larger hard drives across the board, ranging from 120 GB to 250 GB.
Other than that, it's specs are very much in line with the Late 2007 Santa Rosa model.
MacBook White, Late 2008
Apple discontinued the black MacBook and renamed the model MacBook White with the Late 2008 version. For the first time, a MacBook broke the psychological $1,000 barrier, with the 2.1 GHz MacBook White retailing for US$999 with 1 GB of RAM and a 120 GB hard drive. It is essentially the same as the entry-level Early 2008 MacBook.

Aluminum Unibody MacBook, Late 2008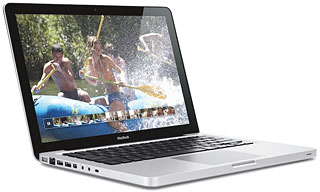 In a significant departure from earlier members of the consumer MacBook line, Apple introduced the Aluminum Unibody MacBook at the same time as the MacBook White. The body of this MacBook was carved from a single piece of aluminum, and as the owner of one (I'm writing this article on it), I can attest to the build quality. This is as solid a notebook as any Apple has ever built.
The Aluminum MacBook uses a more energy efficient 2.0 or 2.4 GHz Core 2 Duo CPU and is the first MacBook model with a dedicated graphics processor. The Nvidia GeForce 9400M has 16 cores and uses 256 MB of system memory – almost twice as much as the Intel X3100 graphics in other MacBooks of the time. Fortunately, it shipped with 2 GB of RAM, so losing 1/4 Gigabyte isn't such a big deal. Better yet, while Apple claims it support 4 GB of RAM, the folks at OWC know it works just fine with 8 GB, although at over $100, not many will go that far.

The Aluminum MacBook is the first MacBook without FireWire. This is also the first MacBook with an LED backlit display. It was the first MacBook to have an SSD build-to-order option from Apple, and it's also the oldest MacBook to support OS X 10.8 Mountain Lion and 10.9 Mavericks, which I am running on mine.
In 2009, the Aluminum MacBook gained FireWire and grew into the first 13″ MacBook Pro.
MacBook White, Early 2009
The Early 2009 MacBook White, introduced in January 2009, drops back to 2.0 GHz from the 2.1 GHz of the Late 2008 polycarbonate model, but at the same time it gains the Nvidia GeForce 9400M graphics used in the Aluminum MacBook, so it can run OS X 10.9 Mavericks as well. 2 GB of RAM is standard with support for up to 6 GB.
This was the last model with FireWire.
MacBook White, Mid 2009
In May 2009, Apple bumped the CPU speed of the MacBook White to 2.13 GHz, and this model uses 800 MHz RAM vs. 667 MHz in earlier MacBooks to further boost performance. Otherwise, it's nearly identical to the Early 2009 model.
Unibody MacBook, Late 2009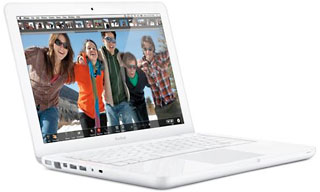 Apple moved away from polycarbonate for the MacBook's base with the Late 2009 model, rolled out in October 2009. The lower case is a unibody design carved from a block of aluminum – just like the Aluminum MacBook – but this time covered with a white rubbery material. Unlike earlier MacBooks, it has a built-in battery, which boosts battery life from about 4.5 hours to 7 hours.
Standard RAM is 2 GB, and it supports up to 8 GB. Unfortunately, FireWire is not present on the Unibody MacBooks, unlike polycarbonate MacBooks, which all included it.

The Late 2009 model includes Nvidia GeForce 9400M graphics and ships with 2 GB of RAM, expandable to 8 GB. It requires OS X 10.6.1 Snow Leopard or later.
Unibody MacBook, Mid 2010
The end of the consumer MacBook line arrived in May 2010, and it took everything to the max. This is the only MacBook to support 16 GB of memory, according to OWC – twice as much as any other model. It has the same 2.4 GHz CPU speed seen only a few times in the past, and it's the only MacBook to use Nvidia GeForce 320M graphics, which also made its way into the 13″ MacBook Pro.
Battery life, an impressive 7 hours in the Late 2009 Unibody, soars to 10 hours.
If you want the most a consumer MacBook ever offered, this is the one to get.
This model was discontinued in July 2011 in favor of the MacBook Air, which is Apple's current consumer laptop.
Keyword: #compleatmacbook
Short link: http://goo.gl/DQswwg
searchword: #compleatmacbook