The 17″ MacBook Pro has seen its time come and go, as sad as that reality may be. Apple stopped making its largest sized flagship portables after 2011 in favor of smaller 15″ class Retina Display units that pack more pixels along with more graphics and processing power into a smaller package.
This progression may be a good or bad thing, depending on what features you crave in a portable Mac, but there are only two words that can describe the 17″ MacBook Pro that can't be replicated no matter how hard Apple tries, without bringing back things that are now missing from their modern machines (internal optical drives for physical media, internal expansion bays, etc.) and those words are "portable workstation."
The 17″ MacBook Pro indeed is a portable workstation, and from the beginning it was created to be a designer's and multitasker's best friend. You can literally have two or three full pages of text side-by-side or two browser windows open simultaneously on models with 1920 x 1200 displays and still get the full picture without too much difficulty or squinting from zooming out. All 17″ models had an internal optical drive and an ExpressCard34 slot, providing more expansion and storage options than Retina Display machines.
From its inception with the original 2006 2.16 GHz  Core Duo model to the final unibody versions released in late 2011, there has been a wide variety of features and capabilities added, but only one thing has always been there to immediately turn heads and grab attention – the massive 17″ display. Without further delay, witness the progression of Apple's largest MacBook Pro, beginning with the mid 2006 models:
Mid 2006 (Core Duo) – 2.16 GHz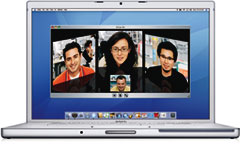 Important facts for the Mid 2006 17″ MacBook Pro:
Late 2006 (Core 2 Duo) – 2.33 GHz
Important facts/changes introduced with the Late 2006 17″ MacBook Pro:
Mid 2007 (Nvidia) – 2.4/2.6 GHz
Important facts/changes introduced with the Mid 2007 17″ MacBook Pro:
Early 2008/Late 2008 (Penryn) -2.5/2.6 GHz
Important facts/changes introduced with the Early 2008 17″ MacBook Pro:
Early 2009 (Unibody) – 2.66/2.93 GHz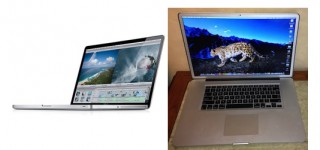 Important facts/changes introduced with the Early 2009 17″ MacBook Pro:
Mid 2009 – 2.8/3.06 GHz
important facts/changes introduced with the Mid 2009 17″ MacBook Pro:
Mid 2010 (Dual Core i5/i7) – 2.53/2.66/2.8 GHz
Early 2011 (Quad Core) – 2.2/2.3 GHz i7
Late 2011 – 2.4/2.5 GHz i7
In Closing
The 17″ models provided some of the most versatility of any Mac ever made. Everything from the LED backlit 1920 x 1200 display (on such models that shipped with it or had it as an option) to ExpressCard 34, which remained throughout the line, provided power users, professionals, and enthusiasts with many options not possible on the 15″ and 13″ models. Every model is theoretically able to boot into OS X Snow Leopard, so you will never be without legacy applications if you pick up a 17″ MacBook Pro, courtesy of Rosetta compatibility. Every model has an optical drive, so you will never be without the potential to install software on the go or burn a disc when you need to.
The 17″ MacBook Pro is a true Mac user's portable workstation, and so much more can be said about its advantages versus smaller form factors and the Retina Display models that replaced it. Curiously, Apple released "traditional" Ivy Bridge models of the 15″ MacBook Pro with optical drive in 2012 that shipped with built-in USB 3.0, but omitted the 17″ model, which has not yet returned to Apple's lineup as of this writing and is unlikely to in the foreseeable future. The 2011 models have distinct advantages over all other models (SATA III, Thunderbolt, and AirPlay Mirroring in Mountain Lion and Mavericks), so if you are in the market for a 17″ MacBook Pro, consider a 2011 unit due to it having a strong mix of modern and legacy technologies.
* No, it isn't a typo. Compleat is a legitimate, albeit archaic, spelling for complete. As Kenneth G. Wilson says in The Columbia Guide to Standard American English: "This obsolete spelling of the adjective complete suggests an air of antiquity that seems to please some of those who name things…." We find that fitting for Low End Mac's Compleat Guides to "obsolete" hardware and software.
Keyword: #compleat17inchmacbookpro
Short link: http://goo.gl/14vfvP
searchword: compleat17inchmacbookpro