I recently installed the lightweight Linux distro LXLE on a netbook and then on an aging laptop. Now I compare the two machines.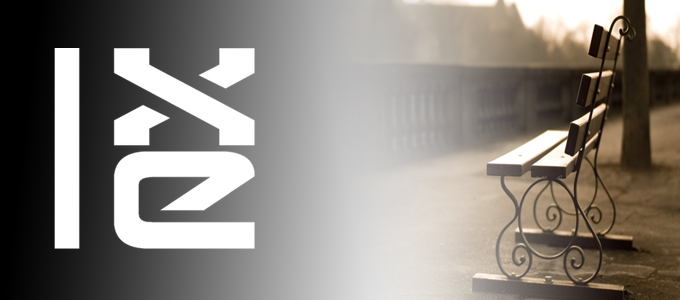 LXLE is making huge waves in the Linux world, great for older kit and great for those looking to replace Windows XP on computers that won't run newer versions of Windows.
A few weeks back I was looking for a lightweight yet attractive distro for my Acer AspireOne netbook and was seriously impressed by the performance and looks of LXLE. In fact, I was so impressed that when I was looking to replace Windows XP on my daughter's laptop I jumped straight to LXLE.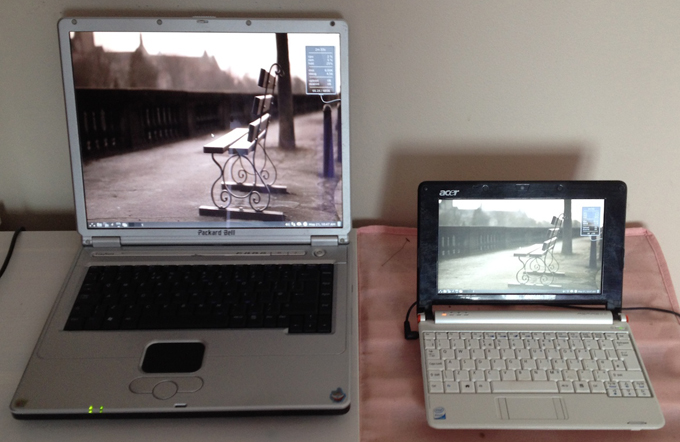 Packard Bell Easy Note L4: 1.6 GHz Pentium M, 1.5 GB DDR RAM, 20 GB 4200 RPM hard drive, and 15" screen.
Acer AspireOne: 1.6 GHz Atom, 1.5 GB DDR2 RAM, 8 GB SSD, and 10" screen.
LXLE summary screen: Packard Bell laptop & Acer netbook
While the processor speed and RAM might be the same, the difference in chips, system architecture and drive technology make these quite difference machines, with one thing in common – they are both low end.
Speed Comparison
The netbook booted in just over a minute, while the laptop took nearly two minutes. I presume this is mainly due to the slow 4200 RPM drive and DDR RAM vs the SSD and DDR2 RAM.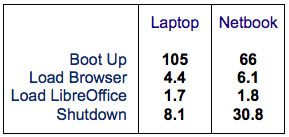 Loading up Google Chrome was faster on the laptop at 4.4 seconds vs 6.1 seconds on the netbook and loading up LibreOffice was virtually the same 1.7 vs 1.8 seconds.
It was the shutdown that puzzled me. The laptop shut down in 8.1 seconds of the 'shutdown' option being pressed, whereas the 30.8 seconds on the netbook. I repeated this several times to ensure it wasn't a blip.
Idle
After booting up and sitting for a minute or so, LXLE sits idle very nicely on both machines, using 1 or 2% CPU and 5% RAM.
LXLE info screen: Packard Bell laptop & Acer netbook
Usage Comparison
Even under pressure, the CPU and RAM usage is still quite low. Both machines performed very well. This distro is an excellent choice for both computers. Neither struggled and I could quite comfortably use them for browsing machines.
Upgrade Options
Unfortunately the netbook is upgraded as much as possible. It has 512 MB onboard RAM and a 1 GB stick, and the 8 GB SSD drive is not changeable.
The laptop on the other hand could be improved. It has a 512 MB and a 1 GB stick of RAM, but could be maxxed to 2 x 1 GB RAM. The hard drive is an old 4200 RPM drive, it could be replaced with a faster one or even an SSD/Flash drive, this would make a huge difference.
Conclusion
Okay, so it might not have been a fair comparison, but it is great to see that even on varying hardware LXLE is a superb performer.
---
Follow Simon Royal on Twitter or send him an Email.
Like what you have read? Send Simon a donation via Tip Jar.
---
keywords: #linux #lxle #packardbell #netbook #acer #techspectrum #simonroyal
short link: http://goo.gl/CbjbO5
searchword: lxle