Mobile phones might have advanced in the past few years, but the batteries powering them haven't. The biggest complaint from smartphone owners is battery life. Smartphones today can do just about everything, but to get some of them to last a whole day without running out of battery you have to turn most of the fancy features off.
Android handsets seem to suffer the most, with newer ones doing slightly better, Windows Mobile 7 and 8 handsets creeping ahead of Android, but none of these modern market leaders get anywhere near the battery life and battery management that Symbian handsets do.
iPhones seem to vary. The newer versions of iOS have improved battery management considerably. Just going from iOS 6.0 to 6.1 can see you an extra 20% in battery life. However, the iPhone 4s and 5 users still have to watch what they do. My iPhone 4 does a day and a half easily as did my 3GS prior to that.
So until phone manufacturers wake up and strap on massive batteries and optimise battery management even further what options do we have? Do we carry a second battery around – thats not an option for the iPhone and some newer Androids? Do we carry a charge cable and cheekily plug it in where ever we can, trying to eek in a little extra life?
Hello Mophie
There is an alternative – at least for iPhone and Samsung Galaxy S3 owners. Step up Mophie Juice Packs. Mophie is a company that produces cases with a built in extra battery for charging on the go. They also produce external USB 'Power Station' battery packs that can charge other devices too.
There are various versions to suit different iPhone models. I couldn't find one for the original iPhone but they are available for the iPhone 3G upwards.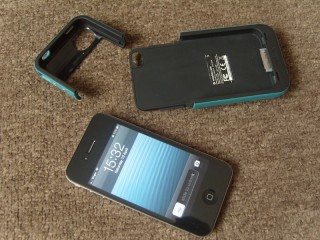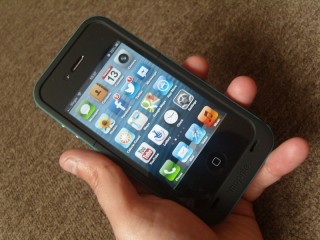 I have an iPhone 4 so my options are the Juice Pack Air – which features a 1700mAh battery – and the Juice Pack Plus – which features a 2000mAh battery. These also work on the iPhone 4S. Compare that to the 1430mAh battery in the iPhone 4 and you begin to see how much extra juice you get.
Fitting the Mophie
Simply take your iPhone and slide it in the bottom half of your Juice Pack. It is pretty self guiding. Just ensure the port lines up and then slide it in all the way. Then put the top on, which also slides on and fits snuggly.
I have a screen protector on my iPhone and the Mophie slid over the top of it, meaning my iPhone is totally encased in protection.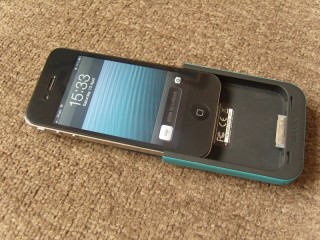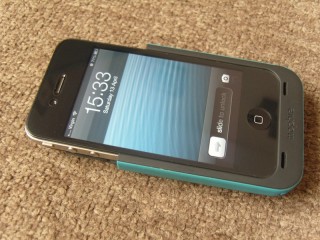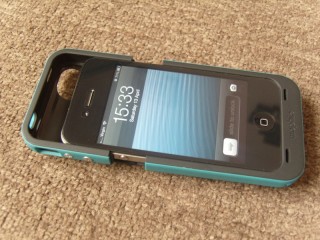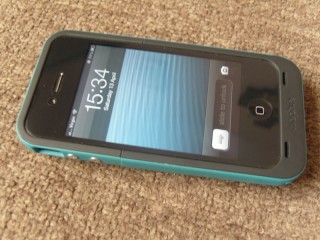 Looking Round the Juice Pack
The top has a hole for the earphone socket and has a pass through power button. The right hand side has no buttons but does feature the Micro USB port – which is used for charging the Juice Pack and the iPhone as well as syncing with iTunes – so you don't need to remove the Juice Pack to connect.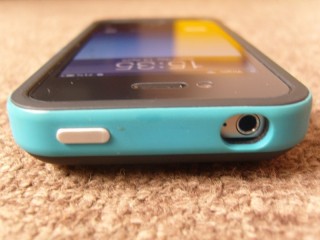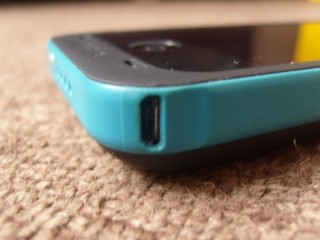 The bottom features the Juice Pack battery indicator. Press the button and the four lights will light up indicating how much charge is in the Juice Pack. The left side features the charge switch at the bottom, the rehoused volume buttons and a hole for the silence switch.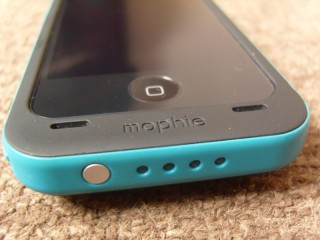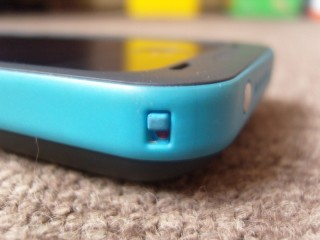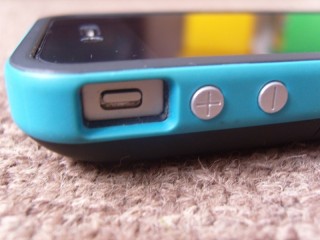 Looking at the front you will see it securely holds the iPhone without only a thin rim. At the bottom you will find a small addition which redirects the speaker and mic and holds the charging socket.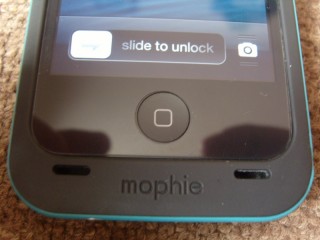 The back is where you notice the extra bulk the most. It adds a quite a bit more thickness to the iPhone, however in comparison to other longer life batteries I have tried for other phones this is quite small and spreads itself over the whole of the handset rather than just a hideous bulge in the battery area.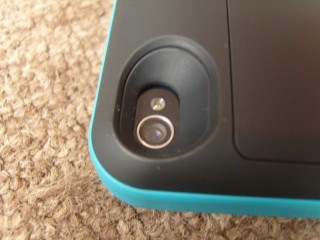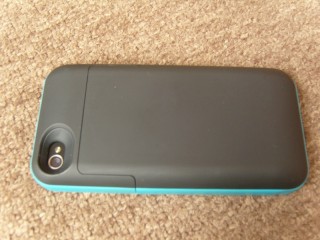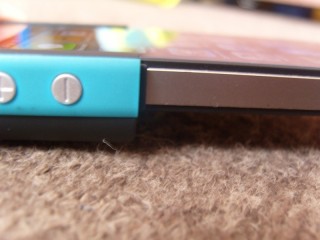 The extra bulk and weight is something you notice instantly, especially as the iPhone 4 is such a slim device. However you get use to it very quickly. I personally thought it was going to annoy me but it hasn't, and the benefits far out way the extra bulk. Besides, even a standard slim protective case will add quite a bit of extra size to your iPhone.
It is a very well made product with an instant feel of quality. The Plus is available in a variety of colours. I have the blue model, but you can also get it in black, white, pink, yellow, purple and red. The coloured band adds a nice touch of individuality to your handset.
As well as packing in a battery larger than the one inside the iPhone, the Mophie doubles as a protective case and according to the Mophie website 'The Juice Pack Plus also has the complete protection of a dual-injected hard shell case with protective shock-proof rubberized band'. This makes it very easy to grip and hold.
How It Works
That's enough about cosmetics. This isn't a beauty contest. If you are reading this article then you are looking to eek some extra usage time out of your phone.
The 30 pin Apple connector is now concealed in the Mophie case. A bonus there is your port is protected from every day use and possibility of damage. You charge up your iPhone and your Juice Pack via the Micro USB port on the side. Any USB cable should work, but it does mean it now won't sit on an iPhone dock, but you do always have the earphone socket.
My iPhone takes about 2 hours to charge from flat to full, and so does the Mophie. So when charging both remember to allow for extra time, but most people charge their phones over night anyway so shouldn't cause too much inconvenience.
Charging via the Juice Pack and its MicroUSB cable, the iPhone will charge first, once that is fully charged it will then start charging up the battery in the Juice Pack. The lights on the bottom will flash and will continue to until the Juice Pack is fully charged.
Once both are done you are good to go and enjoy your extra usage time.
Improved Sound
The bottom of the Juice Pack has two holes for redirecting the sound from the microphone and speaker of the iPhone. While the Juice Pack has no physical speakers the casing actually improves sound quality especially when listening to music. Mophie claims 'the case is designed to act as a virtual speaker box, redirecting sound from the bottom of the iPhone 4/4S to the front, resulting in a richer, fuller speaker sound quality.' You can certainly notice the difference in sound quality instantly.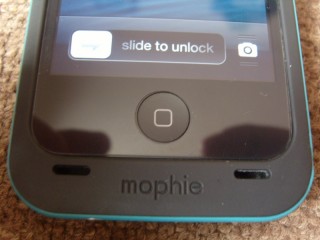 Out In the Wild
This isnt an extended battery like you find for other handsets. This is a second battery. It is a portable charger.
You use your iPhone as you would normally and when your battery gets down to the last few percent, you flick the small switch on the left side of the Juice Pack and the Mophie starts to charge your iPhone. Mine took about 3 hours to charge from completely flat to full. This gives you another full iPhone battery without having to plug it in to the wall.
Not only that, fully charging the iPhone didn't completely drain the Juice Pack, there was still enough to give me another 10% battery charge, which is enough to get you home or ensure you have enough juice to still get emails.
My Timeline
Before I went to bed on Friday night I put my device on charge, ready for testing on Saturday 6th April.
Saturday 6th April – 10 am – iPhone and Juice Pack fully charged.

Monday 8th April – 3:30 pm – iPhone runs out of battery after 53.5 hours.

Monday 8th April – 3:30 pm – Mophie is switched on to charge iPhone.

Monday 8th April – 6:30 pm – Mophie takes 3 hours to fully charge iPhone.

Tuesday 9th April – 10:30 pm – iPhone runs out of battery for second time after 29 hours.

Tuesday 9th April – 10:30 pm – Mophie is switched on to partially charge iPhone.

Tuesday 9th April – 11:00 pm – Mophie runs out of battery and stops charging iPhone.

Wednesday 10th April – 1:30 am – iPhone runs out of charge.

Wednesday 10th April – 1:30 am – iPhone and Juice Pack put on charge ready for the morning.
Under average use I can stretch to over two days out of my iPhone on a single charge. This is pretty impressive to begin with. The charge in the middle provided by the Juice Pack means I didn't have to worry that it was mid afternoon and my iPhone was going to die whilst out and about, leaving me without a phone for the rest of the day.
A simple switch and three hours later – whilst still out shopping – my iPhone was fully charged and ready to carry on using its own battery.
The second charge gave me an extra day and a bit. Why 29 hours compared to the 53.5 hours from the first charge? This is no reflection on the Juice Pack, merely that I used the phone very heavily this time round. I was also out of a wifi area and relying on 3G which is a lot heavier on battery. I also had comfort that there was still some battery charge left in the Juice Pack if I needed it.
Change Your Charging Habits
Prior to getting my Juice Pack, I would charge my iPhone first thing in the morning – every morning. It would be the first thing I thought of when waking up, no matter how much battery was left.
Within a week of owning a Juice Pack, I have become very complacent. You instantly rely on the fact you have a fall back battery. I use my iPhone more because I know even with a very heavy day of usage you have a second battery to keep you going.
Would I Recommend One?
The short answer is, yes. For anyone who uses their iPhone a lot or for those that travel around and a power outlet isn't always readily available then this is a must.
A case, an extra battery and a port protector all in one.
Head over to the Mophie website to check out the different models available for your iPhone.
---
Follow Simon Royal on Twitter or send him an Email.
Like what you have read? Send Simon a donation via Tip Jar.
---
keywords: #iphone #mophie #review #juicepackplus #techspectrum #simonroyal
short link: http://goo.gl/DLWPz2

searchword: mophiejuicepack