In early 2013, I reviewed the Mophie Juice Pack Plus for the iPhone 4 and 4s. I take another look at it and this time see how it performs under iOS 7.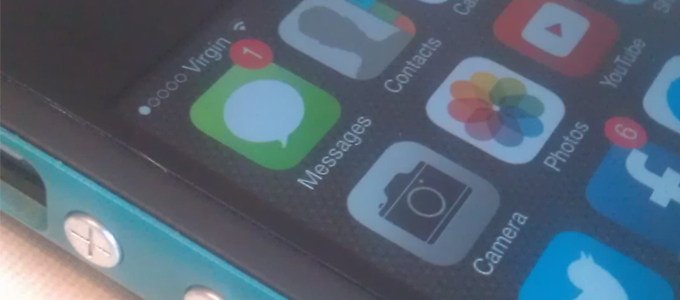 I was intrigued by the Mophie Juice Pack. I have never had a huge issue with the battery life on my iPhones, but sometimes when out and about it would be nice to not think about it.
I picked up a Mophie Juice Pack Plus, which is a phone case with built-in extra battery. The case slides on to the iPhone, covering the charge port and offering the ability to charge the phone while on the move, via the built-in backup battery. As well as extra power, it is also a very sturdy and very protective case.
The idea behind the Mophie products are great, doubling your battery life, but it comes with a couple of things to think over. The first one is the price, the massive battery power will cost between £80 to £120 depending on which model you buy. The second is the size, the Juice Pack Plus is a rather bulky product detracting from the slick design of the iPhone 4 and 4S.
There is also a Juice Pack Air for the iPhone 4 and 4S that has a smaller battery and therefore makes it slightly thinner. Versions for the iPhone 5 and 5s are even thinner, so it is something Mophie have looked at.
If you can afford one and can live with the extra size, then you are set to enjoy days out of your iPhone, or one very heavy 24 hours of use without having to plug it in to the mains.
Previous Test
Back in April 2013, I was running iOS 6.1 on my iPhone 4, and I reached 87.5 hours out of my phone with Juice Pack Plus, that's just over three-and-a-half days. I was very impressed by this. You can read my original article here.
New Test
Its now February 2014, and my iPhone 4 is running iOS 7.0.4, so I re-ran the test. I enclosed my iPhone in its Mophie and charged it up overnight, ready for a weekend of use, taking it off charge when I woke on Saturday morning.
Saturday 8th February – 8:30 am – iPhone and Juice Pack fully charged.

Sunday 9th February – 3:00 pm – iPhone runs out after 30.5 hours.

Sunday 9th February – 3:00 pm – Mophie is switched on to charge iPhone.

Sunday 9th February – 6:00 pm – Mophie takes 3 hours to fully charge iPhone.

Monday 10th February – 4:50 pm – iPhone runs out of battery for second time after 22:50

Monday 10th February – 4:50 pm – Mophie is switched on to partially charge iPhone.

Monday 10th February – 6:00 pm – iPhone runs out of charge.
That is a total of 58.5 hours – around two and half days – which is considerably lower than the 87.5 hours reached last year. What can this be put down to?
iOS 7 is heavier on the iPhone 4 than previous versions of iOS.

Usage is slightly different – possibly more 3G use, which is always more battery intensive than WiFi.


The battery in my iPhone 4 is running at lesser capacity than it was a year ago.

The battery in the Mophie is running at lesser capacity that it was a year ago.

Being jailbroken has affected it – despite only having two jailbreak tweaks.
My iPhone battery is only holding 85% of its original capacity, but I am not sure what it was a year ago. I have actually ordered a replacement so I will test it out when it arrives and is fitted.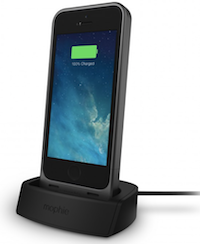 Charging Dock
The Juice Pack for the iPhone 5/5s now has the ability to use a Juice Pack Dock. Similar to the docks Apple used to provided with iPods and iPhones, the Mophie Juice Pack Dock allows you to place your iPhone – whilst in its Mophie case – on a stand and charge it.
This is a great improvement over the Juice Pack Air and Plus for the iPhone 4 and 4S, which uses a Micro USB socket to charge and sync.
Conclusion
If you have enough cash and find you need the extra battery, grab yourself a Mophie Juice Pack for your iPhone. A brilliant product for those who need more juice than an iPhone can provide.
I don't use mine all the time. The extra size puts me off from using it full time, but if I am going out or don't know if I will have access to a charge point, I will use my Juice Pack Plus.
I am also put off by the fact that it hides the shiny Apple logo on the back of my iPhone. A little pathetic, I know, but I am proud to show off the fact I use an iPhone – and a Mophie disguises it.
---
Follow Simon Royal on Twitter or send him an Email.
Like what you have read? Send Simon a donation via Tip Jar.
---
keywords: #iphone #mophie #review #juicepackplus #iOS7 #techspectrum #simonroyal
short link: http://goo.gl/n0t8qO
searchword: mophiejuicepack