I purchased a badly abused 17" Aluminum PowerBook G4 in the summer of 2012. It had a badly smashed lower case assembly, missing Enter key, a nonfunctional LCD, a bum battery, and not very many screws holding her together. I've always liked the design of the 17" PowerBook and felt the Aluminum PowerBooks have the best keyboard. I'd put off repairing this 'Book for the past few years because of the high cost of the LCD. I've scouted prices pretty diligently the past few months, and I've also watched a few on eBay. My model is a 1.5 GHz model, so it needs the non-Hi Res screen.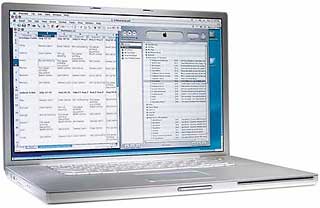 That's when I found this gem. It started off innocently enough with adding a nonfunctional 1.33 GHz 17" PowerBook to my eBay watch list. This one had a wonderful exterior, perfect keyboard, perfect screen, no hard drive, and a dead logic board. Oh Buddy! The starting bid was $19.99 with $10.00 to ship. After adding it to my list, I promptly forgot all about the big 'Book and went about my life.
While working my regular job, my phone vibrated in my pocket to let me know I had an alert of some kind. I pulled it out and looked at the display to see that the PowerBook's auction was ending soon. I opened up the auction and saw there were still no bids.
I went back through the pictures trying to find a reason not to buy the sleek PowerBook. After finding nothing besides some missing feet, I clicked the bid button to open it up at $19.99. Ten minutes later, I was the proud owner of a second 17" PowerBook.
Swapping Good Parts for Bad
Four days later, I tore into the box from Washington containing my 'new-to-me' PowerBook. It looked great, except for the keyboard, which had the wrong size Allen screws holding it in place from underneath and were causing it to be wavy. Other than that, it was in great condition.
I promptly tore into my new PowerBook, stripped out the old 1.33 GHz logic board, and swapped in my 1.5 GHz board.  I also put the PRAM battery board and SuperDrive from 1.5 GHz 'Book into the new chassis. Once everything was screwed, snapped, and clipped in, I pressed the power button.
The telltale Macintosh chime sounded and promptly displayed a folder with a blinking question mark. It was around this time that I decided I should make a default PowerPC OS X 10.5 Leopard build image with all of the popular apps and updates done. Loading operating systems and running Software Update is a time consuming process. After loading Leopard, iWork 09, MacTubes, Dropbox, Onyx, and TenFourFox, I decided it was time to make this laptop my own.
Making Leopard Feel More Modern
If you are used to the modern convenience of Windows 7's Snap feature, I highly recommend that you try out Irradiated Software's Cinch. It is a program that has the ability to run in the background and auto resize windows to full screen when dragged above to the menu bar – or half screen when dragged to the left or right. This makes copying files from one source to another extremely easy. This software costs $7, but it also has a free unlimited demo version that shows a popup asking you to register on every reboot.
I'm also a fan of Daniel Becker's free app, iScroll2. This allows many of the G4 era 'Books to use two finger scrolling and allows you to map the trackpad 'tap' to the second mouse button. This is something I've grown so attached to with my MacBook that I sat there like an idiot trying to figure out why I couldn't scroll down on my PowerBook.

I'm currently quite smitten with the look of OSX 10.10 Yosemite. The new Finder icon (left), folder icons, and wallpapers are all gorgeous. I found a pretty complete icon pack from deviantART.com and promptly ran into problems. Leopard doesn't like the bigger ICNS files that are being used now-a-days. I had to pull a PNG from the ICNS file and then use a free online convertor to change it back to an ICNS file that Leopard was happy with. If that sounds complicated, it's because it was. After getting all that insanity sorted out, I used LiteIcon to change the icons.
After getting all of the folder icons set, I changed most of the major application icons to Yosemite style icons. I also changed the Finder and Trash Can to mimic the simple OS X 10.10 style. I switched the Dock to the plain 2D look with Onyx. It's not exactly like 10.10, but it's close enough for me.
To finish off my faux 10.10 install, I installed one of the default wallpapers showcasing a fog topped mountain surrounded by tall trees – and adorned with a simple capital X.
I love this PowerBook and regret not fixing this thing up sooner. It's running great with Leopard and 1.5 GB of RAM. This is the perfect laptop for writing my articles and some light web browsing. I've yet to stress this thing too much, but it seems to handle most tasks without issues.
My next task is to get some games to put this ATI Radeon 9700 through it's paces.
If you would like to download my 'Leopard ready' Yosemite Style folder icons, here's a link.
Keywords: #17inchpowerbook #powerbookrestoration
Short link: http://goo.gl/S84k6u
searchword: 17inchpowerbookrestoration