My attempts to revive an old iPhone have finally come to an end. I say good-bye to this beat up beast, but it's not all bad news.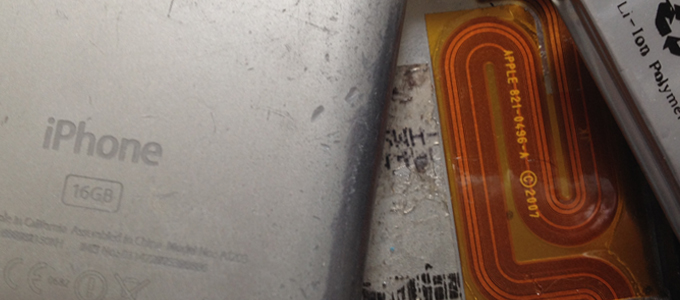 After months of fixing up an original iPhone 16 GB model and coming up against a number of problems, a final attempt to get it running has left it lifeless for the last time.
A few weeks back, after thinking I had fixed it, the replacement battery I fitted started to bloat and smell, causing it to stop the iPhone working. Initially a second battery attached powered up the device, but today it would only power on for a few seconds at most – then shut off. It didn't even get to the home screen.
Too much soldering has left the contact points on the board damaged, and I feel it is shorting out somewhere.
Parts
It won't be destined for the bin, however. I am loathed to part with any piece of tech kit, and as Apple no longer offer spare parts for these, they will be handy. A recent purchase of a rare 4 GB model that also needs some work means I will strip the 16 GB model for parts, which will also give me experience of a full strip down – and put them to good use.
Good-bye, 16 GB. Hello, 4 GB.
Check out my previous articles in this series:
---
Follow Simon Royal on Twitter or send him an Email.
Like what you have read? Send Simon a donation via Tip Jar.
---
keywords: #iphone2g #originaliphone #revive #dead #techspectrum #simonroyal
short link: http://goo.gl/pm63Lz
searchword: revive