Based on the headline on Cult of Mac (WTF? Ex-Apple Executive Apologize For The Original iPhone, Says It "Wasn't Great"), you'd think Bob Borchers, Apple's former Senior Director of Product Marketing, had really knocked the original iPhone, saying, "If you had the original iPhone I apologise; it was not a great phone, it was an OK phone."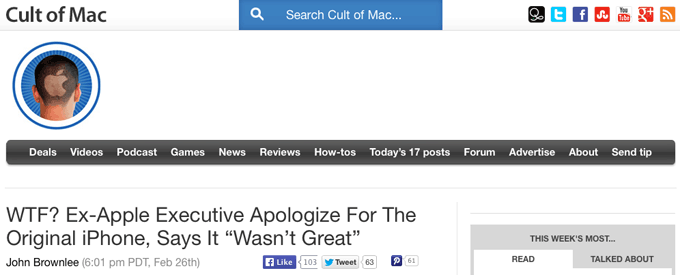 While that makes for a great hit magnet, Cult of Mac's article is based on an article on Trusted Reviews that calls this a "tongue-in-cheek comment" – not what you'd get from reading Cult's story. Then again, sensationalism builds traffic….

However you take these article or Borcher's comments, the real question is, How good (or bad) was the original iPhone?
Dan Knight: I never used the first iPhone, but I remember what a sensation it was. While it didn't run third-party apps until the App Store arrived a year later, it did run native apps – another point Cult of Mac gets wrong in its article. Apps included Safari, Mail, YouTube, iPod (the music player), and Visual Voicemail, which Apple pioneered.
Honestly, most reviews said it was only okay as a voice phone, but it was great for music, apps, and the Internet, albeit at 2G EDGE speeds – typically around 400 kbps with peaks as high as 1 Mbps – when 802.11b/g WiFi wasn't available.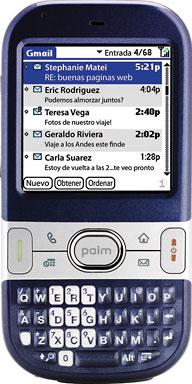 Compared to the Palm Treo and Centro (right) – also released in 2007 and among the most popular smartphones of the day – with their square 320 x 320 pixel displays, the iPhone's 320 x 480 pixel portrait display that automatically rotated to landscape mode was a huge step forward – besides which, neither of these Palm smartphones supported WiFi.
Apple sold over 6 million first generation iPhones before releasing the iPhone 3G in mid 2008, at the same time iPhone OS 2.0 arrived giving the iPhone access to Apple's new App Store.
Simon Royal: The original iPhone is an odd piece of kit. I remember watching Steve Jobs and the infamous launch event – and like most Apple fans was amazed at this new phone from Apple, except for the jaw-dropping price.
While it excelled in some areas, it lacked dreadfully in others. It pushed the boundaries of touchscreen phones, computer integration, and mobile interneting, but the ridiculous decision to include a very poor 2.0 megapixel fixed focus camera and only 2G/EDGE mobile data speed stumped me. Even mid-priced phones at the time had better cameras and 3G. Then there was the whole no cut-and-paste saga, which Apple took a while to sort out.
I thought this was an odd move for a company that was usually ahead of the rest, priding themselves in high priced, high spec products.
Despite this, it was a massive success, and its legacy changed the smartphone world, further versions corrected some of the initial mistakes – and led others to follow. Now the market is awash with full touch smartphones.
I think the design is still one of the best. The metal back – similar to older iPods – is much better than the plastic and glass backs of newer iPhones. It gave incredible strength. Personally, I think Apple should return to it.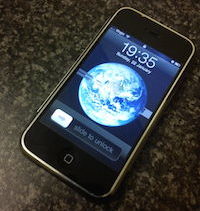 The high price and initial exclusivity to the O2 network in the UK stopped me from adopting it. I didn't enter the iPhone market till 2011 in true low-end style. I moved from a current Android to an original iPhone – a bit of a hardware downgrade – and have loved them ever since.
I wasn't a fan of the iPhone 3G: While it added 3G and GPS, it didn't increase the hardware, and the additional features just didn't run well. I tried an iPhone 3G and went back to an iPhone 2G, after which I moved to a 3GS and then to my iPhone 4.
I still have my original iPhone. I can't part with it. It may be getting on a bit, but with the help of the whited00r team creating custom firmware with new features and speed improvements, I keep it as a backup. iOS is a superb mobile operating system, and if I had to, I would use an original iPhone, just to keep the Apple experience.
I wouldn't say it was "just an OK phone", but given its initial mistakes, I am surprised it was the success it was.
Dan Knight: Yes, people had to be really convinced Apple had a winner on its hands to shell out $599 for an 8 GB smartphone – and they lined up in droves on the day of its introduction. That original iPhone – with its limited range of apps, slow EDGE technology, and poor sounding phone – revolutionized the industry and made touchscreen smartphones the wave of the future.
All things considered, it was a miracle that it sold so well, which just goes to show you how many people really did believe Steve Jobs when he said he was reinventing the mobile phone.
Keyword: #okiphone
Short link: http://goo.gl/ewlyJZ
searchword: okiphone