With Windows XP support officially ended, switching to Linux could be a way of saving low-end hardware. I compare two identical machines, one running XP, the other running LXLE.
Let the fun begin.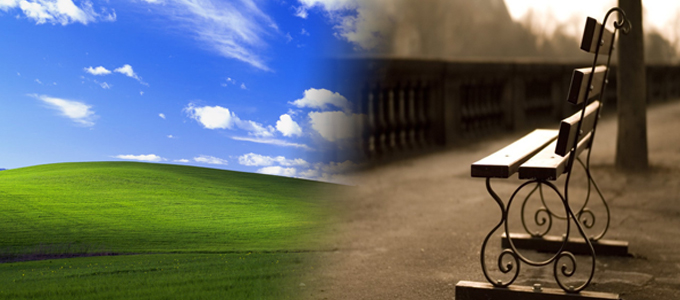 I recently tried out LXLE on a netbook (see 24 hours with Linux: A LXLE review) and was very impressed. It was by far been the best distro in terms of speed on this hardware, and it sits nicely between full blown distros and those ultra streamlined ones without sacrificing looks over function.
Microsoft have finally pulled the plug on the 13-year-old behemoth that is Windows XP in April 2014, and the computer world is in a panic over all these old computers left vulnerable to security risks and to those who like to reek havoc and infect computers and phish for info.
I was given two Packard Bell Easy Note L4 laptops recently, which just needed a hard drive and power adapter each. Out came my box of spares, and I packed both with 1.5 GB DDR RAM and an old hard drive in each (one a 20 GB, the other a 40 GB).
These two machines are "designed for XP", but with it losing support I began looking for an alternative OS to run on them.
Considering its initial meager requirements – 13 years of updates and patches have bloated XP to require a 1 GHz machine with 1 GB RAM to make it useable everyday. These machines are 1.6 GHz Centrino laptops and handle Windows XP fairly well. They are not used for anything too heavy, with 90% of the time used for basic browsing, Facebook including games, and YouTube, with the rest writing homework and watching DVDs.
This means there are no Windows-only software only packages holding us to Windows as a platform – which can be the main reason why people don't upgrade or will simply by a new machine running a newer Windows.
Before I convert both machines over to Linux, I thought it would be interesting to run a direct comparison of Windows XP and Linux – in this case LXLE – side-by-side. After all, how often do you get the chance to have two identical machines.
LXLE was installed on my daughter's laptop, whilst my son's laptop was left with Windows XP.
Installation
XP: Windows XP is fairly easy to install, but it does take a while. The DOS based then graphical based installer is standard. It is fairly automated, asking some drive and personalisation questions and then installing devices. Once complete, it boots to a fresh desktop.
LXLE: Once booted to the live version, you have the install option. It uses the Ubiquity installer. This too is fairly automated, asking some drive and personalisation questions and boots to a fresh desktop.
Updates
XP: This is where the trouble starts. A fresh install of Windows XP with Service Pack 2 means years of updates need to be added as well as a massive Service Pack – and then further updates.
Be prepared for a few hours of update installations, reboots, and several repeats of this. In defence of Microsoft, this is a decade-old OS, but it could be handled better by offering updates in a roll up fashion rather than singularly.
This could be implemented by using a third party app called nLite to slipstream Service Packs and updates.
LXLE: In true Linux style, updates are handled very well. In fact, there is an option when installing the distro to pull in the updates whilst installing. This means once installation is finished there are very few – if any – updates to install afterwards. If any updates are needed, it pulls them in in one shot.
Hardware
XP: Windows gets a lot of stick for driver issues – but in general it does very well coping with the millions of combinations out there. On this laptop everything was installed automatically except the wireless card, modem, and graphics chipset – but easily found on the Packard Bell site.
LXLE: Ubuntu and its derivatives are very good at hardware detection and this one is no exception. Everything was detected.
I didn't bother with wireless, as both these laptops are used as desktop machines, as their batteries are shot, and both have ethernet connections.
In The Wild
With two machines side by side it is much easier to compare – and quite fun to watch them battle it out. So here it is, both machines tested doing the same thing.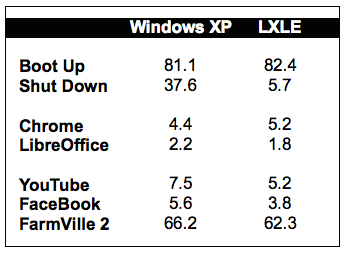 Windows XP booted up slightly quicker, but LXLE did pause for a few seconds for the GRUB menu before continuing to boot (both machines were set to auto login). Chrome also loaded slightly quicker in XP, but we are talking less than a second.
Then the tables turn. Once Chrome was open, sites loaded noticeably quicker – even Flash-heavy games that both machines struggled with where quicker on LXLE. LibreOffice loaded quicker and was noticeably snappier to use in LXLE.
Turning off Windows XP was notoriously slow, sitting on the blue shutdown screen for a long time – something Microsoft rectified in subsequent versions – but LXLE flattened it in shutdown speeds, shutting down 6 times faster.
Which One Is Better?
This is a tricky one to answer – and better is a very personal opinion. If this article had been written twelve months ago while XP was supported, I think more people would edge towards Windows.
However, now that XP has been hung out to dry, a lot of people are wondering what their options are. If they don't have the funds to purchase a new version of Windows, a new computer, or maybe their computer won't run newer versions of Windows, then they may be looking at Linux as an option.
For those with a low-end computer running a lightweight Linux distro such as LXLE – or even Mint, CrunchBang. or Xubuntu – can give it a new breathe of life. And with a lot of people using a browser or a mail client 90% of the time, the unnecessary expense of a new computer could be avoided.
In this instance, on this Packard Bell laptop LXLE definitely feels spritelier than Windows XP. Navigating around the OS feels very fast, and its minimal approach does it a lot of favours. This OS is not a mainstream system aimed at millions of users worldwide – or at least it hasn't reached that status – it is a small offshoot distro with a target audience of lower spec'd computers in mind, but that doesn't mean it couldn't become big.
From a security side, Linux is rock solid and has no need to rely on anti-virus or anti-malware to keep it safe – this is another plus for LXLE on resource tight machines. Most Windows users will tell you locking down Windows is time consuming and can take some of the speed out of your shiny new computer.
Can you drag yourself to learn a new system and be amongst a minority with fellow tech users, or do you like the comfort of what you and your friends already know? Or perhaps you need that certain program which is only available on Windows and cant find an alternative in Linux? Although most Windows program could be made to work using WINE under Linux.
Whether you find Linux better is up to you.
What Am I Going To Do?
I now have two machines in front of me. One running XP, the other running LXLE. The XP machine is rapidly becoming "unsafe", so would I be switching it over to LXLE? Quite possibly.
Conclusion
LXLE is a superb Windows XP replacement – especially for low-end computers. On most hardware running XP, LXLE would run faster for most tasks. It gives you a fast, secure, and superb modern supported OS. And it's free.
Give it a try and break free from Windows.
---
Follow Simon Royal on Twitter or send him an Email.
Like what you have read? Send Simon a donation via Tip Jar.
---
keywords: #linux #lxle #windowsxp #comparison #techspectrum #simonroyal
short link: http://goo.gl/SAj5EC
searchword: lxle