In 2014, Apple introduced the 27″ Retina 5K iMac; in 2015, Apple brings a Retina Display to the smaller iMac. The 21.5″ iMac now has a 4096 x 2304 pixel 4K display with the same dot pitch and color gamut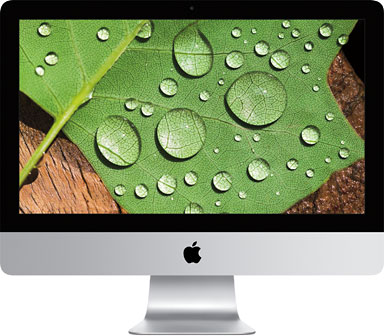 The Late 2015 iMac also ships with the new Magic Keyboard and Magic Mouse 2 plus a Lightning to USB cable to charge them. Options include Magic Trackpad 2, up to 32 GB of memory, 1-3 TB Fusion Drives, and 256 GB to 1 TB SSDs. The 3.3 GHz model can also be ordered with AMD Radeon R9 M395X graphics.
With OS X 10.11 El Capitan, all Retina iMacs support a new 30-bit color mode with 10 bits per color channel. This is a big step forward from 24-bit color (8 bits each for red, green, and blue) in providing improved color gradation without banding. For now, only some Apple apps support 30-bit color, but that will change over time.
For those one a tighter budget, the standard resolution 21.5″ iMac remains in the line.
Details
introduced 2015.10.13 at US$1,299 (2.8 GHz i5) and US$1,499 (3.1 GHz i5)
Identifier: iMac15,1
Model no.:
Part no.:
Mac OS
Core System
CPU: 3.1 GHz (3.6 GHz Turbo Boost) or 3.3 GHz (3.8 GHz Turbo Boost) quad-core Intel Core i5
L2 cache: 3 MB shared cache
Bus: 1600 MHz
RAM: 8 GB (2 x 4 GB) of 1600 MHz DDR3 memory, 4 SO-DIMM slots, expandable to 16 GB
Performance:

Geekbench 3, 32-bit single-core:
Geekbench 3, 32-bit multicore:
Geekbench 3, 64-bit single core:
Geekbench 3, 64-bit multicore:
Video
GPU: Intel Iris Pro Graphics 6200, supports up to 4096 x 2304 on external display
Display: 21.5″ 4096 x 2304 LED backlit flat panel display supports 30-bit color
Video out: Mini DisplayPort, DVI and VGA with optional adapters
Drives
drive bus: 6 Gbps SATA Rev. 3
Storage: 1 TB 7200 rpm hard drive standard, 2 TB Fusion Drive optional. 256 GB or 512 GB SSD optional.
SuperDrive: external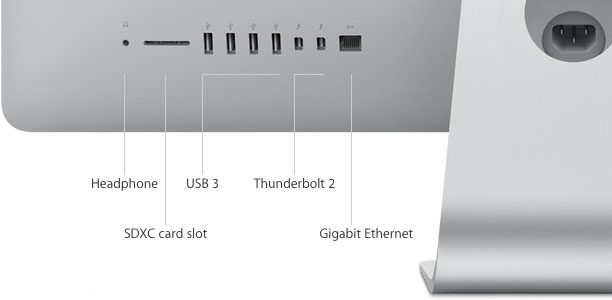 Expansion
Thunderbolt 2: 2 ports
USB: 4 USB 3 ports
FireWire 400: via Thunderbolt adapter
FireWire 800: via Thunderbolt adapter
Ethernet: 10/100/gigabit
WiFi: 802.11ac AirPort Extreme built in, three antennas support up to 1.3 Gbps bandwidth
Bluetooth 4.0: included
IR receiver: none
SD Card: 1 slot, supports SDXC
Microphone: internal
Modem: No longer offered by Apple
Physical
H x W x D: 17.7 x 20.8 x 6.9 in/450 x 528 x 175 mm
Weight: 12.5 lb/5.68 kg
Power supply: unknown capacity
CPU Upgrades
Online Resources
Keywords: #imacretina5k #retina5kimac
Short link: http://goo.gl/5M83ny
searchwords: retina5kimaclate2015