The Mid 2015 27″ Retina 5K iMac cuts CPU speed and uses a standard hard drive instead of a Fusion Drive to bring the price below the $2,000 mark. (You can upgrade to a Fusion Drive for $200 additional.)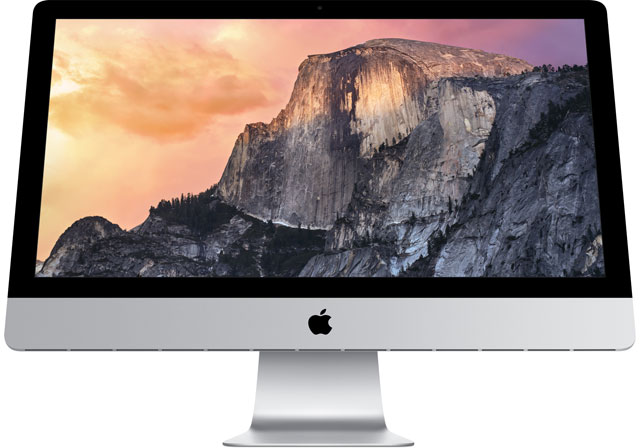 As we said last year, 4K resolution (4096 x 2160 pixels) is the extra high definition of the future, and to properly edit 4K video, you need a display that has room for all the controls a video editor needs. Hence the 5K Retina iMac with twice the vertical and horizontal resolution of the discontinued "normal" 27″ iMac.
Geekbench 3 results show this 3.3 GHz model is only 3-4% slower than the 3.5 GHz 27″ Retina 5K iMac. Not bad at all, and it retails for $500 less than the Late 2014 model did when it was introduced.
Details
introduced 2015.05.19 at US$1,999
Identifier: iMac15,1
Model no.: A1419
Part no.: MF885
Mac OS
Core System
CPU: 3.3 GHz (3.7 GHz Turbo Boost) quad-core Intel Core i5 Haswell
L2 cache: 6 MB shared cache
Bus: 1600 MHz
RAM: 8 GB (2 x 4 GB) of 1600 MHz DDR3 memory, 4 SO-DIMM slots, expandable to 16 GB or 32 GB
Performance:

Speedmark 9:
Geekbench 3, 32-bit single-core: 3371
Geekbench 3, 32-bit multicore: 10728
Geekbench 3, 64-bit single core: 3691
Geekbench 3, 64-bit multicore: 11769
Video
GPU: Radeon R9 M290 graphics with 2 GB memory, supports up to 3840 x 2160 on external display
Display: 27″ 5120 x 2880 LED backlit flat panel display
Video out: Mini DisplayPort, DVI and VGA with optional adapters
Drives
drive bus: 6 Gbps SATA Rev. 3
Storage: 1 TB 7200 rpm SATA Rev. 3 hard drive standard, 3 TB 7200 rpm hard drive, 1 TB Fusion Drive, and 3 TB Fusion Drive optional. 256 GB, 512 GB, or 1 TB SSD optional.
SuperDrive: external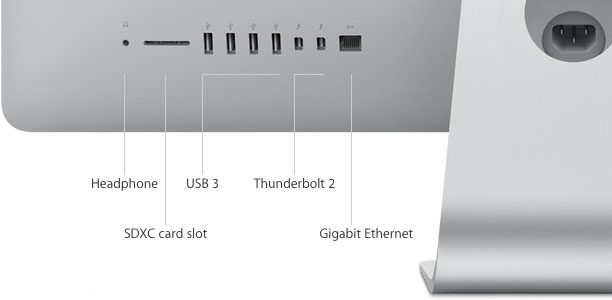 Expansion
Thunderbolt 2: 2 ports
USB: 4 USB 3 ports
FireWire 400: via Thunderbolt adapter
FireWire 800: via Thunderbolt adapter
Ethernet: 10/100/gigabit
WiFi: 802.11ac AirPort Extreme built in, three antennas support up to 1.3 Gbps bandwidth
Bluetooth 4.0: included
IR receiver: none
SD Card: 1 slot, supports SDXC
Microphone: internal
Modem: No longer offered by Apple
Physical
H x W x D: 20.3 x 25.6 x 8.0 in/516 x 650 x 203 mm
Weight: 21 lb/9.54 kg
Power supply: unknown capacity
CPU Upgrades
Online Resources
Keywords: #imacretina5k #retina5kimac
Short link: http://goo.gl/Ou3A58
searchwords: retina5kimacmid2015