The PC market has declined about 10% this year, yet Apple sold more Macs than ever in its 4th fiscal quarter (July-Sept. 2015). iPhone sales didn't set a record – that usually happens in the holiday quarter – but they are up over the same quarter in 2014.
Pity the poor iPad, which continues to decline in popularity. Whether this is because iPad owners are holding on to their iPads longer than Apple anticipated or because of the competition from less costly Android tablets, the fact is that Apple sold 25% fewer iPads than in the same quarter last year.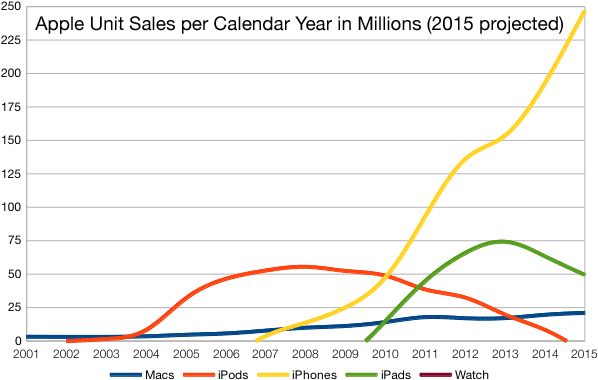 Apple has yet to announce sales figures for Apple Watch, historically says very little about Apple TV sales, and no longer reports iPod sales.
What's Up with Macs?
Apple sold 5.7 million Macs during the quarter, breaking its previous record of 5.52 million in last year's 4th fiscal quarter (the 3rd calendar quarter). With new iMacs just out, expect Apple to set a record during this holiday quarter. Apple appears to be the only company growing its computer sales in a declining PC market.
This is despite Apple having no low-end Macs. The entry-level Mac mini retails at $499 with no keyboard, mouse, or monitor, something unheard of in the highly competitive PC world.
iPhones Are Also Up
iPhone sales are up nearly 25% over the same quarter last year with 48 million units, and Apple seems destined to set a new record there as well in the holiday quarter. With a strong line of all 64-bit iPhones (the 5S, 6, 6 Plus, 6S, and 6S Plus), sales could approach 100 million units.
Apple has really grown sales in China, which has a rapidly expanding smartphone market. The innovative iPhone 6S and 6S Plus should draw customers into Apple Stores as well as mobile phone stores.
By the way, the least expensive iPhone is the 16 GB iPhone 5S, which retails for $450. Again, this is far more than buyers are paying for low-end Android phones, but iPhone buyers know their long term value. It's not unusual to see iPhone owners still using iPhone 4S, 5, and 5C models that were introduced up to 4 years ago.
Whither the iPad?
The iPad came to market in April 2010, and sales peaked in the 2013 holiday quarter at 26 million units. This despite Apple introducing the iPad Mini and iPad Air, giving iPad buyers more choices than ever before.
Last years Apple sold only 21.4 million iPads during the holiday quarter, and that could fall into the 16 million range for this year's holiday quarter. The high-end iPad Pro will help, but with the least expensive iPad, the Mini 2, retailing for $269, there's a huge market segment that Apple is missing out on. Too bad Apple didn't make the original iPad Mini a $199 machine instead of discontinuing it.
Then again, the problem may not be a lack of low-end iPads but no perceived need for current users to upgrade.
Apple may have hurt itself by releasing iOS 9 for every iMac except the original model, which keeps 2011 and 2012 iPads more viable than they would be without iOS 9 support. That said, Apple's decision is good for iPad owners and helps keep the used iPad market strong, not counting that 2010 iPad.
Integration of iPhone 6S features, such as the higher resolution camera, 4K video, and 3D touch screen might compel iPad owners to consider an upgrade for their currently adequate gear.
The Future
Apple has made some mistakes, but iPhone and Mac sales will keep the company growing, even if iPod touch sales continue their decline and the iPad never becomes as popular as it was two years ago. With the new Apple TV, the company has a very bright future.
Keywords: #recordmacsales #applequarterlyreport
Short link: http://goo.gl/FgpbMW
searchwords: recordmacsales, applequarterlyreport