iOS 9 has better battery management than any previous version, sometimes adding hours to the life of an iPhone's battery. Unfortunately, the current version of the Facebook app can more than offset the extra battery life iOS 9 give you.
Causing unwanted iOS problems is nothing new to Facebook, as this article from April 2015 demonstrates. Facebook uses storage space. Facebook uses system resources. Facebook can make everything on your iOS device freeze while it's working in the background. The article linked above includes suggestions for making the Facebook app better behaved on your iDevice.
The excessive battery drain stems from Facebook hogging system resources even when it is in the background and app refresh in the background is disabled.
Facebook is aware of the problem and working to address it in a future update to its app. Until that arrives, you are best off avoiding the Facebook app. If you must use it, be sure to turn it off when you're not using it.
First, Turn Off the Facebook App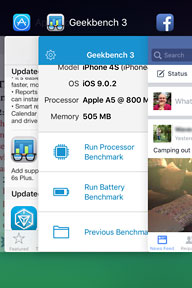 It's pretty easy to turn off apps in iOS, although it looks a bit different in iOS 9 than in earlier versions. As with any iOS version that supports multitasking (which generally means than an app remains fully or partially in memory when it is not in the foreground but uses no resources – or very few, such as push notifications), there are three simple steps:
Double-click the home button, bringing up screenshots of your active apps and scroll until the app you want to shut down is showing.
Put your finger on the window of any app you want to close and brush it to the top of the screen. (The Facebook app is on the right in our screen shot.) This removes the app from memory.
Press the home button once to return to iOS.
That's all there is to it. Once it's purged from memory, Facebook can't mess up your iPhone or iPad experience. (You might want to do the same with the Facebook Messenger app.)
Replacing Facebook
There are alternative apps you can use to replace Facebook, and each of them has pros and cons compared with the Facebook app. Instead of installing a replacement Facebook app, I'm going to suggest you access Facebook like you do on your Mac or PC – using a browser. You'll generally find the mobile version of Facebook isn't too much different from using the Facebook app, but with no need to switch to a separate Messenger app for messages.
Safari
The obvious place to start is with Safari, the browser Apple supplies with iOS. Launch Safari, type "facebook.com" in the address bar, and click on Go. Enter your email address and password for Facebook, and you're there.
The layout is a bit different, but it should feel familiar. Welcome to Facebook with no need to even download an app.
Dolphin, a Personal Favorite
I've been using Dolphin on my iPhones for several years, and it's a pretty nice browser. One of my favorite features is that when first launched, or when you create a new tab, it pops up a screen with buttons for popular links, also allowing you to add your own.
In this case, click on the Facebook icon, enter your email address and password, and you're on the mobile edition of Facebook quickly. (We had the Grand Rapids Comic-Con in town this weekend….)
Just Do It
Dolphin is just one of many alternative browsers for iOS. You might also want to give Google Chrome a try.
The best thing about using a browser instead of yet another app is that it assures you'll have access to the full Facebook mobile experience without the problems currently caused by the Facebook app when used with iOS 9.
Further Reading
Keywords: #facebook #facebookios #facebookios9
Short link: http://goo.gl/WHiNvC
searchword: facebookonios9