Before Facebook, before Twitter, before MySpace, before Yahoo, before bulletin board systems, before usenet – in fact, way before the first computer – Hugo Gernsback created the first social media networks.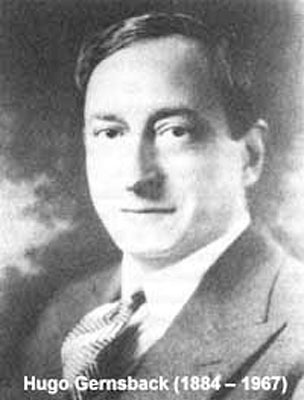 Gernsback was born in Luxembourg on August 16, 1884. He studied electrical engineering in Germany and emigrated to the United States in 1904, where he became a naturalized citizen. Gernsback was a technophile of the highest order and had 80 patents to his name when he died.
Gernsback began Electro Importing Company in 1904 to offer electrical supplies by mail order. His catalogs included articles and paved the way for his first published magazine.
Magazine Publisher
He launched Modern Electrics magazine with the April 1908 issue. It was both a catalog for mail-order electrical parts and a source of information on the new world of amateur radio. Amateur radio, also called ham radio, was and remains a field for hobbyists and experimenters.
Modern Electrics spearheaded the organization of the Wireless Association of America, and in 1909 the First Annual Official Wireless Blue Book of the Wireless Association of America was published, making it easy for radio enthusiasts to connect.
Modern Electrics started with a circulation of 2,000 and grew to 52,000 in 1911, the same year Gernsback started including a serialized science fiction story in the magazine. Gernsback sold Modern Electrics in 1913 and launched a new magazine, The Electrical Experimenter. Gernsback continued to include science fiction stories as he had with Modern Electrics. Nikola Tesla contributed five articles to the magazine from 1917 to 1919.
Gernsback also launched Radio News in 1919, which covered all aspects of the radio industry, not just amateur radio interests. He edited and published Radio News until 1929, when he lost the business due to an involuntary petition of bankruptcy. Within months he began publishing Radio-Craft magazine.
The world's first dedicated science fiction magazine, Amazing Stories, launched with the February 1926 issue. Prior to this, scientifiction (Gernsback's preferred name for the genre, combining scientific and fiction) was published along with "regular" fiction. Henceforth it stood apart.
Amazing Stories combined new stories with older ones by Jules Verne, H. G. Wells, and Edgar Allan Poe. Many science fiction authors were discovered by Gernsback, and many connected to other writers through the letters column of Amazing Stories – because Gernsback published the mailing address with each letter, helping foster a sense of community.
Gernsback lost Amazing Stories along with his other publications in 1929 – and went right on to launch Science Wonder Stories and Air Wonder Stories. Due to the Depression, the two magazines combined in 1930 as Wonder Stories Quarterly.
Gernsback has been called the Father of Science Fiction, and the annual awards given by the World Science Fiction Society are called Hugo Awards in his honor.
Broadcaster
Pittsburgh's KDKA was the first commercial broadcaster in the United States when it began in November 1920. By 1925, there were over 500 commercial broadcasters across the country.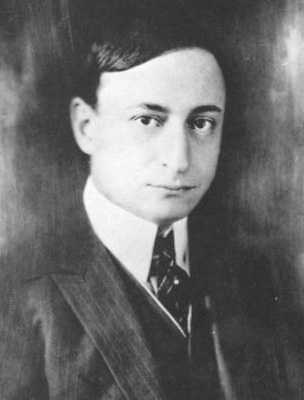 Gernsback founded radio station WRNY in New York City in 1925 as a way to promote his radio and science magazines. It was headquartered on the 18th floor of the one-year-old Roosevelt Hotel in New York City, where it had state-of-the-art facilities. (You would expect no less from Gernsback.)
In 1927, WRNY added a short wave transmitter, allowing amateur radio enthusiasts around the world to listen. Gernsback reported in September 1928 that he had received mail from a listener in South Wales, Australia.
Because of Gernsback's fascination with new technology, WRNY was one of the first stations to broadcast television, starting in August 1928. Electrical Experimenter had already published plans allowing hobbyists to build their own receivers in anticipation of regular television broadcasts.
Social Networks
Nowadays social media is defined by its medium: personal computers, smartphones, and tablets let people from all over the world communicate with each other. It's easy to forget that social media of another kind has been around for over 100 years, because amateur radio no longer has the high profile it once did.
Thanks to Gernsback publishing addresses in the letters columns of his magazines, it was easy for radio hobbyists and science fiction fans to connect, meet, and form their own organizations using the mail – or short wave radio. The first amateur radio convention was in 1924. The first science fiction convention took place in 1936, and the first World Science Fiction Convention took place in 1939.
The World Science Fiction Convention's annual awards were nicknamed Hugo Awards in Gernsback's honor in the 1950s. The name Hugo Awards became the official title in 1991.
Hugo Gernsback died on August 19, 1967.
Credits
This article was inspired by the November 17, 2015 Point of Inquiry podcast, an interview with Steve Silberman, the author of NeuroTribes. The subject of this episode is the changing face of autism. Silberman looks at the history of autism, the two researchers who first identified it, and why it is now considered a spectrum disorder.
Gernsback is used as an example of someone who very likely would have been diagnosed with Aspergers Syndrome had the label existed at the time – and the amateur radio users and science fiction fans were likely to find themselves on the spectrum as well, although it wasn't even a glimmer of a diagnosis at the time.
Silberman makes the point that many of the people who helped invent the Internet in the 1960s were members of the amateur radio and science fiction communities that Gernsback helped launch.
I listened to the podcast to learn more about Aspergers and autism, as I was diagnosed with Aspergers a while ago. It's helpful to understand that this is the way those of us "on the spectrum" have been wired from the womb, and research is finding a strong genetic component. Brain scans are making fascinating discoveries about how differently neurodiverse (on the spectrum) and neurotypical (not on the spectrum) individuals process information.
Sources
Keywords: #hugogernsback #amateurradio #hamradio #sciencefiction #autism #aspergers #neurotribes #iamaspergers #neurodiverse #neurotypical
Short link: http://goo.gl/2uW5NW
searchword: hugogernsback