A while back, I picked up a used 8 GB iPhone 4S as a backup or emergency phone – and also to see how (im)practical an 8 GB iPhone is these days. And on Wednesday afternoon, I installed iOS 9, which almost went without a hitch.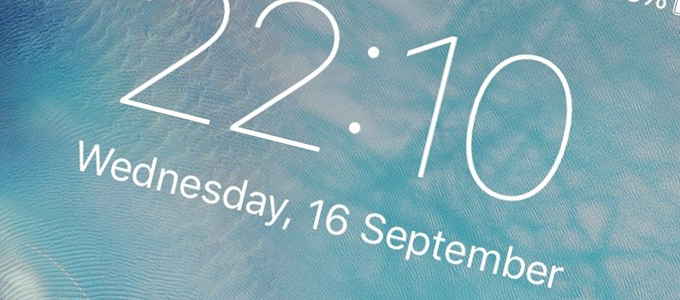 The first hitch is that I didn't have enough free memory to download and run the installer on the iPhone itself, so I deleted my entire music library, weighing in at 872 MB. That did the trick, and I can easily restore everything from iTunes later on. The update weighs in at 809 MB on the iPhone 4S, and it may be bigger or smaller on other devices for reasons we explain below.
The second hitch is that the first 25-minute download failed at the very end, so I had to start all over again. Once again, a 25 minute download, but this time successful. Then the iPhone unpacked the installer, ran it, restarted, and spent a whole lot of time doing whatever housekeeping it did. In all, it took about 90 minutes from the first download attempt until I had iOS 8 running on my 8 GB iPhone 4S.
San Francisco Typeface
Apple developed a new font for the Apple Watch, San Francisco, and it now makes its way to iOS, replacing the Helvetica Neue we've used for years. Here are two images showing the difference – the top one from my 16 GB iPhone 4S still running iOS 8.4.1 and the bottom one from the 8 GB 4S with iOS 9 installed.


These are double size so you can see that San Francisco is a slightly heavier typeface – and a bit simpler. Look at the lower-case "a" for instance. In Helvetica Neue, it has a tail that bends to the right. In San Francisco, no such tail. Likewise, the upper-case "S" in San Francisco is a bit more open and less complex. The lower-case "e" is also a bit more open in San Francisco.
Overall, it's a subtle change and a positive one. Expect it in OS X 10.11 El Capitan at the end of the month.
Performance
iOS 9 runs smoothly, and I haven't used it heavily enough to see how it handles garbage collection. In iOS 8 and earlier, sometimes the iPhone becomes unresponsive while cleaning up memory in the background.
I ran Geekbench 3 on both iPhones after quitting all other apps. Here are my results:
The results on the 8 GB iPhone 4S running iOS 9 (right) are slightly higher than those on the 16 GB iPhone 4S running iOS 8.4.1 (left). This could be due to not having phone service on the 8 GB iPhone. It's certainly a minimal difference, but iOS 9 does come out a bit faster.
The News App
Apple is very proud of its new News app, which can track online newspapers and magazines of your choosing, will see what articles you read, and then will try to choose content you'll be interested in. It sounds great in theory. Too bad nothing local, like Mlive/The Grand Rapids Press.
Anyhow, I tried it out, and I quickly discovered two things I don't like about it.
You have no control over type size, which is garishly large on my iPhone's 3.5″ display. There is no setting to change it.
Sometimes words run together, as in the example below – notice plansbecause. This may be due to the source, not Apple itself, but it reflects poorly on Apple.
This huge type might fly on an iPad or iPhone 6, but Apple has got to fix this if the rest of us are going to find News useful.
iCloud Drive
Every iPhone and iPad user has an iCloud account. You can't use the App Store without it. And Apple even provides you with a bit of free space – in hopes of enticing you to buy more.
With iOS 9, Apple introduces a new way of accessing files you've stored in iCloud with iCloud Drive. I think it's supposed to compete with Dropbox.
Bigger Apps, Smaller Apps
I did screen captures showing how much storage each of my apps used before and after the iOS 9 update. Nothing was updated except for the operating system. Bear in mind that an app uses storage both for itself and its data.
Space Savers
Clash of Clans dropped from 202 MB to 58.2 MB. Not sure why the huge reduction took place. [Update: After playing Clash of Clans, it grew to 199 MB, so not as much space left as I first believed.]
Photos & Camera lost a little weight, going from 66.0 to 63.1 MB/
Safari is now 2.4 MB, where it was 2.9 MB in iOS 8.4.1.
Find iPhone was 10.3 MB in iOS 8.4.1 and no longer exists as a separate app in iOS 9.
Space Eaters
Mail grew from 16.0 MB to 16.7 MB.
Contacts increased from 9.4 MB to 10.2 MB.
Messages added a whole megabyte, going from 6.0 to 7.0 MB.
Health jumped from 328 KB to 787 KB.
One very nice feature Apple introduced with iOS 9 is that your iPhone, iPad, or iPod touch only installs the portions of iOS and apps that it needs, so a 32-bit device doesn't need to install 64-bit code, and it can also leave out support for other screen sizes. Over time, as apps are updated, this will lead to additional space savings.
Conclusion
These are my preliminary impressions after a little over a day with iOS 9 installed on the lowest-end iPhone it will run on. I've been happy with it. The new San Francisco font looks great, and everything seems to run as smoothly as ever. No glitches so far.
I am waiting a few days to install iOS 9 on my primary iPhone 4S, the one I actually use as a phone. But unless I read about problems between now and Saturday, I'll probably migrate it over the weekend.
If your iDevice supports iOS 9, I think you're going to like what you get with the latest free OS update from Apple.
Keywords: #ios9 #iphone4s
Short link: http://goo.gl/UzuzDw
searchwords: ios9, iphone4s