Apple might be producing larger and larger iPhones, but some people still hanker after a mini handset.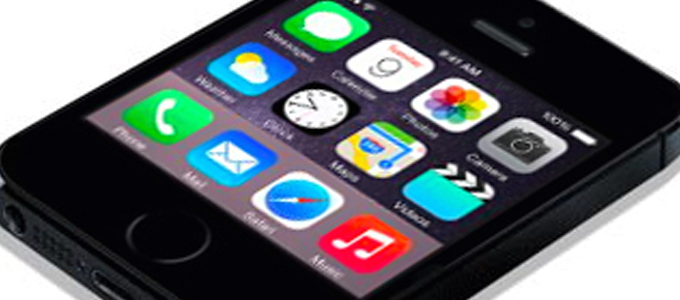 Even back when Apple were producing phones with 3.5" screens, some people wished for a smaller handset. The elusive iPhone mini or iPhone nano has been rumoured for years, but deep down we know it's not going to happen.
Going by their recent history, iPhones have been getting bigger and bigger. But let's for a moment take a look at how a small handset could look.
Design
Without going to crazy with design, it would still need to fit in the modern smartphone. The basic premise is a flat slab that your poke. This could come in two forms.
iPhone mini
I saw a mock up online a few days ago on the Telefononews of a tiny iPhone that sparked this article. It featured a shortened iPhone – but still the same width and thickness as the iPhone 5.
This would give you a phone that is the same thickness and same width, but featuring a 1-3/4″ tall screen rather than the 3-1/2″ tall screen on the iPhone 5s – taking the rows of icons from five down to to plus the dock.
I took their image and updated it with a Touch ID fingerprint sensor home button and iOS 8 screen.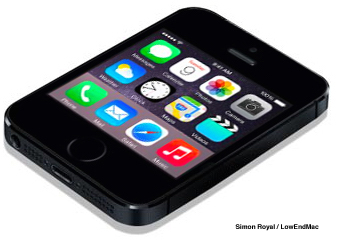 While it might just look like a shorter iPhone – internally this isn't possible. Inside the current iPhone are a logic board and battery that run the entire length of the phone, so shortening it and making it stubby, the phone would require a different logic board and battery, possibly something like the original iPhone, which had a small square battery.
Would making it smaller mean the internal hardware would also be cut down?
iPhone nano
This version follows the look of the iPod nano seventh generation, with its 2.5" widescreen touchscreen. The screen would hold a small dock with two icons and then four icons per screen. it would also replace the regular home button; it would have a Touch ID fingerprint sensor home button from newer iPhones.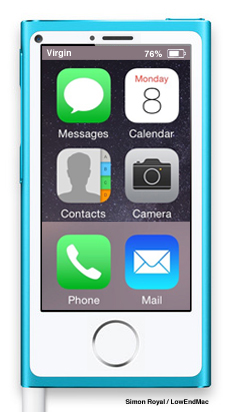 Ports, buttons, and sensors would all be in the same place.
Other than the addition of microphone and sensors above the screen and a front-facing camera to the left of the screen for FaceTime, etc. – the look would be the same.
The battery in the current iPod nano is only a 220 mAh, which is nowhere near enough to power a phone. This would need to be addressed, possibly by making the phone a little thicker than its iPod nano counterpart.
Available in seven different vibrant colours – this could add a fun side to this mini handset.
Other Points
The main problem with creating something this size would be app support. All current apps would need to be rejigged for the smaller screens. When Apple created bigger screens, apps were surrounded by black bars until developers updated their apps. Using a smaller screen would create the opposite problem.
Perhaps a small iPhone – especially along the Nano design – could give you a phone without all the major features of the iPhone. Calls, texts, internet, and camera, but more of a feature phone rather than a smartphone.
Battery
A smaller phone – despite have a smaller screen to power – would also impact on the space available for a battery.
Sony Ericsson dipped in to the tiny smartphone market with the X10 Mini and X10 Mini Pro, but their tiny casing impacted on the size of battery they could put in, having knock-on effects giving it very poor battery life.
Other Mock Ups
Here are some other iPhone mini mock ups I have found around the internet. Apart from the watch hybrid, most seem to follow the same style.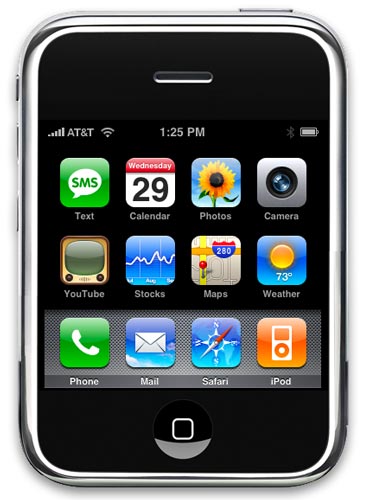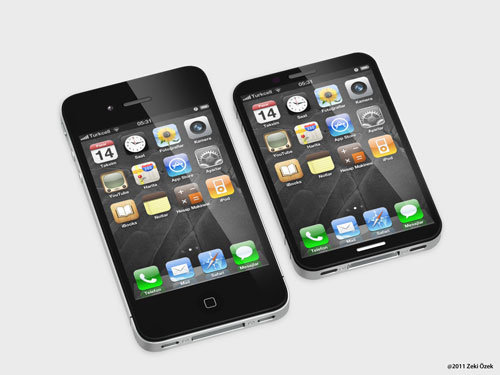 Images/concepts are taken from other sites and remain their property. Left to right: iPhone Chronicle, GreekiPhone, TecheBlog, iPhone Updates & Blog, AppleRumors, iPhoneGuiden.
Conclusion
This article is just a bit of fun. Apple are never going to produce a mini phone, but it is fun to see how much interest there is.
I loved the size of the Sony Ericsson X10 Mini Android handset, and moving to an iPhone after that, I found the iPhone to be huge. I would be interested in a tiny iPhone.
The iPhone Mini image used in the header and in the article is an adaptation by myself of the image taken from Telefononews. The iPhone nano image is an adaptation by myself of an iPod nano image from Apple. Any other concept images remain the property of the sites they come from.
---
Follow Simon Royal on Twitter or send him an Email.
Like what you have read? Send Simon a donation via Tip Jar.
---
Keywords: #iphonemini #iphonenano #techspectrum #simonroyal
Short Link: http://goo.gl/SlrKGo
searchwords: iphonemini iphonenano