A few months ago I picked up an original Pebble watch, but is it really a smartwatch?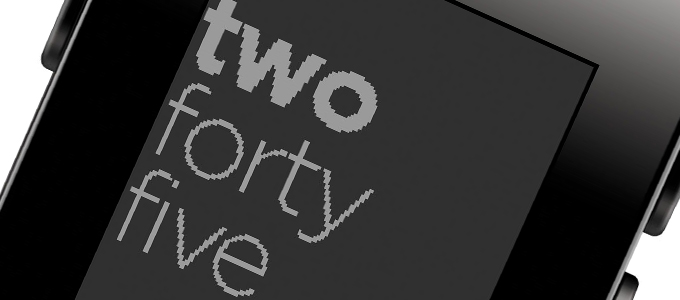 Before I start this, I would like to point out clearly that I love my Pebble watch. It was an impulse buy that hasn't lost its appeal.
The Pebble and Pebble Steel approached the smartwatch arena from a different angle. Both feature a monochrome non-touch 'e-Paper' screen and a battery life of over a week on a single charge.
Compare that to the Apple Watch or Android watches, such as the Samsung Gear or Motorola 360: They have full touch and full colour high resolution interactive screens, but at the expense of battery life, which require charging daily.
The Pebble is primarily a watch with extras rather than an all round beast. It's always-on screen is a neat option, and in the dark a quick shake and it will light up. Other smartwatches require the screen to be tapped to view it.
Compared to Phones
If we jump to the phone market, smartphones are all singing, all dancing devices that can do just about everything – and once again come at the expense of battery life.
Feature phones tend to have much better battery life and focus primarily on being a phone with a handful of additional apps that can be installed. Feature phones fit between the smartphone and the basic phone markets.
So could the Pebble be classed more as a feature watch? It sits between your regular watch that does just the date and time – and your high-end, do everything smartwatch.
On My Pebble
Whenever a new piece of kit is bought – whether it be a phone, games console, or watch – it is used heavily, initially exploring everything it can do. But like most things, it then is used less intensely.
When I first got my Pebble, I installed all sorts of apps and games and numerous watch faces, and I just couldn't stop playing with it.
However, a few months on, and things have settled. Now I have a few watch faces – Simplicity, TextWatch, Classic Analog, Doom, and Taller – and I keep it on Simplicity, as it shows the time in large digital format and also has the date.
I now only have one app installed, Twebble, a Twitter client that I rarely use, and I have one game, Pebtris, a Tetris clone.
Day to Day
Using my Pebble, I tend to use it as just a watch most of the time. The always-on screen means you can view the time or date at a glance – just like a regular watch.
Facebook, Twitter, Messenger, and messages come through on it, and it saves me getting my phone out of my pocket to read things. I can see who is calling and dismiss it if I don't want to take the call right now.
I don't see the point of being able to answer your phone via the Pebble, unless you have a headset in, as you can't talk into the Pebble itself.
Other than that, the only other thing I use my Pebble for is skipping a track when playing music.
Other People
I would love to hear from other Pebble users as to what apps or purposes their Pebble watch serves them.
Conclusion
As I said earlier, I love my Pebble. I love its simplicity. I love that it isn't another device to distract me. I love that I don't have to charge it daily.
Newer Pebbles, such as the Pebble Time and Pebble Round, have increased features such as colour screen and microphone, but even those cower under the behemoths that come from Apple, Samsung, Motorola, and LG.
With this in mind and the limitedness of its memory and screen technology, is the Pebble a true smartwatch or a feature watch?
---
Follow Simon Royal on Twitter or send him an Email.
Like what you have read? Send Simon a donation via Tip Jar.
---
Keywords: #pebble #smartwatch #featurewatch #techspectrum #simonroyal
Short link: http://goo.gl/O6ywuU
searchwords: pebblewatch