Apple made some interesting choices when it designed the new 12″ MacBook, which is the thinnest, lightest Retina Display Mac notebook ever. But its US$1,299 price is higher than the new 13″ MacBook Air, 13″ MacBook Pro, and new 13″ MacBook Pro with Retina Display. Where's the best value?
Thank goodness Apple now offers side-by-side comparisons on its website. I'm currently using a 2.0 GHz 13″ Late 2008 Aluminum MacBook, and any of these options would be a big step forward. The great unknown for the 12″ MacBook is performance – we won't know that until someone gets a chance to benchmark it.
MacBook vs. MacBook Air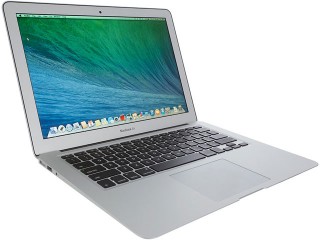 The 1.6 GHz 13″ MacBook Air (MBA) costs $300 less than the base 1.1 GHz 12″ MacBook. You get a physically larger 13.3″ display but a lot less pixels – 1440 x 900 vs. 2304 x 1440. The Air is almost one pound heavier and 1/6″ of an inch thicker.
But the MBA ships with only 4 GB of memory at that price, while the MacBook comes with 8 GB. In the age of OS X 10.10 Yosemite, 8 GB has almost become necessary. Also, the base 13″ MBA has just 128 GB of storage, which is on the low side. Configure it with 8 GB RAM and a 256 GB SSD like the MacBook, and both have the same $1,299 price tag.
Or you can do something newer MacBooks don't allow: Buy the base version and upgrade it yourself. This was one of the last MacBook Pro models with memory slots, and it can handle up to 16 GB of RAM. Other World Computing will sell you 8 GB for $85, and you can add a 240 GB SSD for $132, so you could save $83 by doing the upgrade yourself.
I'm guessing performance will be close, since the MBA Turbo Boost speed is 2.7 GHz while the MacBook hits 2.6 GHz.
The big difference is expansion ports. The MacBook Air has two USB 3.0 ports, a Thunderbolt 2 port, and an SDXC card slot. The MacBook has a single USB-C port – and that's it. Don't forget to add in the cost of USB-C-to-whatever adapters.
Additionally, the MBA has a FaceTime HD webcam and the newer 12″ MacBook only offers a standard resolution FaceTime camera.
The 1.6 GHz MacBook Air has a multicore Geekbench score of 5703.
MacBook vs. MacBook Pro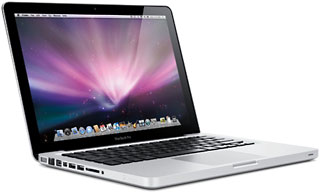 The 13″ MacBook Pro, unchanged since its introduction in June 2012, has an outdated 1280 x 800 pixel display and weighs over twice as much as the 12″ MacBook. On the plus side, it has a 2.5 GHz Core i5 CPU (with 3.1 GHz Turbo Boost) and accepts real hard drives. It even has a built-in SuperDrive!
On the port front, it has USB 3.0, FireWire 800, Thunderbolt, Gigabit Ethernet, and an SDXC card slot, while the MacBook has only that new USB-C port. As with the Air, the MacBook Pro has a FaceTime HD camera, another advantage over the 12″ MacBook.
The Pro starts at $1,099 with 4 GB of system memory, a 500 GB hard drive, and getting outdated Intel HD Graphics 4000. Add $100 for 8 GB of RAM, and this vastly more flexible machine is still $100 less than the 12″ MacBook.
The far lower screen resolution is a disappointment, but for sheer expansion options, the 13″ MacBook Pro can't be beat.
The 2.5 GHz Mid 2012 MacBook Pro has a multicore Geekbench score of 5742, just a bit higher than the new 1.6 GHz MacBook Air.
Finally, the aging MacBook gives you the options of using OS X 10.7 Lion, 10.8 Mountain Lion, and 10.9 Mavericks in addition to 10.10 Yosemite.
MacBook vs. Retina MacBook Pro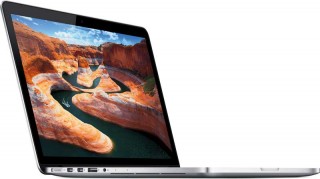 Now we're getting some serious competition. The new 13″ MacBook Pro with Retina Display has a 2.7 GHz Core i5 CPU (Turbo Boost to 3.1 GHz), 8 GB of RAM, a 128 GB SSD, and Intel Iris Graphics 6100. It even has the same Force Touch trackpad as the 12″ MacBook. And it also has the same retail price of $1,299.
But to match the 256 GB SSD of the 12″ MacBook, we're looking at $1,499.
In terms of performance, the 2.7 GHz Retina has a multicore Geekbench score of 6977, putting it well ahead of the MacBook Air and non-Retina MacBook Pro.
The Retina MacBook Pro has it all over the 12″ MacBook when it comes to ports. There's no USB-C port, but there are two Thunderbolt 2 ports, two USB 3.0 ports, and an SDXC card slot.
On the other hand, the 12″ MacBook is nearly 1-1/2 pounds lighter and has a much higher resolution Retina Display.
What's the Best Buy?
Yes, this is a trick question. It completely depends on your needs.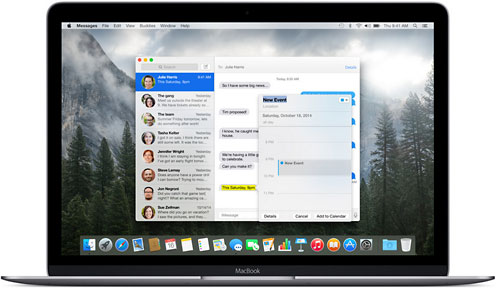 Historically, Intel M (for mobile) processors have lagged in the performance department, and so far we haven't seen the 12″ MacBook benchmarked. Assuming then entry-level 1.1 GHz MacBook is based on the Intel C0re M-5Y70 Broadwell processor,  you can completely ignore that 1.1 GHz clock speed, because with Turbo Boost it will run over twice that fast – at 2.6 GHz.
Notebookcheck.net has benchmarked the 1.2 GHz version of this chip, and it benchmarks at 4207 in 32-bit multicore Geekbench running Windows. Geekbench 3 64-bit multicore results under 64-bit Windows top out at 4454.
This is roughly comparable to the Mid 2011 Core i5 and i7 MacBook Air, 3.07 and 3.2 GHz Core i3 Mid 2010 iMac, and 17″ 2.67 GHz Core i7 Early 2010 MacBook Air. For those of us still living with Core 2 Duo Macs, the fastest of those was the 3.33 GHz Late 2009 iMac, with a score of 3559, and the fastest Core 2 Duo MacBook was the 15″ Mid 2009 MacBook Pro with a 3196 score. The 12″ MacBook will handily outperform them.
Assuming OS X performance of the new MacBook will be in the same ballpark as the Core M Lenovo:
It's 22% slower than the current 1.6 GHz MacBook Air.
It's 22% slower than the current 2.5 GHz MacBook Pro.
It's 36% slower than the current 2.7 GHz Retina MacBook Pro.
Performance is going to be decent, even on the entry-level model. Don't let the low GHz rating throw you off. It's no bleeding-edge speed demon, but we're looking at low-end Macs, not state of the art Macs.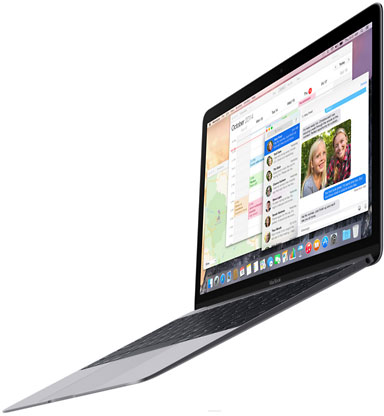 If weight matters, the 12″ MacBook wins. If screen resolution matters, it's also the winner. If battery life matters, it's probably going to win in that category as well. And if the keyboard matters, it's new keyboard technology should put it ahead of anything else Apple has today.
But if legacy ports matter to you, skip the 12″ MacBook. The 13″ MacBook Pro has the widest selection of legacy ports, and it's the one I would find most tempting with FireWire 800, USB 3, and Thunderbolt. It also lets you upgrade RAM, uses a traditional hard drive or SSD, and has a built-in SuperDrive.
In the end, you have to weigh your priorities: size, weight, processing power, compatibility with older version of OS X, screen resolution, battery life, and expansion options, both via external ports and internally.
It's really quite amazing what a wide range of 12-13″ notebooks Apple has available today, and I doubt any will disappoint. But only you know your needs and wants.
Keywords: #12inchmacbook #13inchmacbookpro #13inchmacbookair #13inchretinamacbookpro
Short link: http://goo.gl/v9W2bk
searchword: macbookvalue