Released in early 2015 – I take a look at the budget conscious Microsoft Lumia 435.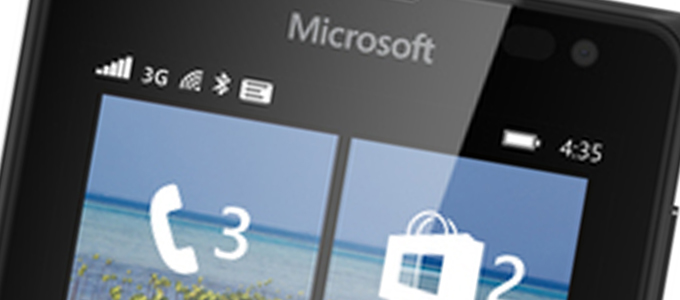 Budget handsets used to mean, horrible, basic and lacking power – but Microsoft and its Windows Phone range means even budget handsets runs silky smooth even on the lowest of hardware. Anyone looking at a cheap handset aren't going to expect a premium experience, no matter what the platform, but they shouldn't be stuck with fancy paper weight either.
I previously reviewed the Nokia Lumia 620 – one of the last Nokia branded Lumia handsets – from 2013 and was seriously impressed, my daughter has been using it for a few months now and loves it, so when my son was looking for a new phone we looked at what Microsoft had to offer.
The Microsoft Lumia 435 seemed a great middle ground handset, so I picked him one up.
Build
Build quality is as you would expect from the Nokia/Microsoft team. It is a chunky square edged plastic device which feels solid to hold and use and doesn't feel like it is going to break easily.
The top has a centered earphone socket, the bottom has a centered MicroUSB socket for charging and syncing. The left side features nothing and the right side has a volume rocker and power/lock button. This handset has no dedicated camera button.
The back features the camera as well as an engraved Microsoft logo right in the middle again. Microsoft seems to be going for a symmetrical feel with this phone. The back cover is prised off to reveal the battery, under which you will find the MicroSIM card and MicroSD card – which will accept up to 128GB.
Specs
Spec wise it has a 1.2Ghz Dual-Core Cortex-A7 processor, a whopping 1GB RAM, Adreno 302 graphics chip and a 4.0" touch screen.
Screen
The screen is bright and very responsive. The colours appear a little washed out not as clear as you find on other Lumia handsets and it doesn't feature a ClearBlack screen either. To be honest it isn't that noticeable until you directly compare it to another. I had it next to the Lumia 620 and the 620 seemed darker, richer and sharper – but its not to say the 435 screen is horrible.
The only time you really notice it is when scrolling – it blurs a little when going up or down, but text is crisp when reading a web page.
One thing I noticed was the three touch buttons underneath the screen do not light up as the do on other Lumia handsets.
Camera
The cameras aren't the most impressive. Its main camera is a 2 megapixel fixed focus shooter without a flash – which surprisingly performs better than you think – and a VGA front facing selfie/video call camera. While this might seem pretty low, there are still a surprising number of handsets that still feature no front camera – so it is nice to have one.
Not everybody is obsessed with super-function cameras on smartphones, with a lot of people just liking a camera for a quick FaceBook upload or for video calls. The Lumia 435 covers this.
Here are some camera samples.
Lumia 435 Camera Shots: Indoor shot & supermarket shot.
Lumia 435 Camera Shots: Supermarket shots.
Lumia 435 Camera Shots:Indoor low light shots.
Lumia 435 Camera Shots: Outside shot* & Front selfie/video call camera
As you can see – the camera is nothing special, but does an OK job and nothing less than expected from a 2 megapixel fixed focus camera.
* I must point out that the outside shot was taken on a dull day in late afternoon so probably doesn't represent the best outside shot.
Sound
Sound quality was pretty good and fairly loud – although as with other Lumias it features a speaker on the back which I don't really like as it tends to muffle it when holding it or when it sits on a surface. Plug in some earphones and you have a great music player. I tried my usual test play list and was impressed with the loudness and bass.
Battery
It packs a decent 1560mAh battery – which isn't the largest we have seen, but the lower specs and mid range screen should take the heat off the battery. Windows Phone is also very optimised OS which doesn't seem to stress the system and does very well on battery life.
Operating System
This handset ships with Windows Phone 8.1 and is upgradeable to Windows Phone 10. It might be a budget handset, but the OS is very fluid and fast – I am sure the 1GB of RAM helps here as other Lumias with 512MB RAM can stutter at times.
The general feel of the OS is great and you can soon forget this is a cheap handset.
Despite its reputation for having a lack of apps and games, Windows Phone now has a decent selection and growing all the time. There were only a couple of iOS/Android favourites that we couldn't find.
Apps
The built in apps worked great. I downloaded and installed some everday apps. FaceBook loaded quickly and navigated around without any lag – the same with Twitter and WhatsApp. The experience was very pleasant.
Gaming
The true test to a smartphones resilience is gaming. Any phone can handle the basics, such as calling and messaging – and even apps aren't generally too heavy. However, load up a game and you get to see the true capabilities of your new smartphone.
I was very surprised by how well this sub-£50 smartphone handled games. They loaded quickly and gameplay was smooth. Destruction Derby, Temple Run and Asphalt 8 Airborne all played perfectly fine.
I loaded Temple Run on both the Lumia 435 and Lumia 620 and the 435 loaded much quicker and played smoother – but the colours looked better on the 620.
Conclusion
Windows Phone might not be for everyone – but people really should give it a fair go. You get a lot of bang for your buck.
I used Antutu benchmark tool. My daughters Lumia 620 benched at 6485 and the Lumia 435 came in a 7442.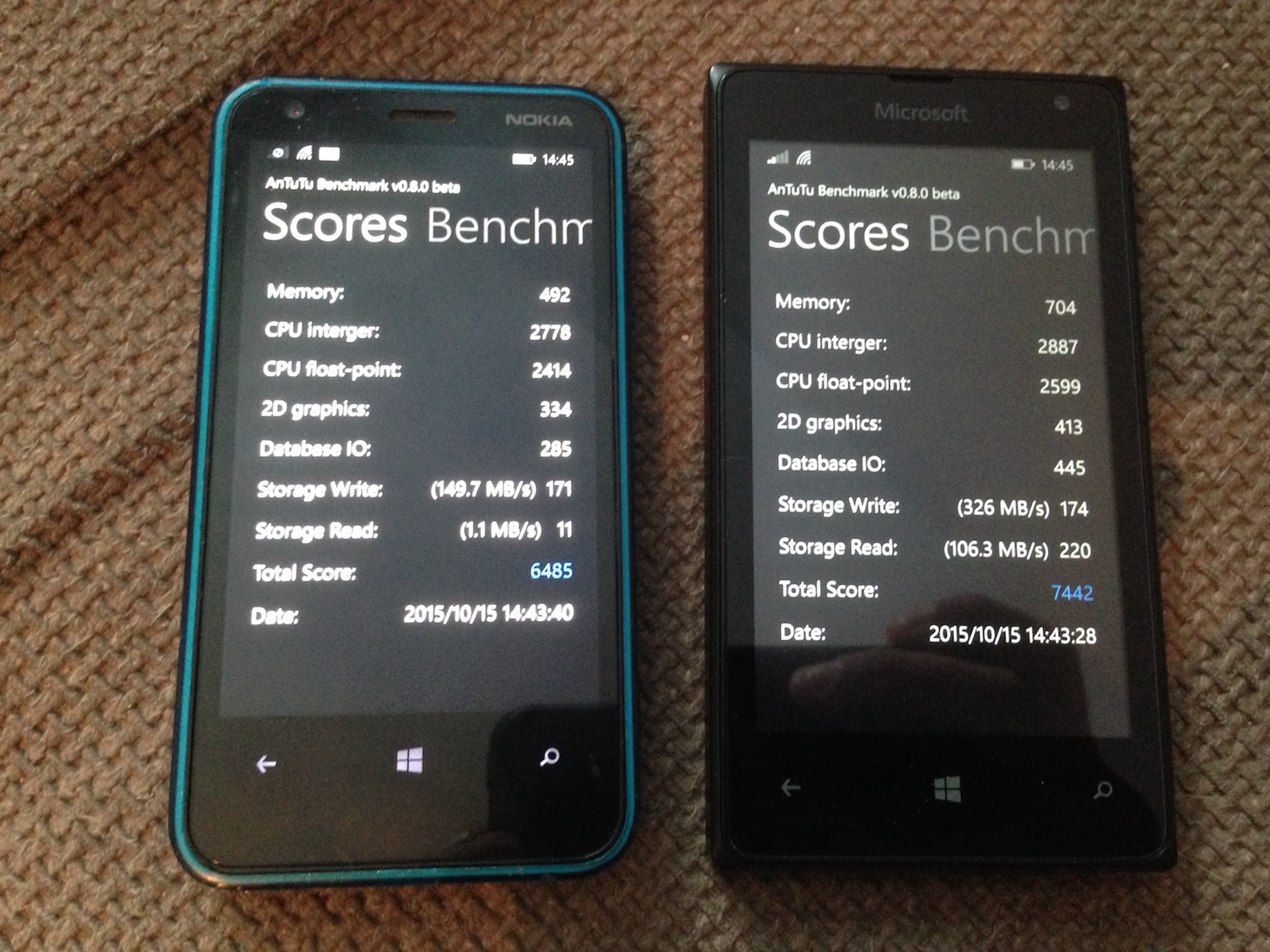 The Lumia 435 is now under £50 unlocked and for that money the performance is superb. My kids have been wowed by the Windows Phone system and are big fans and I have to admit to being very impressed too.
I had considered switching myself but am quite integrated in the Apple eco-system.
---
Follow Simon Royal on Twitter or send him an Email.
Like what you have read? Send Simon a donation via Tip Jar.
---
Keywords: #microsoft #lumia #435 #windowsphone #techspectrum #simonroyal
Short link: http://goo.gl/5k0NmG
searchwords: lumia435